How to Unlock Strong Bullets Early in Super Bullet Break
Learn all you need to know about Bullets and the best to grab early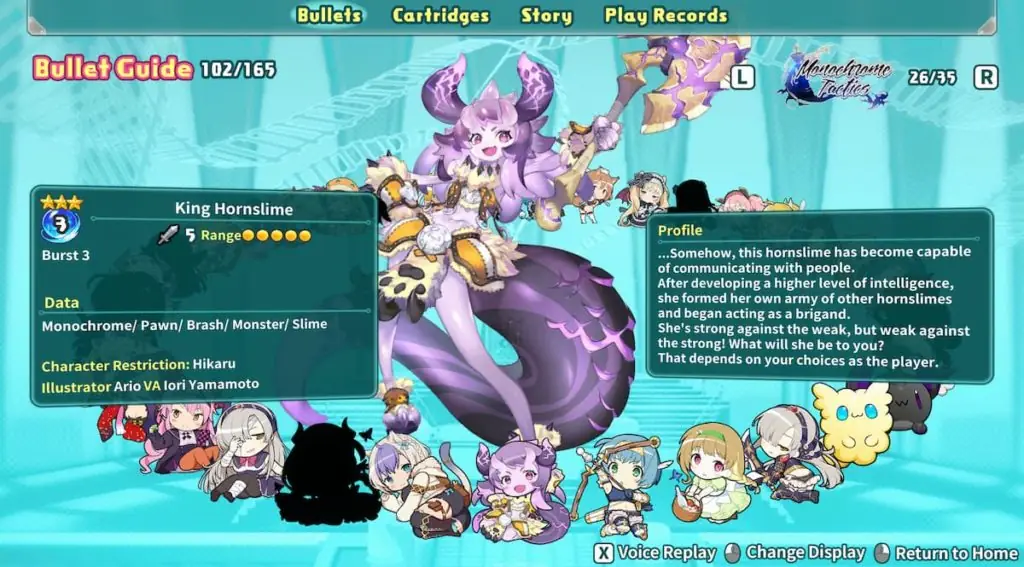 The deck building in Super Bullet Break can be fast and wildly unpredictable. The gacha mechanic thrown in while you're also not allowed to remove any Bullets (cards) you don't want until you max out your deck (Magazine) can make things intense and difficult choices have to be made on the fly. So with this quick guide to how to use the deck building in Bullet Break, you'll learn what are some of the best Bullets to try and get early. This is how to unlock strong Bullets early in Super Bullet Break and how to utilize them.
How to Unlock Strong Bullets Early in Super Bullet Break
Bullet Features Rundown
First, let's cover what you want to look for in a good Bullet for your Magazine. There are 7 world levels to play, and each game represented by them has its own cast of NPCs which have now transformed into playable cards for your deck, called Bullets. Each game theme has been put into a Bullet's abilities. Monochrome Tactics doesn't have an overarching theme really but focuses a lot on attack power and supporting that. Seasons of Love has the "Heartsploion" gauge which most Bullets attack and build up a heart meeter that when full releases a huge attack among other effects on enemies. Pheonix Gunner implements 'drones' that have a myriad of effects as well.
However what you want to focus on the most is what every single bullet has, and that is its features. Specifically, you should most concern yourself with the cost, attack power, range, and abilities. Cost, of course, is how much it takes to play that Bullet and it takes the form of how many turns you have before the enemy's turn. Range is how many enemies a bullet can fire against at once. Power and abilities will always vary. You'll have to gauge a Bullet's high power level against its low cost or vice versa.
Best Bullet Rundown
Conventional wisdom says to try and keep as many bullets from the same themes as possible. The best way to do that is to know their Data Traits. Once you've unlocked a Bullet at random through the Scout Ticket system, you can start keeping up with how to get them back during your next play-through if you lose and have to begin again. While the traits given to you to choose from to get your next Bullet with a scout ticket are randomized too, remembering some keywords from the best Bullets is a good idea if you're trying to strategy as in-depth as possible.
For Monochrome Tactics, a Bullet like Rulo, with 1 range and power, but an ability of Burst 5, which means plus 5 from every Bullet played your turn, can give you an early advantage with some heavy damage done before your enemy even gets a turn.
Their Data traits are Monochrome/Knight/Zealous/Black King Fan/Spear. Other great Monochrome cards to have early on are Whisper the catgirl thief. If you have a lot of cards that power up from discarding, her "discard all ability" can power up your next hand instantly and her cost is only 1.
Her data traits are Monochrome/Bishop/Brigand/Fickle/Catgirl. Queen Veresov (New Years edition) has a Burst of 10, so double that of Rulo with the traits of Monochrome/Queen/Gentle./Japanese-Style/New Year's. The most powerful Monochrome Bullet is most likely King Hornslime, with a Burst of 3 and a range of all 5 slots on the battlefield, and only a measly 3 cost. You can very quickly get their power to soaring heights and cost very little to you to use.
Other Top Cards
Those are some of the best cards you can grab in your first run of Monochrome tactics. However, if you want to experiment earlier with a more broad playing style, or when you get to the next world stages and want the most power cards then as well, here is a select quick list of what we think are the best Bullets to grab:
Yumeno Suzuya (Bride) – Power 25, Range 1, Cost 25, +40 Heartsplosion. Data Traits: Seasons/3rd-Year Student/Dreamer/December/Bride
Erika Kawasumi – Power 10, Range 1, Cost 4, Doublest Heartsplosion gauge. Data Traits: Seasons/3rd-Year Student/Calm/December/Student Council
Erika Kawasumi (Festive) – Power 12, Range 1, Cost 4, +50 Heartsplosion. Data Traits: Seasons/3rd-Year Student/Calm/November/Christmas
Maki Hinaka – Power 20, Range 5, Cost 12, +20 Heartsplosion. Data Traits: Seasons/1st-Year Student/Vigorous/August/Athletic
Shirley – Power 5, Range 5, Cost 5, Spawns 5 Attack Drones. Data Traits: Phoenix/Ritual Dancer/Ruthless/Flamethrower/Military
Shirley (Swimsuit) – Power 7, Range 5, Cost 7, Removes all buffs from enemy/Spawns 3 Attack Drones. Data Traits: Phoenix/Ritual Dancer/Composed/Flamethrower/Swimsuit
Ruffe – Power 10, Range 1, Cost 5, Destroy all Drones, +10 attack for each Drone. Data Traits: Phoenix/Ritual Dancer/Brash/Ultray Cannon/Military
Lien (Swimsuit) – Power 5, Range 5, Cost 5, Gain +7 power for each enemy. Data Traits: Brawlers/Expert/Easygoing/Draconic/Swimsuit
Estella – Power 6, Range 1, Cost 6, Gain +1 power based on difference between Current and Max HP. Data Traits: Brawlers/Intermediate/Independent/Bullfighter/Battle instinct
Mikagura (Past) – Power 6, Range 5, Cost 9, Cost -1 for each Drown destoryed/respawn same number of drones. Data Traits: Phoenix/Ritual Dancer/Egotistica/Assault Rifle/Japanese-Style
Hakua (Swimsuit) – Power 11, Range 3, Cost 6, Next Bullet has -20 Cost. Data Traits: Phoenix/Raid/Calm/Water Gun/Swimsuit
Kuiin Harts – Power 30, Range 1, Cost 20, Cost -2 for each Bullet discarded/Discard to gain 8 Shield. Data Traits: Stage Princess/Mystic Dreamer/Egotistical/Contrarian/Big Ribbon
Leila Kanda – Power 0, Range 1, Cost 24, Gain +12 power for every card discarded this turn/Discard to gain 12 Sheild. Data Traits: Stage Princess/G.L.I.M./Earnest/Glass Slipper/Princess
Kohaku – Power 4, range 1, Cost 8, Double your current Armor. Data Traits: Stage Princess/Mystic Dreamer/Mild-mannered/Twinning/Swan
Haku – Power 8, Range 1, Cost 3, Gain +1 power based on difference between current and max HP. Data Traits: Brawlers/Novice/Hasty/Wolfish/Bride