How to do The Gun and Collect Your Gun from Wilson in Cyberpunk 2077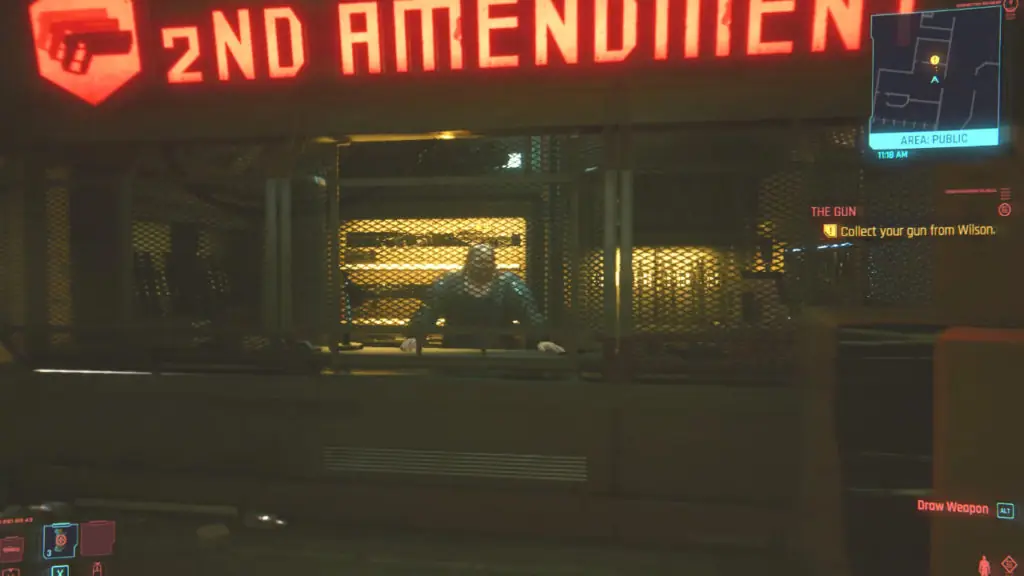 Side missions open up after finishing the first quest, The Rescue, in the game and should be viewable on your map after waking up in the morning. One of the more straightforward side jobs to complete is The Gun, where you'll need to go and pick up a weapon from a nearby character. The danger level is moderate, so you might be wondering what you're getting yourself into before testing the waters. Here's how to do The Gun and collect your gun from Wilson in Cyberpunk 2077.
How to do The Gun and Collect Your Gun from Wilson in Cyberpunk 2077
First, you need to locate Wilson at his weapons shop. After exiting your apartment building, head down the stairs on your right, and continue straight. Make a left at the end, and head straight, and you should see the 2nd Amendment gun shop on your right. It's on the 7th floor of the building (Services) if you're coming from the elevator. The weapon shop is right next to the elevator, and it's easy to find.
Walk up to Wilson, who's behind the 2nd Amendment shop's gated window, and hit your interact key to open the menu. Browse through his selection, and click on the Dying Night Power Pistol. It should have a yellow exclamation point next to it. From there, click on it to loot it to your inventory. You should see a prompt on the bottom right of the screen saying you looted it.
After that's done, it's mission complete. You can open up your inventory and see it in there to check out the stats. A prompt will come up explaining how to upgrade Iconic Items. In short, you can use the crafting specs to make some higher-quality items, which destroys the base item for a more powerful one. Upgrading items improves their stats so that they can scale with you throughout the game.