Where to find IR-0NC-LAD Crates in Phantom Liberty?
Your character might have more in common with this robot than you think
Throughout the time you spend in Cyberpunk 2077's new DLC Phantom Liberty, you're sure to come across some interesting encounters. From stealing cars for El Capitan to doing drugs with a few BARGHEST soldiers, the inner city of Dogtown has a lot to offer. And in the center, is a former football stadium that houses a plethora of vendors and NPCs. One NPC you might come across is a lowly robot that seems to be short-circuiting. It's up to us to help those in need, and maybe they might help us in return. So let's scour the stadium and figure out where to find IR-0NC-LAD crates in Phantom Liberty.
How to Help IR-0NC-LAD in Phantom Liberty?
When players first start out the new Cyberpunk 2077 DLC, the game introduces them to a new playground within Night City: Dogtown. And as you progress through the first few missions, the inner city will open up to you. As we stated previously, players will have access to the epicenter of Dogtown, the football stadium very early in the DLC story. Those keen-eyed players searching every nook and cranny of the new areas might end up coming across a malfunctioning robot in a shipping container. Next to the robot is a computer console you can access, and upon viewing it, you'll see this robot is experiencing some problems.
Related: Phantom Liberty: How to Get NUS Infiltrator Armor Without Watching Streams?
Furthermore, it seems that after a short amount of time has passed, you'll receive a strange text message. The message comes from someone named IR-0NC-LAD, who we now know to be the robot we found in the shipping container. What's more, it seems that they require some new software in order to fix themselves, sending you a picture of a location with a chest containing parts the robot needs. And with no recollection of how they got into this situation, let's see if we can help find all 5 crates containing robot parts for IR-0NC-LAD.
IR-0NC-LAD Crate Location – #1
Now, the first message you'll receive from IR-0NC-LAD shows a location within the same football stadium you found them in. Our first picture clue shows a chest next to an open container of questionable meat, tasking us with finding its whereabouts. With this in mind, we can deduce that this chest is located right in front of the butcher shop up some stairs across from the medical clinic. So once you grab the parts from the chest, you'll receive the next text detailing the location of the next crate.
IR-0NC-LAD Crate Location – #2
Similarly to the picture of the first crate, players should have an easy time finding this second crate location. But in case it doesn't click with you immediately, the second crate is located in the medical clinic that we talked about in the first crate location, across from the butcher shop. Once you enter the area and see the vendor for medical supplies, the chest should be to the left of it, on top of a large trauma team crate. With that, we have three more crates to find.
IR-0NC-LAD Crate Location – #3
After sending these software updates to the robot, you'll start to see that the robot is starting to regain its memory. Earning players more insight as to who this robot was, and making their text messages less jumbled. But with the second crate obtained, the third message you get is where things start to get a bit tricky.
IR-0NC-LAD sends us a picture of the next crate, this time contained within another larger crate with its top off. Showing us nothing more than a few massive artillery shells surrounding the crate. The hard part of this one comes from the picture that is surprisingly vague with landmarks around the crate. But from this, we can surmise that the third crate is located right next to a weapons vendor, slightly under the area where the medical clinic and butcher shop are located.
IR-0NC-LAD Crate Location – #4
Our second to last message we get from IR-0NC-LAD regarding the location of the next crate is just as useful as the last picture. Thankfully, we got you covered, and you can find the fourth crate in the other weapon shop, right next to a clothing vendor. In the corner opposite of the John Wick reference, you'll find the crate, and be one step closer to helping your robot compatriot.
IR-0NC-LAD Crate Location – #5
Now this last crate might as well have not included a picture at all, since the info it gives you on the location of said crate is slim to none. However, after enough time starting into the picture's soul, the last crate is found on the far north side of the stadium, right next to a food stall. Finally, once you have obtained the last software for IR-0NC-LAD, you'll have to return to the shipping container with the physical robot in order to manually input the software.
What to Choose for IR-0NC-LAD in Phantom Liberty?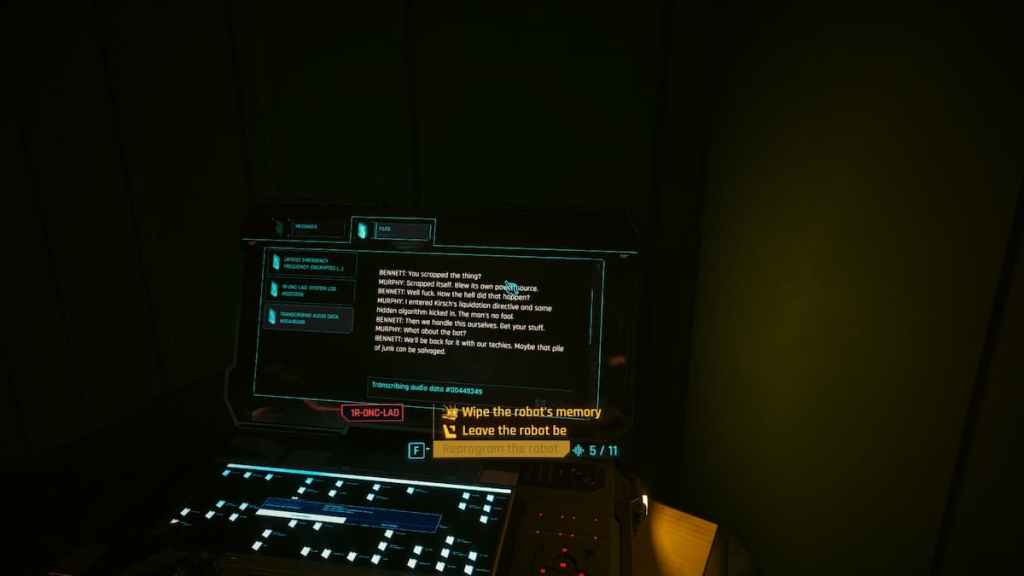 Once you return to the robot and jack into the computer, you may come to find that this whole ordeal might have been self-inflicted. Thanks to some audio data, we learn that the robot destroyed its power source on its own. What's more, it seems there were some traumatic and tragic events that occurred before the robot decommissioned itself.
This leaves the player with a choice: If you have 11 Intelligence or higher, you can choose to reprogram the robot seemingly having it forget what has happened, but still being able to 'live' again. On the other hand, if your character is not the sharpest tool in the shed, you have two other options. You can leave the robot as is, with its memories now intact wandering aimlessly through the world. Alternatively, the player can choose to wipe the robot's memory, seemingly placing them in the same situation they were in before your encounter.
You don't earn anything for this quest line, in fact, I'm pretty sure it doesn't even register as an actual "quest" in your journal. But little things like this make the world of Cyberpunk feel more alive. Showing us a myriad of lives and experiences that the creatures of Night City go through on a daily basis.
---
Follow our Facebook page for more gaming news and updates. Check out our other articles about the new Night City like 'How to Get Erebus in Cyberpunk Phantom Liberty?' and 'How is V Alive in Cyberpunk 2077 Phantom Liberty?' There are more guides, news, and build for all your gaming needs, right here at Gamer Journalist.
About the author