How to Catch Stringfish in Animal Crossing New Horizons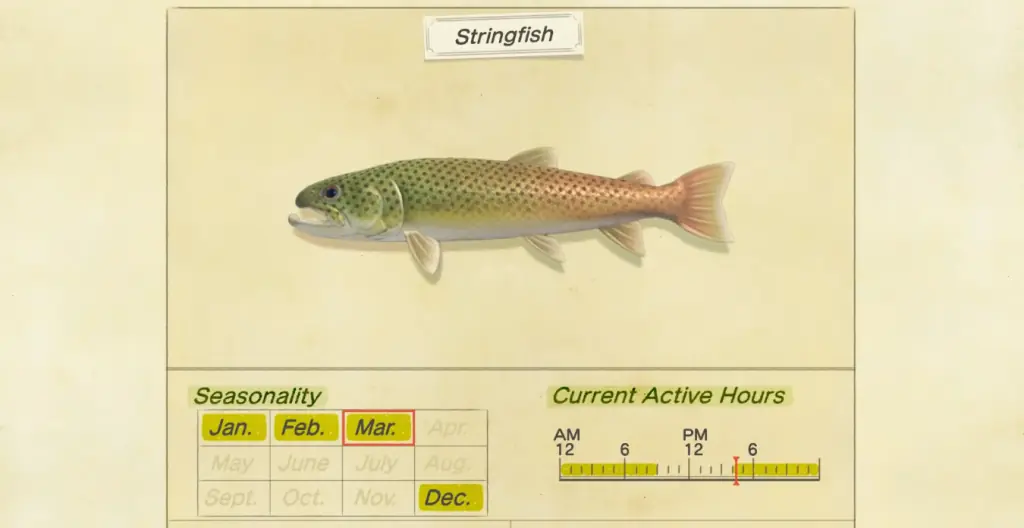 Some fish are a lot more rare than others in New Horizons. Rare fish often come with a big reward, though. The Stringfish is one of the most rare and valuable fish in the game. In this guide, we'll show you how to catch Stringfish in Animal Crossing New Horizons.
How to Catch Stringfish in Animal Crossing New Horizons
There are a few different reasons why the Stringfish is so hard to catch in Animal Crossing New Horizons. First of all, New Horizons released at the end of March. This fish is only available in December through January meaning players only had a few days to catch it. Second, the fish is only available between 4 p.m. and 9 a.m. in Rivers.
Fish: Stringfish
Months: January, February, March, December (Northern Hemisphere)
Time: 4pm – 9am
Location: River (Clifftop)
Price: 15,000 Bells
Shadow: Large
You might be thinking you'll be able to catch a Stringfish with no issues. The problem is that there are a ton of different River fish that compete with this one. Your odds of seeing one is pretty low, so you need to make sure you bring a lot of bait and have a lot of patience.
Due to the fact this fish is only available in clifftop rivers, you'll need to have a ladder or be able to build paths. You may want to find a nice deserted island with a bunch of rivers and cliffs.
You want to look for a large shadow, so make sure to scare away small and medium shadow fish. Run around from one end of the island to the other to scare away the wrong size fish. Unfortunately, you'll end up catching a lot of Bass because they are the same size. Tires will also disappoint you a few times in the process.
One thing to note is that the controller vibration is more intense when you hook a Stringfish as opposed to a Bass. Another thing is that you can use fish bait to spawn new fish rather than running up and down the rivers. Other than that, you'll just need a lot of patience to catch one of these.
Now that you know all the requirements for finding a Stringfish, it's time to start fishing for one. I hope this guide helped you learn how to catch a Stringfish in Animal Crossing New Horizons. Good luck!
If you're on the hunt for other rare fish, check out our guide for how to catch the most valuable fish in ACNH.