How to beat the Killing with Rhythm torment in Metal: Hellsinger
How's your timing?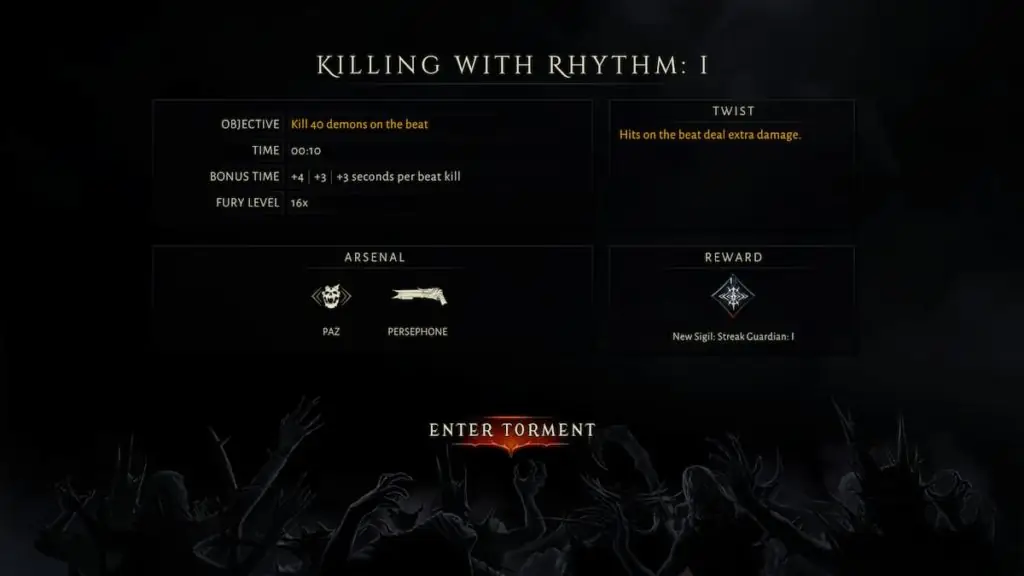 In Metal: Hellsinger, not only will you be plunging through the Hells and gaining new weapons to your arsenal, but you will be able to jump into the torments left by the slaughtered Archdevils to gain the benefit of their Sigils. One such Sigil is the Streak Guardian, which protects your hit streaks against missed shots. If this is of interest to you, then you'll have to know how to best this torment. Here is how to beat Killing with Rhythm in Metal: Hellsinger.
What is Killing with Rhythm in Metal: Hellsinger?
Killing with Rhythm will either be a hell of its own, or heaven, depending on how good you are at keeping to the beat.
You must kill a certain number of demons before time expires, with more time being rewarded for each kill. However, only kills on the beat count, no matter their quality. Also, all hits on-beat will deal even more damage.
With the damage increase, as long as you keep on-beat, this could be a rodeo of demon-slaughtering madness.
Top tips for Killing with Rhythm in Metal: Hellsinger
In this torment, it matters not how many demons you can kill, but how well you keep to the rhythm on the music. If you struggle to keep to the beat usually, then you're going to need really get into the rhythm. Tap your foot in-time to the beat and immerse yourself in headphones. It may help to constantly shoot on the beat, even if there aren't any enemies in your way, just to stay in-tune.
Lots of enemies will spawn to take you down, but with the weapons you'll be handed, you'll have an easy time clearing large swathes or sniping them down.
Persephone is fantastic at clearing the way or Marionettes present in the first Killing with Rhythm torment. You can gain lots of time instantly and make bounds towards your target.
The Hounds are great at sniping away enemies rapidly, especially if you consistently hit on-beat.
Also, keep moving. There is precious little time in this torment, and you don't want to waste time trying to slaughter enemies to gain back any lost health. Sometimes there are a few seconds between enemies spawning in, and if you have wasted those seconds weakening the Marionettes with Paz, then you will run out of time and loose. By moving around, you keep all the beasts in scope and will allow you to dodge any attacks.
Related:How to beat the Giantslayer torment in Metal: Hellsinger
And finally, be careful with your ultimates. There is no point in using them if they slaughter enemies off-beat. You'll just be wasting time and you'll soon find that you have briefly run out of enemies and are no closer to your target than you were before.
So, keep to the beat, keep shooting, and keep moving. That Streak Guardian Sigil will be yours in no time.
Keep an eye on Gamer Journalist for more gaming and Metal: Hellsinger content.