Fat Race Codes (November 2023)
Get the latest Fat Race codes and make sure to redeem them before they expire!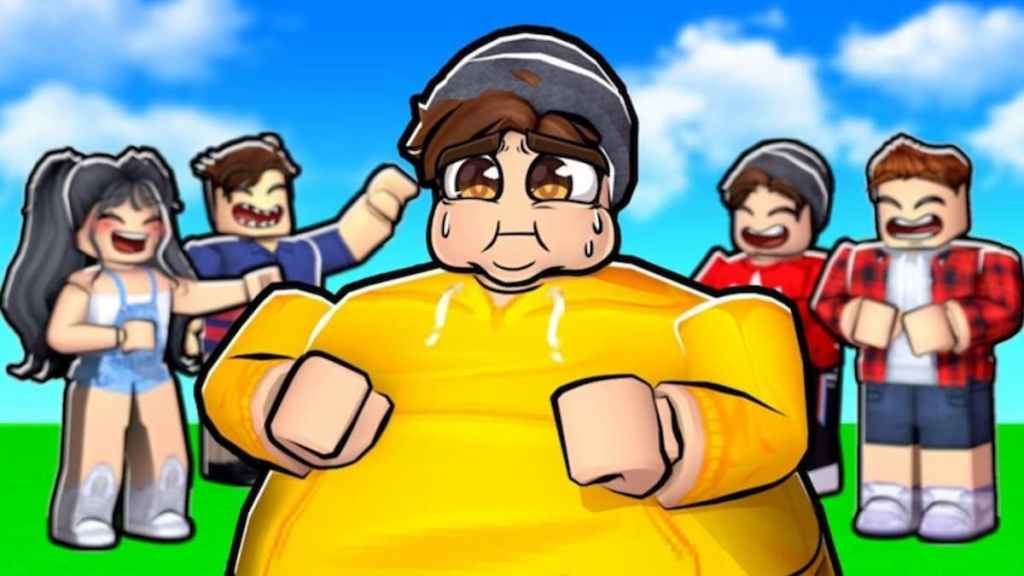 I love junk food, but I try not to eat too much of it, as I know it is terrible for me. Luckily, in Fat Race on Roblox, I can munch on as many hamburgers as I want—the more, the better! You start with a skinny character and need to gain weight to earn more wins. As in real life, gaining weight is relatively easy—consume as many hamburgers, fries, and sodas as possible. If you are too lazy to run around and collect food, you can turn on the option to eat automatically and watch your character grow!
These Fat Race Codes helped me get free boosts of food and luck, which resulted in more wins. You should claim the rewards as well, as they are absolutely free. Don't worry if they'll make you fat—that's the whole point! If you like similar games on Roblox, you should explore our Mushroom Race Codes article, which will provide you with free goodies to help you win all your races!
All Fat Race Codes List
Fat Race Codes (Working)
There are currently no active Fat Race Codes.
Fat Race Codes (Expired)
pug64 – Uncommon Pet
WELOVEPUG – 10 minutes of 2x Luck
SERVERSECRET – 10 minutes of 2x Food
Related: Race A Friend! Codes
How to redeem codes in Fat Race
Redeeming codes in Fat Race is relatively easy. Just follow the steps below, and you will earn your rewards in no time!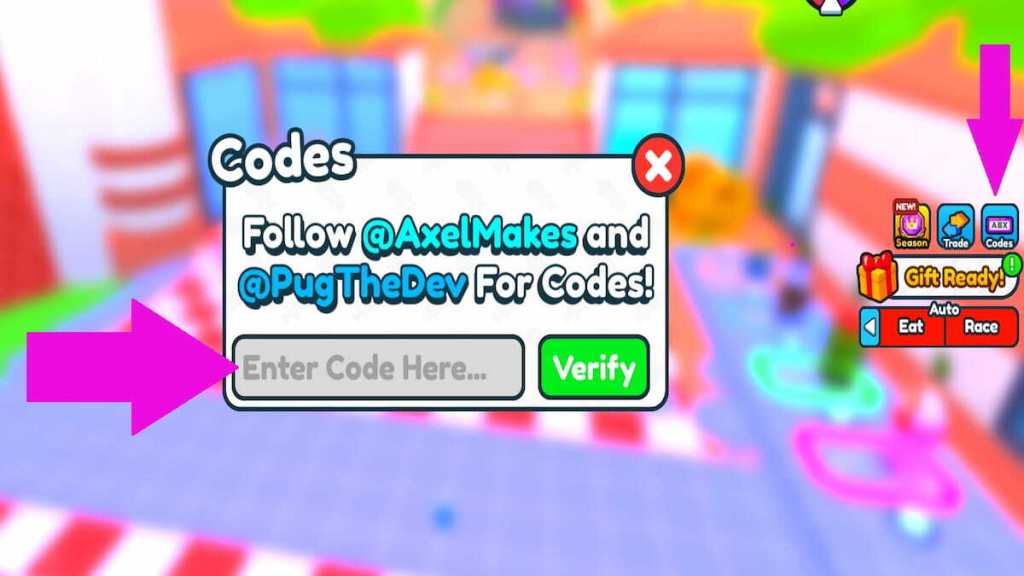 Open Fat Race on Roblox.
Select Codes on the right side of the screen.
Type or copy and paste the code into the Enter Code Here textbox.
Click Verify and claim your rewards!
How can you get more Fat Race codes?
Save this page to your favorites, and check back occasionally to get new Fat Race codes. As soon as new codes become available, we update our list so that you don't have to waste any more of your time looking for freebies on your own.
You can also follow the developers on X (@PugTheDev) or join the official AXEL TEAM DIscord to look for codes on your own or receive news and updates about the game.
Why are my Fat Race codes not working?
The cause of your troubles might be spelling errors, especially if you're entering codes manually. To avoid typos, copy the codes from this article and paste them into the game. Typos are the most frequent issue for Roblox gamers when it comes to redeeming codes.
Make sure you use the codes as soon as possible because you never know when they will expire. If you run into an invalid code in our article, please sound off in the comments, and we will investigate and update our lists accordingly.
How to get more rewards in Fat Race
To earn additional goodies in Fat Race, you should first spin the prize wheel at the top of your screen, as you have one free spin every twelve hours. You can get food, luck, or wins. Furthermore, you can open a Daily Chest once every 24 hours for more prizes. Lastly, the game rewards you for simply playing it. You can eat, race, or hatch pets—as long as you are in the game, new gifts will unlock. You will receive better rewards (more food, wins, etc.) the longer you play, and you can claim them on the right side of your screen.
What is Fat Race?
Fat Race is a simple Roblox game with two stages. You start with the eating stage, where you run around the lobby and devour all the food you can find. Then, all you need to do is yeet your character down the slope. You'll move farther and earn more wins the more you've eaten. You can use your wins to collect various pets and combine them so that they can get stronger and help you collect more food.
Check out our Roblox Codes section for more freebies in all your favorite Roblox games. They are just waiting for you to grab them—just make sure to do so before the codes expire!
About the author