Fruits Battlegrounds Codes (February 2023)
Take a Bite of Gum Gum!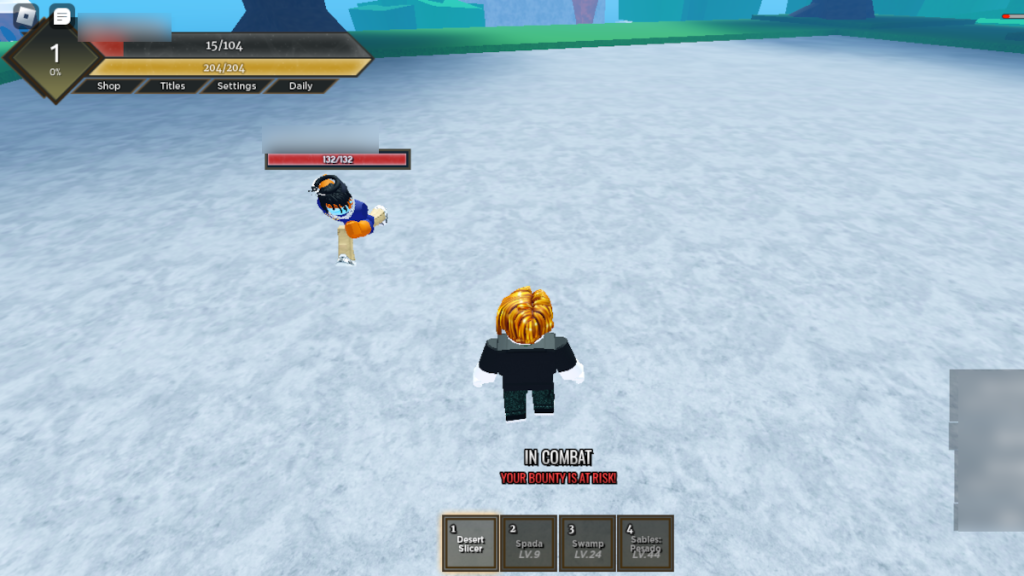 It's time to arm yourself with a Gum Gum Fruit and prepare for battle! In the One Piece-themed Roblox experience Fruits Battlegrounds, this is exactly what you'll do. Spin for a randomized fruit and then jump into the action as you aim to become the strongest warrior there is. Fruits Battlegrounds appears to pride itself on its chaotic warfare, as it throws you into the heat of battle without so much as a set of rules.
But, the most important thing to remember is that you have to survive, at any cost. And, what better way to do that than to ensure your character has an advantage right out of the gate? That's where Fruits Battlegrounds codes come in! Use these codes to earn a hefty supply of the game's currency, Gems!
If you'd like more anime, or One Piece-themed Roblox experiences, why not check out A One Piece Game, Grand Piece Online, Blox Fruits, Project Slayers, or All Star Tower Defense?
All Fruits Battlegrounds Codes List
Last checked: January 30, 2023

Added a new code!
Fruits Battlegrounds Codes (Working)
These are all the working Fruits Battlegrounds codes.
GOKRAZY150 — Unlocks: 440 Gems (New)
140KAGAIN — Unlocks: 360 Gems (New)
FATSTACKZ — Unlocks: 250 Gems (New)
RAININGGEMS! — Unlocks: 320 Gems (New)
GEARFOOOOURTH — Unlocks: 500 Gems (New)
LONGAWAITED — Unlocks: 300 Gems (New)
ITJUSTDONTSTOP — Unlocks: 240 Gems (New)
LETSGOO130K — Unlocks: Gems
PAWGOKRAZY — Unlocks: 400 Gems
UPDATETIMEEE — Unlocks: 400 Gems
GOLDENDAYZ — Unlocks: 350 Gems
FREECAZH—Unlocks: 400 Gems
120KTHX—Unlocks: 400 Gems
INDAZONE—Unlocks: 520 Gems
LASTSHUTDOWNALRIGHT — Unlocks: 320 Gems
110KYEE—Unlocks: 500 Gems
WINTERDAYZ—Unlocks: 400 Gems
COMEONMARCOOO—Unlocks: 900 Gems
100KWEDIDIT—Redeem for Gems
DAMN90K—Redeem for Gems
THXFOR70K—Redeem for Gems
FREEBREAD!—Redeem for Gems
60KLETSGO—Redeem for Gems
SORRY4SHUTDOWN—Redeem for Gems
MAGMALETSGOO—Redeem for Gems
50KINSANE — Redeem for Gems!
20KCRAZY — Redeem for Gems!
15KNOWAY — Redeem for Gems!
THXFOR10K — Redeem for Gems!
7KTEAM — Redeem for Gems!
PRESENT4YOU — Redeem for Gems!
Fruits Battlegrounds Codes (Expired)
These are all the expired Fruits Battlegrounds codes.
5KSQUAD
4KGANGO
3KTHXBRO
WUPDATEORNAH
2KLETSGOOO
1KLIKESGANG
How to Redeem Codes in Fruits Battlegrounds
Redeeming codes in Fruits Battlegrounds is really simple. Follow our guide below.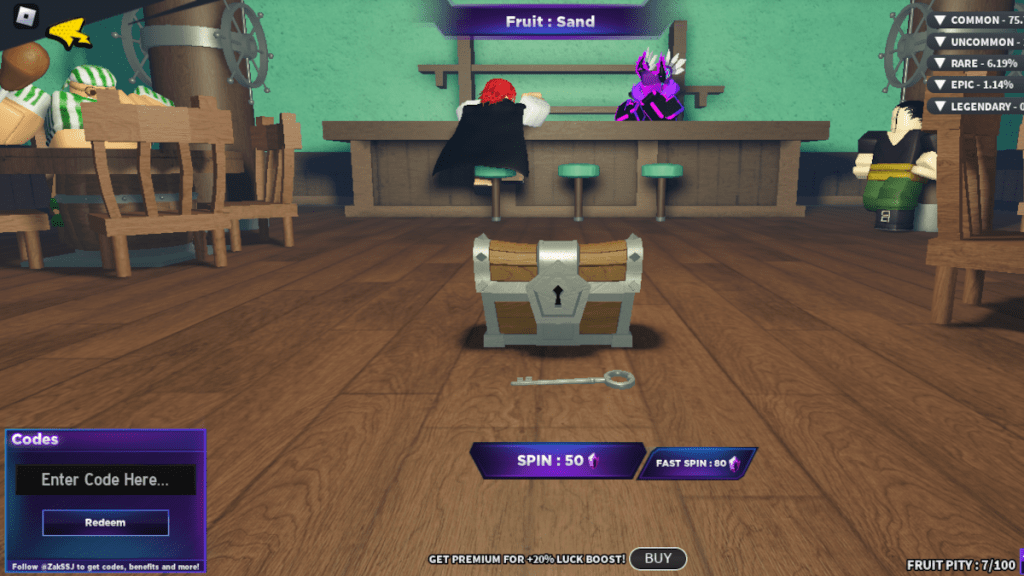 Launch Fruits Battlegrounds on Roblox.
Do NOT enter the game yet; enter the menu to spin for a randomized fruit.
As soon as you reach this area, click the treasure chest to enter the sub-menu that lets you spin for a randomized fruit. Look in the bottom left-hand corner of the screen to find the code input window.
Copy and Paste the codes into the space provided, and click REDEEM.
How Can You Get More Fruits Battlegrounds Codes?
It would seem that the best way to find new codes for Fruits Battlegrounds is through either the developer's account on Twitter, their YouTube channel, or their Discord server.
Why Are My Fruits Battlegrounds Codes Not Working?
If any given code is not redeeming correctly, your first move should be to verify that you have input the code/s accurately. It's usually best to copy and paste them as opposed to typing them in, to prevent any and all possibility for error. But, if you are doing this and it's still refusing to redeem, the code could be expired, or perhaps it was a faulty code to begin with?
How To Spin Fruits Faster in Fruits Battlegrounds?
In the beginning, you'll be given a small fortune in Gems that you can use to spin for a randomized fruit. But, you'll quickly find that the process can be a little … extensive. To expedite the process, note the small button next to the normal spin button that says FAST SPIN. It'll speed up the process of spinning, but be cautious! There's a premium for the convenience! Where it only costs 50 Gems to spin normally, it costs a whopping 80 Gems to bypass the bells and whistles. So, you'll have to decide if that's worth it!
What Is Fruits Battlegrounds?
Fruits Battlegrounds is an experience created by P O P O for the Roblox platform. In this game based on the hit One Piece manga/anime by Eiichiro Oda, you must use devil fruits to become the strongest! Fight against friends and strangers in an effort to climb the ranks and conquer the Fruits Battleground!
If you're looking for more codes for experiences just like this, we have a veritable fortune of them here on Gamer Journalist! Take a look at our dedicated Roblox section for a lot more than just codes, as well! And while you're browsing, consider making Gamer Journalist your one stop for all things gaming!