Every Car Available in Forza Horizon 5: Hot Wheels
The 10 new Hot Wheels cars from Forza Horizon 5's new expansion are finally here.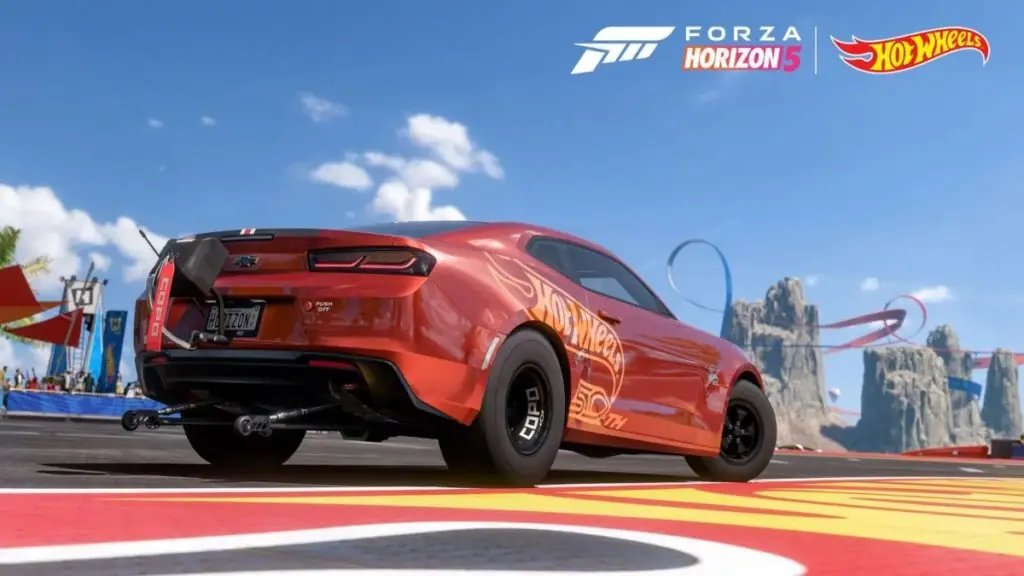 Forza Horizon 5 is heating up yet again with the brand-new release of the gigantic Hot Wheels expansion releasing on Jul 19. Boasting an entire Hot Wheels-themed island of tracks, the game also includes a whole new livery of cars to drive. From off-roading vehicles to supercars, there are 10 incredibly recreated Hot Wheels cars to drive, and we know them all. Let's get into every car available in Forza Horizon 5: Hot Wheels!
Every Car Available in Forza Horizon 5: Hot Wheels
It's absolutely incredible to see how many Hot Wheels cars that the developers at Playground games were able to bring over to Forza Horizon 5. The sheer amount of attention to detail and the grand selection are enough to capture the attention of even the most sophisticated car enthusiasts.
2018 Hot Wheels Chevrolet Camaro COPO
A modern take on the first-ever Hot Wheels car, this 50th-anniversary version marries the original 1968 Chevy Camaro with a modern look and feel for the best performance available. This is sure to be a great all-around vehicle for players looking to have every track covered.
2012 Hot Wheels Bad to the Blade
An "extreme" action-oriented vehicle, the Bad to the Blade is definitely going to be a great choice for supercar fans. Not only are you going to be racing fast, but you're also going to look good doing it. This car was originally created to commemorate the 100th anniversary of the Indy 500.
2013 Hot Wheels Baja Bone Shaker
A beefy monster of a vehicle for off-roading, the Baja Bone Shaker is a mean car that seriously looks fantastic. This trophy truck is equipped with the best suspension and wheels to ensure that you won't have to compromise speed for traction during those muddy excursions.
2000 Hot Wheels Deora II
A truly interesting vehicle, the Deora II sports quite possibly one of the most unique looks out of this livery. Though this vehicle was originally based on a Ford station wagon back in the day, this otherwordly car sports some serious horsepower with a hidden Cadillac Northstar engine.
2021 Hennessey Venom F5
Another street car, the Venom F5 will make you feel like the fastest car in the world as you tear through the tracks in this thing. It's a car that's actually capable of 1,817 horsepower which is kind of insane given its class. This is sure to be a top-runner when the expansion releases.
2019 Brabham BT62
Quite possibly the best-looking car on this list, the BT62 isn't all just looks. Boasting a 5.4-liter V8 engine capable of 700bhp and 492 lb-ft worth of torque, this is a lean mean machine. It's actually titled "the world's most track-focused hypercar" by enthusiasts.
2006 Mosler MT900 GT3
Though the Mosler MT900S has made quite a splash amongst Forza players in the past, the MT900 GT3 hopes to bring the hype even further. Taking everything the MT900 does so great, this car actually has the capability to race among its sibling vehicles and actually take first place, even though it isn't considered the same tier.
2020 SIERRA Cars ALPHA #23 Yokohama
Another great off-roading car, the Yokohama is definitely going to be a fun ride if you wanna be down in the dirt but maintain some great speeds. It'll be interesting how this little car stacks up against the likes of the Bone Shaker.
2018 Subaru WRX STI ARX Supercar
The last confirmed car on our list; this amazing supercar can go from 0 to 60 in only 2 seconds. Imagine hitting those insane track loops in one of these. With 600bhp and 680 lb-ft of torque, there are sure to be some great races behind the wheel of this thing.
Mystery Car
The last car is actually a mystery vehicle that won't be unveiled until the DLC releases on July 19. Be sure to check back as there's sure to be coverage on that.
That's the full list of every car available in Forza Horizon 5: Hot Wheels. With the game releasing in under a week, anticipation is running high to check out the all-new Hot Wheels island has to offer.
Related: Is Forza Horizon 5: Hot Wheels Included With Game Pass? Answered