All Disrupt Albion Propaganda Locations in Watch Dogs: Legions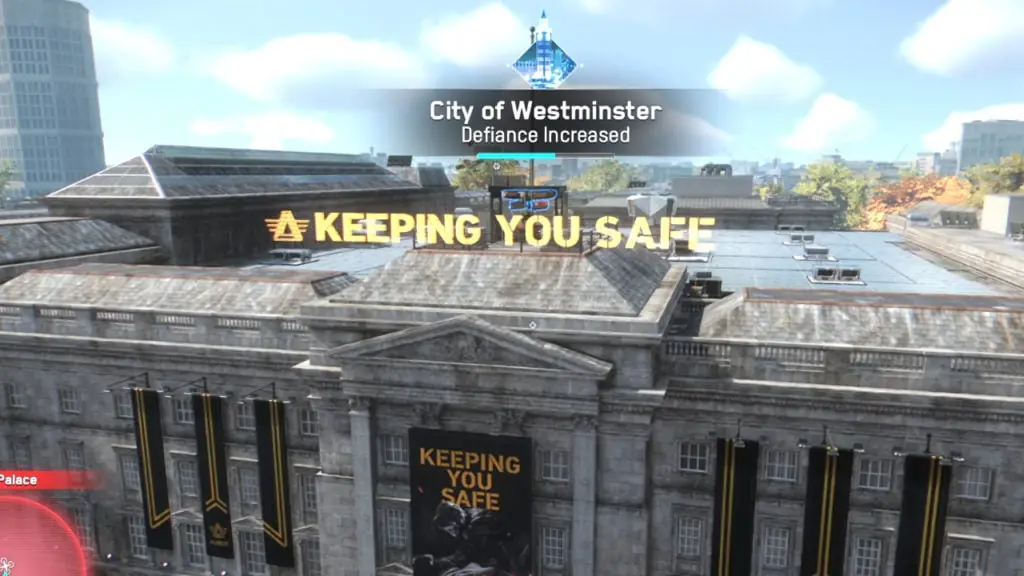 Albion loves to plaster their propaganda all over the place in London, even Buckingham Palace. There are three disrupt propaganda locations in the game, accessible via borough activities. Completing these is an excellent way to liberate the zone and achieve the "Take Back London" trophy. It's also a great way to increase DedSec's reputation in an area and earn some extra ETO. Here are all the disrupt Albion propaganda locations in Watch Dogs: Legion.
Before going off and completing these, make sure you have a construction worker on your team. It will make things much easier, and I'm not sure these zones are accessible without one. The reason you want this character is because of their ability to summon a cargo drone. These devices allow you to fly anywhere by jumping on top of them and hijacking them. You can fly to rooftops anywhere in the city using these drones.
Propaganda locations are typically giant billboards or banners displaying the Albion logo and a message about keeping London safe. It's your job to get rid of these, and doing so comes with some excellent rewards.
All Disrupt Albion Propaganda Locations in Watch Dogs: Legions
There are three Albion Propaganda locations, including two in Westminster and one in Lambeth. Here's a map with all three target areas. We'll go into more depth below about how to access each one.
Disrupt Albion Propaganda Location 1 – Buckingham Palace
The first location is on top of Buckingham Palace. Switch to your construction worker, and use your summon cargo drone ability. Climb up on top of the cargo drone and hijack it to begin flying to your destination. We recommend opening up the map, and right clicking on the disrupt propaganda icon to track it, so you know exactly where to fly.
Buckingham Palace is a restricted area, so be careful. After you hack the ctOS on the rooftop, you'll likely be targeted by an armed drone. The drone does some damage, so be careful not to get arrested.
Disrupt Albion Propaganda Location 2 – Piccadilly Circus
The next Albion Propaganda is also in Westminster. Pull out your construction worker and summon the cargo drone again. Climb on top of the drone and hijack it to fly it up to the roof. The ctOS device is inside a fenced-in area. There is a duct leading to the inside of the fence, but there's a box blocking it. Luckily, you have your cargo drone to pick up the crate.
You can use a spiderbot to go through the vent to reach the ctOS after moving the box with your cargo drone. Now, make your way into the area and interact with the ctOS to disrupt Albion propaganda number two.
Disrupt Albion Propaganda Location 3 – Imperial War Museum
The third and final disrupt Albion propaganda location is on top of the museum. Again, use your construction worker to summon the Cargo Drone. Make your way to the top of the museum, and you can easily interact with the device to disrupt it.
Read more: Best recruits to get in Watch Dogs: Legion