Destiny 2 Dimensional Hypotrochoid God Roll for PvE and PvP
Add clear has never been so easy.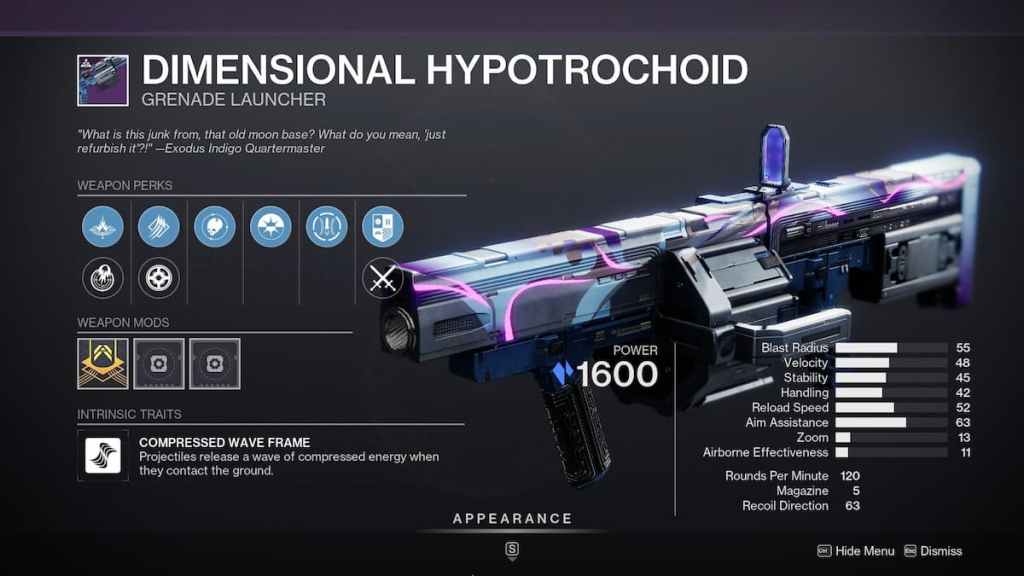 I'm going over two Dimensional Hypotrochoid god rolls for Destiny 2 here. I've one for PvE, and one for PvP – so there's a little something for all folks regardless of taste. I'll admit, this isn't the best Grenade Launcher to launch with Lightfall, but it's certainly worth a look now that GLs are back in fashion.
I'll break down each Dimensional Hypotrochoid god roll perk-by-perk, explaining each of my choices. Your first two perks aren't overly important – they're only really for if you're crafting. It's columns three and four that you're really hunting for.
Destiny 2 Dimensional Hypotrochoid God Rolls
Dimensional Hypotrochoid God Roll for PvE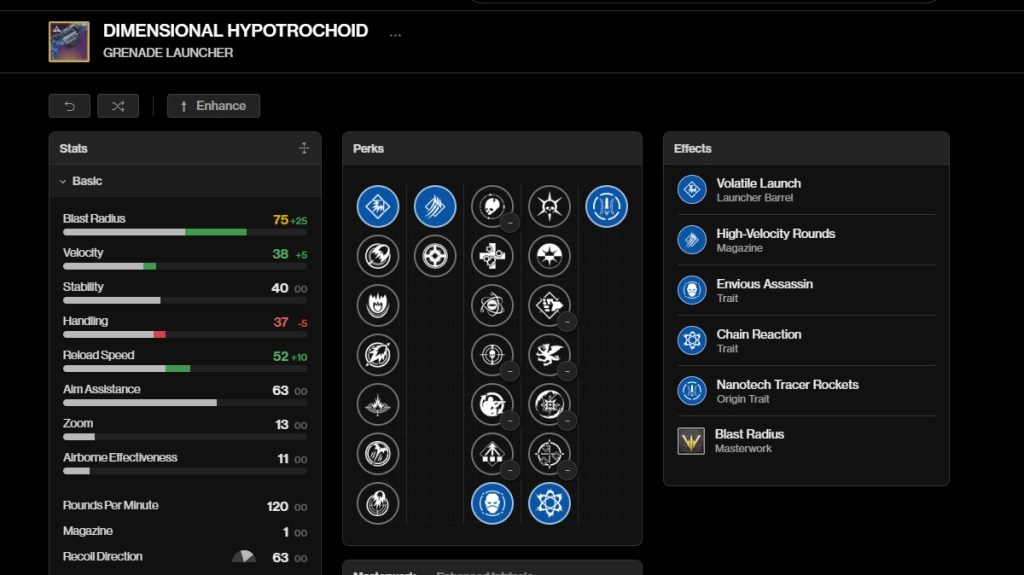 Volatile Launch.
High-Velocity Rounds.
Envious Assassin.
Chain Reaction.
Dimensional Hypotrochoid doesn't have any of the damage perks that would make it viable for DPS, so this god roll is focusing on add-clear. Starting with Volatile Launch and High-Velocity Rounds, these two perks are going to amplify your Blast Radius, letting you hit more adds harder per shot.
After that, we're running perhaps the most exciting perk to come out of Lightfall – Envious Assassin. This weapon perk overflows your magazine based on kills with another weapon. So, as you're killing things, your heavy weapon is going to be filling up with ammo.
This isn't just a few shells, either. You can get over 15 shots in your Grenade Launcher, and you don't need me to tell you why that's good.
We're pairing Chain Reaction with Envious Assassin for some outright hilarious add-clearing potential. With Envious giving you so much ammo, and each short causing more explosions, you can just envision the kind of carnage this Dimensional Hypotrochoid god roll can create.
Related: The Ultimate Endgame PVE Strand Hunter Build for Destiny 2 Lightfall
Dimensional Hypotrochoid God Roll for PvP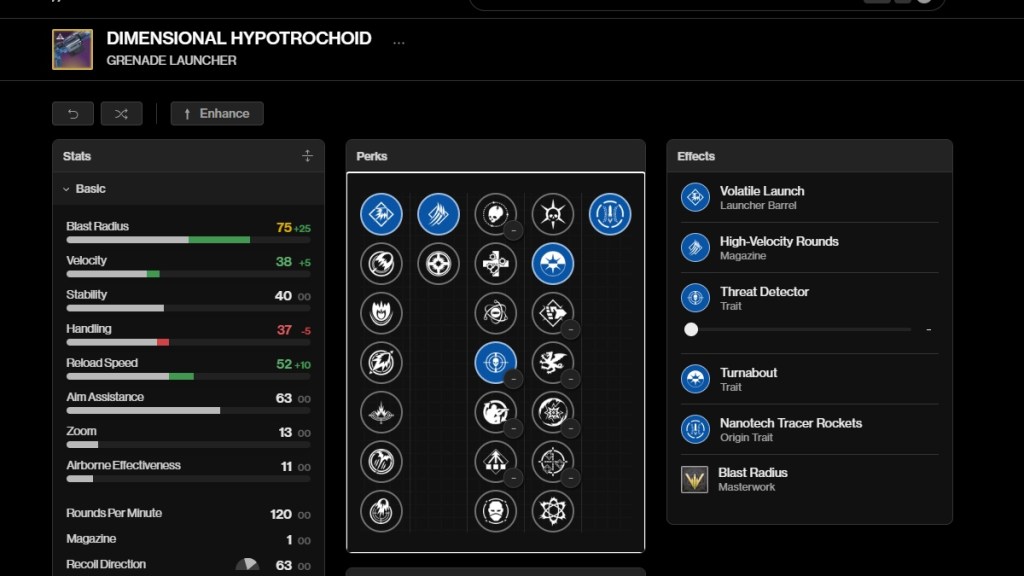 Volatile Launch.
High-Velocity Rounds.
Threat Detector.
Turnabout.
Dimensional Hypotrochoid isn't the greatest PvP weapon in the world. If you were going to run it in the Crucible, though, this would be the god roll you'd want.
We're keeping our first two perks the same, for a different reason. A larger Blast Radius means slightly missing shots is a bit more forgiving. It can give you the slightest bit of wiggle room, and that makes a difference.
Following this, Threat Detector is going to give us reload speed, stability, and handling when enemies are in close proximity. This isn't the greatest buff in the world on a Heavy Grenade launcher, but it's best in class for column two perks.
Lastly, we're running Turnabout. This perk will give you an Overshield when you break an Overshield, and you'll be doing a lot of that with a Heavy GL. Essentially, this perk guarantees you win a gunfight, provided you get your first grenade off.
---
These Dimensional Hypotrochoid god rolls aim to bring the most out of the weapon. It's not the strongest gun in the world, but it's certainly worth a look. For more Destiny 2 Lightfall content, follow Gamer Journalist on Facebook. We'll make sure you're well-equipped going into Lightfall's seasons.