Rebirth Island Coming to Call of Duty Warzone in Season One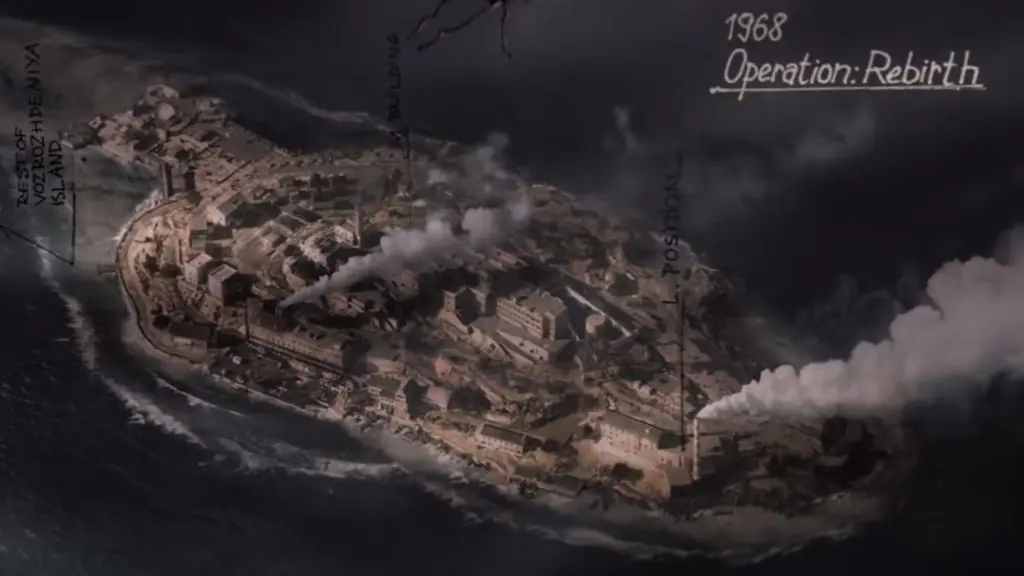 The first season of Black Ops Cold War is coming soon, including some significant changes to Warzone. Last week, Rebirth Island was leaked by some data miners on Twitter and the Black Ops Cold War subreddit. The remake of Black Ops 4's Alcatraz (Blackout) map, Rebirth Island, will be a new addition in Season One of Call of Duty's battle royale, Warzone.
The official Call of Duty Black Ops Cold War Season One cinematic video dropped on YouTube today. It features a new operator, Vikhor "Stich" Kuzman, holding a picture of Rebirth Island, which you can see here:
Vikhor Kuzmin, also known as Stitch, is an ex-KGB leader in charge of the Nova 6 program on Rebirth Island. The chemical production facility fell in the 1960s when the Americans found them and shut them down. That's when Stitch met Russel Adler.
Kravchenko sent Stich to the Gulag for letting Nova 6 fall, where he found his true calling. Activision already confirmed a reworked gulag experience is coming to Warzone, so we'll have to wait and see what's in store for us. For those new to Warzone, the Gulag is where you end up after being eliminated for the first time. You are pit against another player in a battle to the death, and the winner gets a second chance to drop-in.
We're not entirely sure whether Rebirth Island will replace Verdansk or be a separate mode, but it certainly appears to contain a lot less area than the current Warzone map. We may see a limited-time game mode featuring Rebirth Island. Either way, we'll only need to wait for a little over a week to see what Treyarch has in store.
Season One arrives in Call of Duty: Black Ops Cold War on December 16.