Call of Duty: Warzone Daily Challenges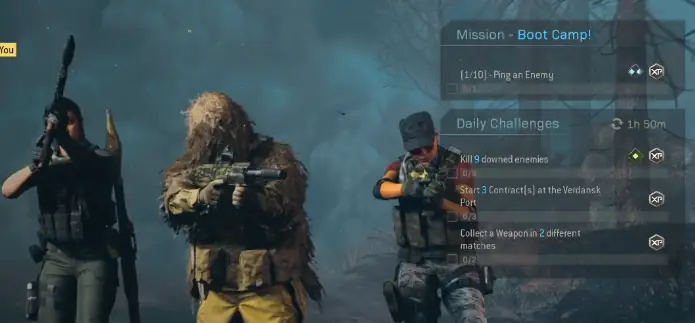 Call of Duty: Warzone, the free-to-play 150-man Battle Royale from Activision, is finally out today, March 10th, after a surprise announcement yesterday. The game will be free-to-play for everyone, regardless of if you own Call of Duty or not, at 12:00 PM PDT.
Similar to other games that have a Battlepass mechanism, there are Daily Challenges to complete. These challenges reward players with points that can be used to redeem skins and other cosmetics.
Daily Challenges are different for every player, and they are randomly picked out of a pool of total possible challenges. You'll have a day to complete your assigned challenges, and they will refresh with new ones the following day.
Call of Duty: Warzone Daily Challenges
Ping enemies
Survive 5 seconds in the gas field
Start contracts at the Arklov Peak Military Base
Revive yourself
Revive a teammate
Get kills with a common weapon
Kill downed enemies
Start 3 Contract(s) at the Verdansk Port
Collect a Weapon in different matches
Complete 'Recon' Contracts
Get a kill before the first circle close
If you're unsure of where you need to complete some of these challenges, check out the Call of Duty: Warzone map so you can plan your landing location before you get into a game.