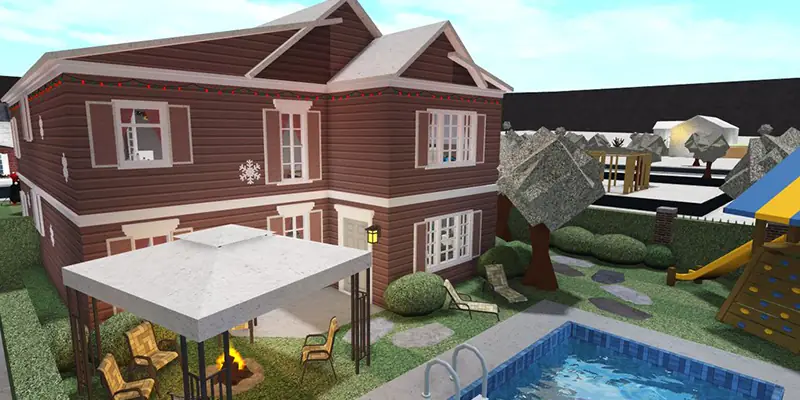 We put together some Bloxburg house ideas to give you some inspiration for your next creation. There are a few options for every price range, including mansions, modern, and one story houses. Check out our list of Bloxburg house ideas below.
Bloxburg Modern Family House (1 Story)
This is a perfect house if you're looking for something cheap and modern. It has a full kitchen, bathroom, bedroom, and living room and can all be built for under 10,000.
Bloxburg Modern Family House (2 Story)
Maybe the house above was a bit too small for your liking. This 2 story house might be a little more your style. The home features 4 bedrooms, 3 bathrooms, 1 laundry room, 1 dining room, 1 garage, 1 living room, and 1 kitchen.
Bloxburg Tiny House
This tiny house can be built for next to nothing. It features 1 bedroom, 1 living room, 1 bathroom, and 1 cooler kitchen. It may be quaint, but it's also cozy.
Bloxburg Cheap Mansion
If you want to live in luxury but still have a budget to stick to, the mini-mansion might be your best bet. This house features 2 bedrooms, 2 bathrooms, 1 garage, 1 loft, 1 laundry, 1 living room, 1 kitchen, and 1 dining room.
Bloxburg Colonial Mansion
This is one of the nicest looking mansions we've seen in Bloxburg so far. The mansion features 5 bedrooms, 4 bathrooms, 1 laundry, 1 office, 1 living room, 1 dining room, 1 kitchen, 1 grand hall, 2 garages.
Bloxburg Mediterranean Villa
This Mediterranean Villa is a unique style unlike any other house on our list. It's a common style for coastal resorts in Florida and California. The signature Mediterranean style red-tiled roof, arched windows, and balconies with window grates are all key characteristics.
Hillside Modern Mansion
Here's a modern-looking mansion that might be found somewhere like the Hollywood hills. It has a clean look with dark wood and abundant large windows for lots of sunlight to pour in. This is just an exterior build, so it can get quite expensive if you were to fill it in.
Bloxburg Victorian House
Here's a Victorian-style Bloxburg house build you can follow. The house can get quite expensive but there are some options to bring the cost down. Inside decorations are quite detailed, so going easy on them will save some money.