Call of Duty: best XM4 loadout in Black Ops Cold War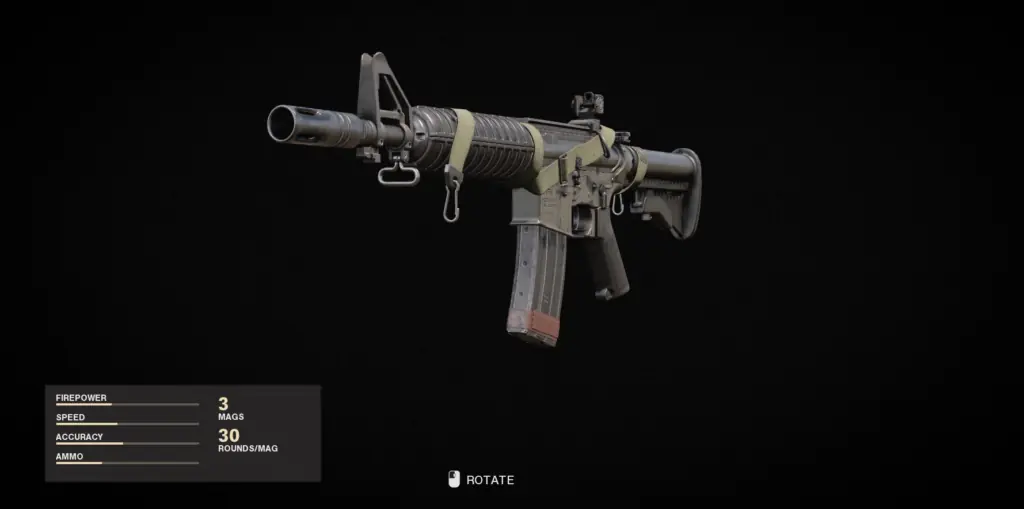 One of the most popular assault rifles in Call of Duty Cold War is the XM4, and it's not just because it's the first weapon you get. You can eliminate the recoil and turn this AR into a laser beam with the right attachments. Add an extra three attachments to your XM4 by utilizing the Gunfighter Wildcard to take it to the next level. Here's our version of the best XM4 loadout in Black Ops Cold War.
Update: We updated this loadout on November 16, to reflect recent changes to Call of Duty Cold War.
Best XM4 loadout in Black Ops Cold War
Here is the best XM4 class setup in Black Ops Cold War:
Optic: Microflex LED
Muzzle: SOCOM Eliminator
Barrel: 13.7″ Takedown
Underbarrel: Infiltrator Grip
Magazine: 40 Rnd Speed Mag
Handle: Airborne Elastic Wrap
Stock: Buffer Tube
To start things off, the optic is totally up to you and what you prefer. The Microflex is a minimal clean scope, so we like to run it on a few of our AR loadouts. For the muzzle, we like the SOCOM Eliminator, which helps with some muzzle flash concealment as well as vertical recoil. You can also swap this out with the Agency Suppressor if you prefer not to show up on the minimap.
One of the most important attachments is the 13.7″ Takedown. You might want to consider this on all your assault rifles because it increases the Effective Damage Range by 150%, which is a 1.5x increase in range. We go with the Infiltrator Grip as the underbarrel, which is a short bakelite foregrip for some extra maneuverability.
In terms of ammo, we go with the 40 Rnd Speed Mags. This attachments allows you to fire off a lot of shots and reload incredibly quick, so you can get back in the action. It decreases ADS speed by a negligible amount, but the Airborne Elastic Wrap more than makes up for it. The handle also provided some flinch resistance and prone perks, if you like to dropshot.
Finally, we wrap things up with the Buffer Tube stock. It provides a nice 30% bonus to Sprint to Fire Time, which can be beneficial in many situations in multiplayer mode.
Equipment and Perks
Here are the perks we like to run with the XM4:
Flak Jacket
Scavenger
Ghost
In terms of equipment, you always want to run with the Stimshot for the instant heal. Lethal is a toss-up between Semtex and C4, but most people tend to prefer the C4. Finally, the top tier equipment option is the Field Mic, which reveals enemies near the device on the minimap.
Wildcard
For your wildcard, be sure to select the Gunfighters option. This wildcard allows you to unlock three additional attachment slots for your primary weapon. The bonus attachments will help you out a lot with the XM4 build we're running here.