Best Spider-Man 2 Settings for Performance
Swing through the streets with lightning-fast frames!
Spider-Man 2 is finally here, and players are enjoying the beautiful fidelity of Insomniac's new game. But what if you're looking to get more frames rather than better textures?
In that case, we've got you covered, so let's take a look at the best Spider-Man 2 settings for performance.
Best Performance Settings in Spider-Man 2
Thanks to the hardware benefits of the PS5, you have more graphical options than with most other console exclusives. Furthermore, New York has never looked as beautiful as it does in Spider-Man 2. To make sure you make the most of all of that, we're going over the most important settings you should change in order to boost overall performance throughout the streets of New York. Some of these settings are entirely optional, while others might require you to have specific hardware along with your console.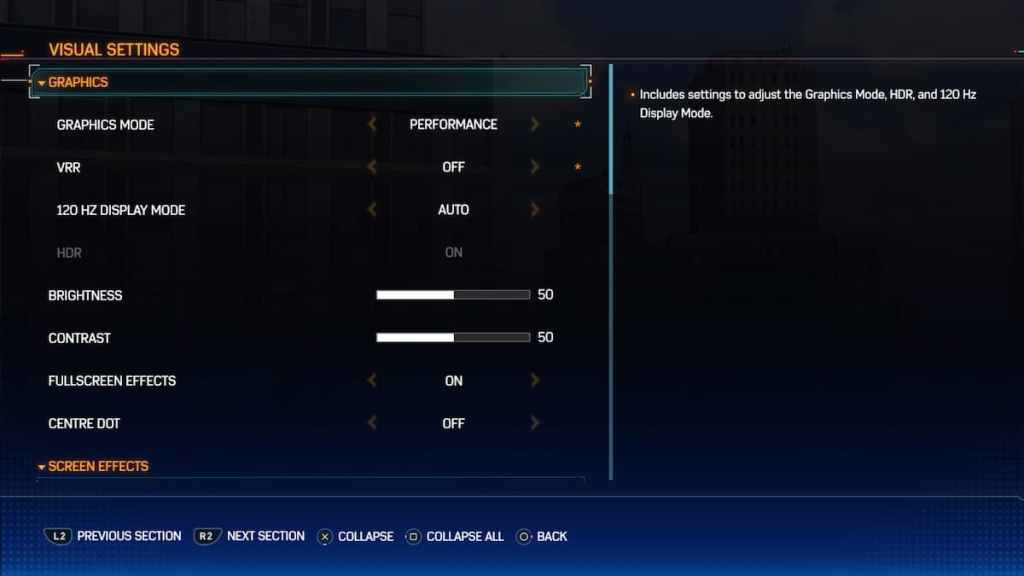 In the settings, you want to take a look at the 'Visual' tab, where most of the performance-affecting settings are located. Here are the most important settings you want to change in order to boost performance in Spider-Man 2 and what you should change them to:
Graphics Mode: Performance
VRR*: On
120 HZ Display Mode*: Auto
Motion Blur: Off
Chromatic Aberration: Off
* — Requires Compatible Monitor
Related: Best Suits in Spider-Man 2
As you can see, our settings are tweaked to ensure the maximum amount of FPS a player can get. What's more, settings like Variable Refresh Rate (VRR) and 120 HZ Display Mode require players to have a monitor compatible with these settings.
However, even with these settings off, changing other ones, such as full-screen effects, can boost frames slightly. But if everything is turned on correctly, you should be getting a max of 120 FPS, with VRR helping keep that frame rate steady in graphical intensive parts of the game.
Changing settings such as Motion Blur and Chromatic Aberration also help make the game look sharper, given the higher frame rates you are getting. All these settings are going to ensure that every corner of Spider-Man 2 looks as smooth as possible. And it's games like this that push console performance to greater heights, making it a true contender against powerhouse PCs.
---
Follow our Facebook page for more gaming news and updates. Check out our other wall-crawling articles like 'Midnight Suns vs Marvel Snap – Which is Better?' and 'How To Play PS5 Spider-Man on PC'. Stay locked in right here for more gaming news, guides, and lists, right here at Gamer Journalist.
About the author