Best Sims 4 Wedding CC Packs
Make my wedding great again!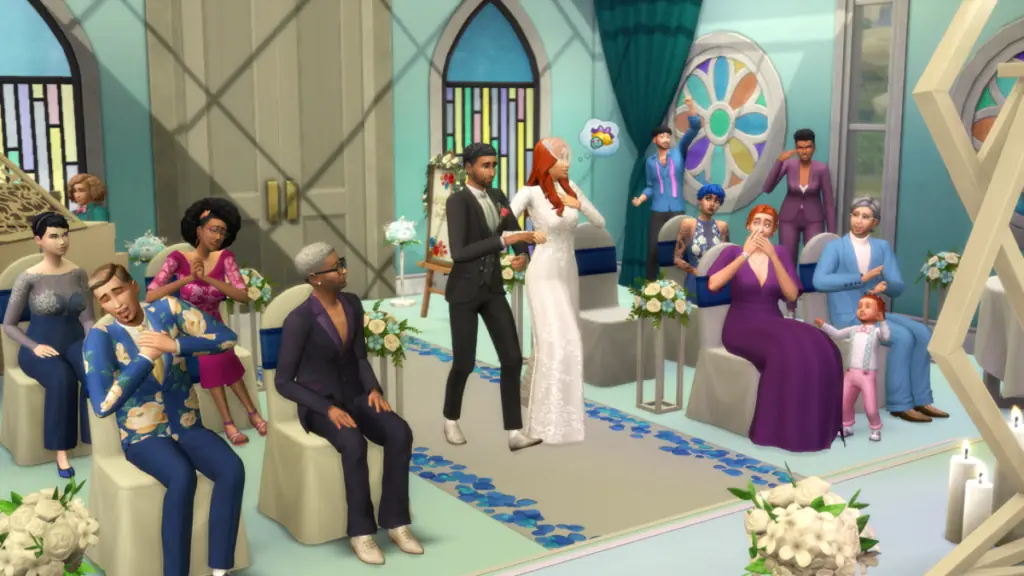 Is it too much to ask for Sims to behave while we're trying to get married? Can we just find a way to get fans to stop infiltrating my famous Sims wedding? Are we ever going to have Sims form a neat line when going down the aisle? These are questions we ask ourselves and dread when we realize our Sims are in love and want to get married. We're tempted to just tie the knot as soon as possible so we can evade the agonizing experience it is to have a wedding. Here are some Sims 4 wedding packs and mods you can use to have the ultimate wedding.
Best Sims 4 Wedding CC & Mods
Weddings are such a drag because of how broken the pack is. Sims aren't sitting like they're supposed to or fans of a famous Sim will crash the party. The dresses that are included in the game aren't the best but they're a nice start. In this list we're going to show you some of our favorite custom content and mods to help create a beautiful wedding on Sims 4.
1. BEO Creations
Need a quick and beautiful dress or suit for your Sims? As we were saying the dresses EA Games offers are nice but these dresses and suits are better. This creator focuses on creating breathtaking outfits your Sim will be happy to wear. Enjoy modern and vintage outfits that were heavily influenced by popular dresses in real life.
2. Mably Store
If you're looking for a mystical or edgier type of dress for your wedding versus the traditional white you're going to want to check out Mably Store. You'll be looked at as a goddess or an evil queen wearing this dress. The power you hold. This is something you should wear if you want to prove a point that you're not basic. You're beyond that. You're on another level. You're looking at everyone in the audience as if they're peasants. Hopefully, the groom is wearing something as equally tasteful as you are.
3. Various Seating Fixes
Stop standing up! We're so tired of guests. We told them we wanted them to gather at the aisle and sit down so we can get married. No one listens. They just do what they want to do even if we have turned off their free will. Thankfully, this mod helps to fix the main problem with the wedding pack and its to make Sims sit down. Tired of your Sims standing up to enjoy a performance when there are chairs around you? Add this to your gameplay so your Sim can finally sit down.
4. Briba32
We talked a lot about wedding dresses but now it's time for the fella's to get clothes that look good. With Briba32 custom content your male Sim can flaunt down the aisle wearing a stunning suit. It comes in six different swatches so you have some diversity. We're thinking this paired with MablyStore dress and we're talking power couple.
5. Call Off Wedding
Weddings are romantic and a time for celebration. What were to happen if that celebration was called off? That's exactly what this mod does for all you drama-enthused simmers out there. We personally love a bit of drama and calling off a wedding is the ultimate drama stirrer. Apparently in the pack there was a bit of code that gave Sims the ability to call off the wedding. Now, you can call off the wedding during wedding ceremonies! Your Sim can also slap the person who calls off the wedding at the altar. Thanks to MissyHissy you can have fun at weddings again.
How to have a wedding in Sims 4
Weddings are supposed to be a joyous occasion where your Sims friends and family can be part of the experience. With the wedding pack you can ask friends to be flower girls, ring bearer, best man, & you can even ask your parents or siblings for their blessing to marry. You can travel to the wedding world of Tartosa to taste test cakes & order flowers. After you've done some of these activities you can now throw events that lead up to getting married.
These events range from having a bachelor party, family dinner, rehearsal, or you can skip these entirely and just get to the wedding. Once you're at the wedding you can pick who is invited, who you picked as the ring bearer, and you can choose the formal wear. You have about 9 hours to complete the wedding portion so you better get married fast so you can do everything else.
How to add mods in Sims 4
Unzip the file after downloading. Place in "My Documents>Electronic Arts>The Sims 4>Mods
Enable custom content in game to make it appear in your game
Script mods need to be placed in mods and not under a subfolder.
Try adding mods and custom content to help create your ultimate Sims 4 wedding! check out all of our other guides! For more Sim and gaming news be sure to follow us at Gamer Journalist. We post gaming tips, guides, and news for popular gaming titles and upcoming ones.
Related: All Sims 4 Modders Offering Free Mods and Content After EA Crackdown