Best Sims 4 Home Builds for Growing Together Pack
My favorite Sims 4 builds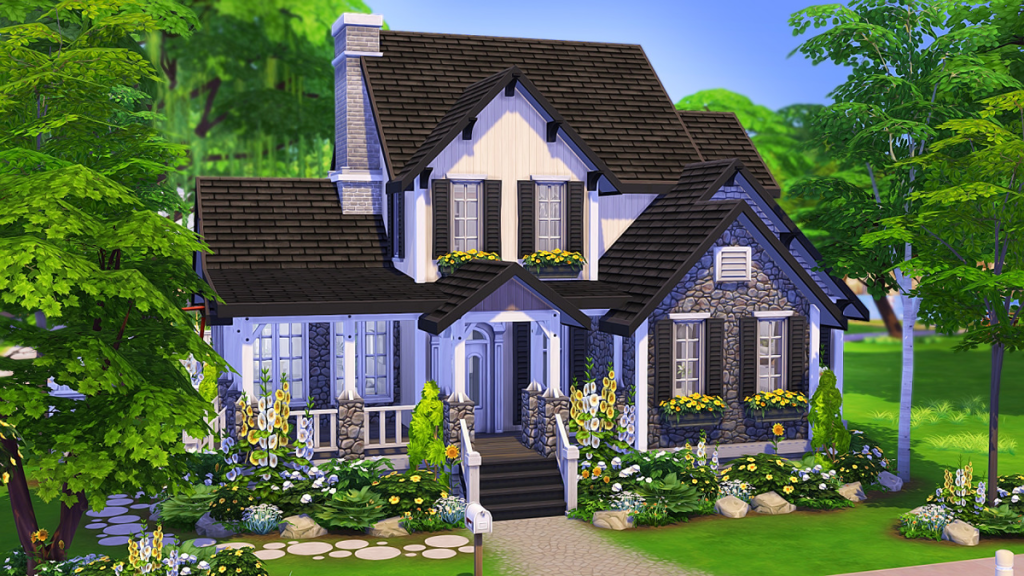 I adore family homes when I'm building on Sims 4 because I play as a generational player. I need my family to have a functional home that doesn't cause too much lag. The bigger the house the more lag there is. It's partly the reason why I refuse to build mansions on Sims 4 because my computer just can't handle it. When I'm looking for the right family home I make sure the rooms aren't super big, everything around them is functional, and the size is just right. I scoured the internet for the best Sims 4 home builds so here's my list you can add during the Growing Together Pack.
Best Sims 4 Home Builds Growing Together Pack
The first thing I do when I'm looking for home builds is I scour TikTok or I look through the gallery to see which homes are popular now. Recently, I've noticed that I love the home builds that aren't too expensive and aren't too massive. The best home builds are the ones that don't require tons of custom content and focus more on functionality. It doesn't make sense if my Sim can't navigate to the bathroom because of certain building restrictions. Here's my list of Sims 4 home builds you can add before you play the new Growing Together Expansion Pack!
1. paulpancake – Modern Japanese Home
This is one of my favorite builds on The Sims 4 because majority of my family are from Japan. For some reason I really love making Japanese, Korean, and Chinese Sims. I really enjoy Snowy Escape pack for the Eastern aesthetics such as the hot springs, hot pot, and the ability to take your shoes off in the house. This house has no CC which means it should fit in nicely with your gameplay instead of having to download items you don't have. It has a bright atmosphere, looks super clean inside, and is the perfect size for my gameplay.
2. tksims – Japanese Countryside Landscape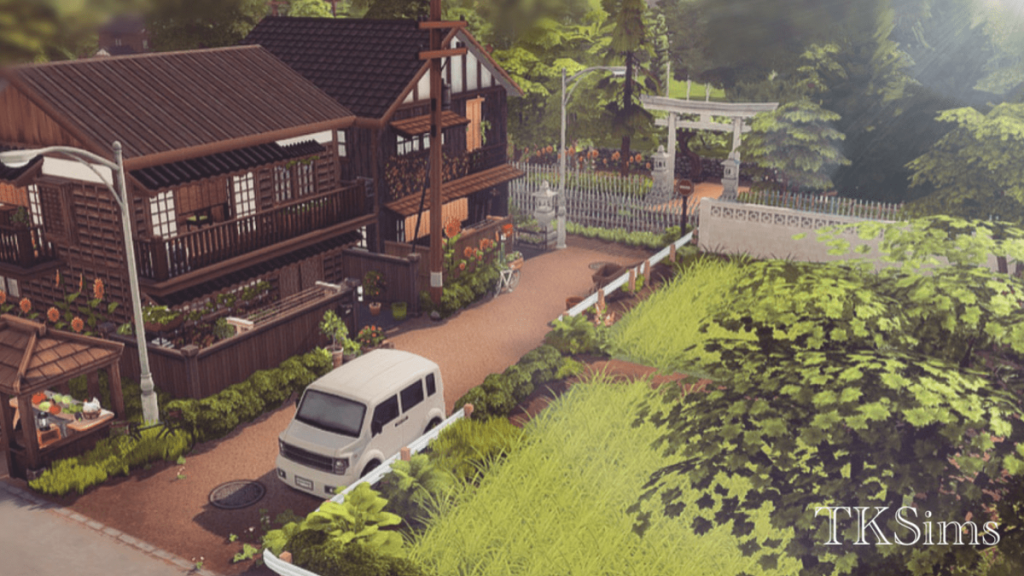 Remember how I said I really love Japanese homes? This is perfect for me because it's in the countryside so I can add it to rustic locations. I love how the landscaping looks in this build and it doesn't require me to do extra work to make it look good. As with majority of good looking homes you need to make sure bb.moveobjects on is turned on so all the furniture is placed correctly. This is a slightly bigger home than the previous one and it's 40×30. It's definitely a great house to look into if you want something larger for your family.
3. AvelineYT – Basic Suburban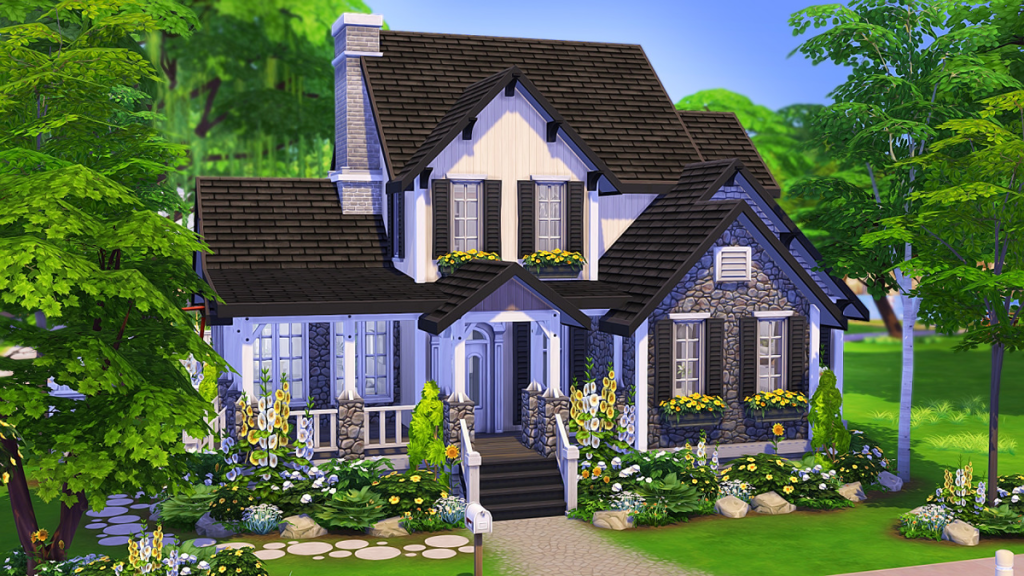 You're probably tired of seeing all of the Japanese influenced builds that I recommend you downloading. Another build that I like to use is by AvelineYT and it's a basic Suburban home. It's preferably meant for Willow Creek and it suits up to four Sims. There are three bedrooms and three bathrooms so if you want a cozy home for a family this one is for you. Maybe you're expecting a child in the new Growing Together pack and you want a family home? This one might be a little pricey at $138k but if you have the funds, or want to use a cheat, you should add it to gameplay.
4. schnuck01 – One Story Family Home
We need more family homes that are this big. This one is not massive so it doesn't take up a ton of space. It has three bedrooms and is perfect for a single mother of three children. What I like about this house is that it's not overly complicated. The rooms are nearby and it doesn't require my Sim to take an hour just to reach the other end of the house. The only thing I wish is that the house only was built using base game. You will need access to other expansion, stuff, and game packs. It's a really cute build with every room decorated accordingly.
5. ninahschmidt – Small Family House
Everything from the landscaping, exterior, and interior of this small family house is exceptional. I will be adding this to my gameplay. This home is so cute and it's not overly huge so that means I will be playing with less lag; which we all like. It's a 20×15 home and it's for sale at a small fee of 62k, which means you won't be paying an arm and leg for it. I think my favorite part of the build is how the bookcases were set up. There's a small chair and table next to a decent size bookcase and I could definitely see my Sims studying in front of it.
6. themossysim – Cottagecore Starter Home
The Mossy Sim creates some of the most aesthetically pleasing homes I've seen. She focuses on nature so majority of her homes are surrounded by beautiful trees, stunning landscapes, and decor you'd find if you lived in the countryside. This home is a starter home that was meant for Sims wanting to leave a bustling city and enjoy life in the countryside. She purposely made the house a bit rundown so you could create scenarios. Maybe your family got this house for a great price and decided to move their family in as a project?
7. Pchrseen – Modern Apartments
With the economy these days it's no wonder Sims aren't making enough money to live in a home. They need to live in an apartment and that's okay, especially if your apartment looks like this. This is a Japanese modern apartment that was built in Mt. Komorebi. Some of the apartment rooms are meant for single mothers or living alone. It's decorated so well on the inside and the exterior reminds me so much of Japan from the signs and bicycles lined up.
8. simmerkhai – Gardener's Eco House
Similar to the cottagecore home I spoke about previously, this home is all about gardening and living an eco lifestyle. Simmerkhai made this build to support eco living. Take note of the beautiful garden and the many different plants surrounding the house. There are also different tools that were used from the eco lifestyle pack where Sims can live off the grid by conserving energy. Inside the house is bright and has natural lighting seeping through the windows. I can't wait to move in my eco friendly Sims into this home.
9. CillasYT – Base Game Starter
This is the cheapest house we found for 17k! You know how hard that is to find an affordable house these days? This is a base game family starter home created by CillasYT. There's absolutely no CC and just the overall vibes from this build screams cozy. It's a cozy first starter for you Sims wanting to start a family and live with their significant other. The house isn't cluttered with tons of furniture which is why it's so cheap so you can place any furniture you want as your Sim makes more money in their career. I love finding homes that leave us with just the shell of the home so I can edit accordingly.
10. Jasmine Raditz – Urban House
This build is not available on the gallery and instead is a home you can download on Patreon. It's an urban themed build meant to be for grandparents. Since the new expansion pack will add family dynamics and focus on newborns and grandparents it makes sense to find a home suitable for grandparents. They need a home where they can enjoy the company of their grandchildren. I love this build because it reminds me of my families homes. The interior of the home reflects an older generation living there and the outside showcases children's toys showing they have stuff for their grandchildren to play with. Download and start playing with this build if you're wanting to have a place for your grandparents to live at in an urban setting.
---
If you're looking for more tips and tricks you can use while playing The sims 4 please check out Gamer Journalist on Facebook to join the discussion and keep up to date with our content. You may also want to check out Best Mods to Pair With Sims 4 Growing Together Expansion or Sims 4 Toddler Cheats – Age Up and Max Out Their Skills