Arma 3 helicopter controls – how to fly
Get to the choppa!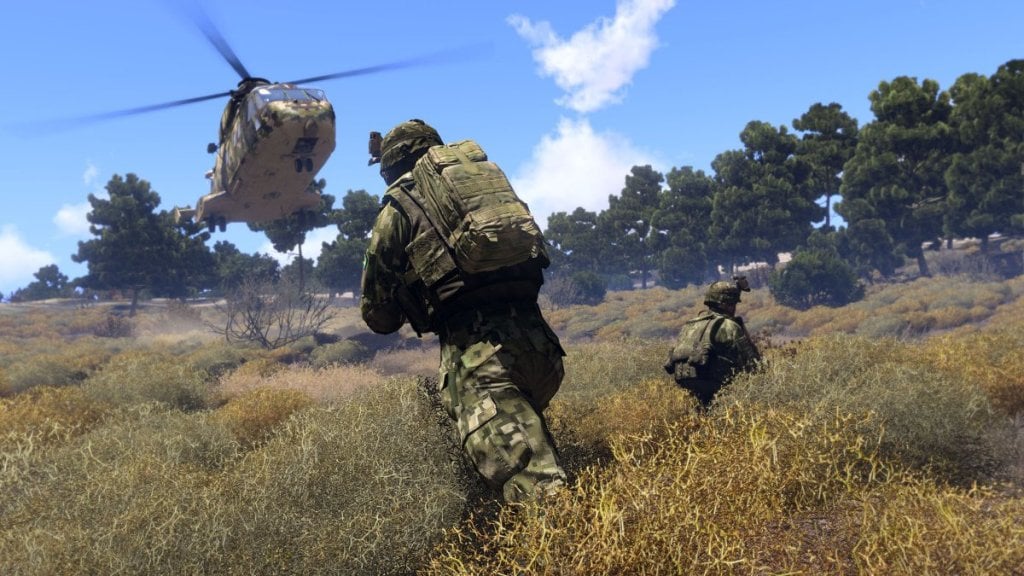 Though Arma 3 has been flexing its military sim prowess for the better part of a decade at this point, to this day players are still having issues getting their helicopters off of the ground. And that's not to say it's easy, as helicopters can be extremely difficult to fly in Arma 3. But have no worries, as we can help with that! Here's a full breakdown of helicopter controls in Arma 3 as well as how to fly!
Arma 3 helicopter controls – how to fly
To begin, you'll want to locate a helicopter. Any size will do. Walk up to it and get inside. Once there, scroll your mouse wheel to "Take Controls" and Left-Click and then again to "Engine On" with a Left-Click. From there, you'll be able to begin flying. When starting out, be sure to keep "Auto Hover" on so that you don't crash as easily.
You can use the mouse to turn your camera and the helicopter, as well as use the WASD keys to adjust the pitch or turn the helicopter. Each chopper is different so feel free to test them out in the Virtual Arsenal until you become comfortable with flying them yourself.
All controls in Arma 3 are to be reassigned, so if you find the default scheme to be awkward, be sure to adjust them how you like.
Keyboard
Helicopter Movement
Cyclic Forward – W, Up, Mouse Down
Cyclic Backward – S, Down, Mouse Up
Cyclic Left – A, Left
Cyclic Right – D, Right
Collective Raise – D, Right
Collective Lower – Z
Left Pedal – Q, Delete
Right Pedal – E, End
Left Turn – Mouse Left
Right Turn – Mouse Right
Auto-Hover On – X
Auto-Hover Off – X
Gear Down – G
Gear Up – G
Collective Raise – Analog
Collective Lower – Analog
Wheel Brake Hold/Release – Right Ctrl + W
Manual Trim Set – Right Ctrl + 5
Manual Trim Release – Right Ctrl + .
Manual Trim Left – Right Ctrl + 4
Manual Trim Right – Right Ctrl + 6
Manual Trim Forward – Right Ctrl + 8
Manual Trim Backward – Right Ctrl + 2
Manual Trim Pedals Left – Right Ctrl + 1
Manual Trim Pedals Right – Right Ctrl + 3
Roper Interaction – B
Sling Load Assistant – Right Ctrl + B
Related: Top 5 Games Similar to Escape From Tarkov
Mouse
Sensitivities
General
Invert Y Axis
Acceleration
Smoothing
Controller
Customizable Controllers
Controllers With Scheme
---
Well, that's everything you really need to know about helicopter controls in Arma 3 and how to fly! Be sure to check out some of our other helpful guides too, such as "ARMA Reforger: Every Game Mode Explained". And feel free to like Gamer Journalist on Facebook as well in order to be kept in the loop of all major gaming content!