Anime Fighters Update 10 Patch Notes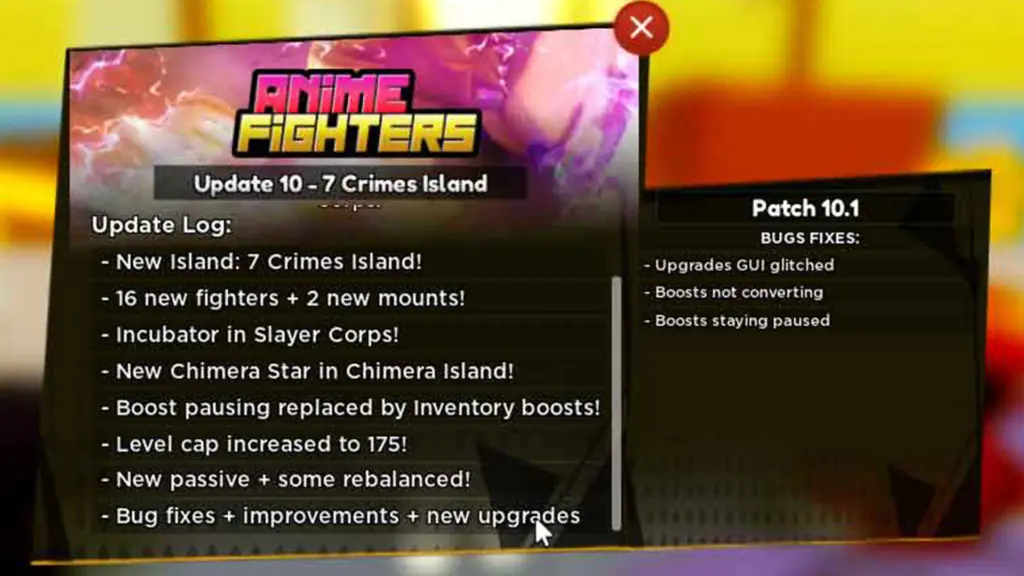 The new Anime Fighters Update 10 is finally here, bringing with it sixteen new fighters, a new island, a new device, a higher level cap, and many various bug fixes and improvements to the game overall. You can find a full list of the Anime Fighters Update 10 patch notes down below.
The new update introduces an Incubator item, which can be found in the Slayer Corps world. The device allows players to put their fighters into it and gain one level for every day it's left in there. It is good to use this machine if you have a few units you need to level but don't have them in your main party. Alternatively, it's a good idea to use it if you plan on not playing the game for a few days.
Make sure to check out our Anime Fighters codes page to take advantage of the new in-game promos and freebies.
Anime Fighters Update 10 Patch Notes
Here are the Anime Fighters Update 10 update log and patch notes:
New Island: 7 Crimes Island!
16 New Fighters + 2 New Mounts!
Incubator in Slayer Corps!
New Chimera Star in Chimera Island
Boost pasuing replaced by Potions (Inventory)
Level cap increased to 175
New passive + some rebalanced
Bug fixes + improvements
Bug fixes
Upgrades GUI glitched
Boosts not converting
Boosts staying paused
via Discord
The developers are also setting up a Yen event for the remainder of the weekend. You can log in to take advantage of it and receive a double Yen boost.