Animal Crossing New Horizons Winter Update (2020)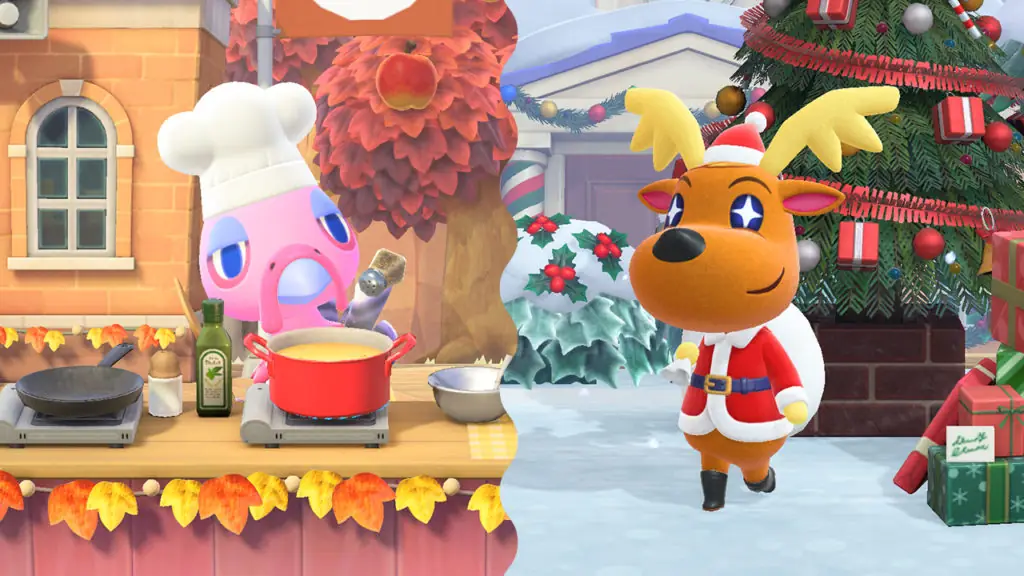 The Winter Update is available in Animal Crossing New Horizons on November 19. There's lots of new holiday-themed content to enjoy in this new update. Celebrate Thanksgiving and the Holiday Season with Franklin and Jingle. All new events are available between the months of November and December. Here's a list of all the new content available in the Animal Crossing New Horizons Winter Update.
Turkey Day and Special Villager Franklin
Toy Day and Special Villager Jingle
New Reactions
New Hairstyles
House Storage Upgrade
Save Data Transfer
January update information
Turkey Day Special Villager Franklin
Turkey Day goes live on November 26, and Franklin, the village's first-class chef, will arrive to cook up some delicious meals for all to enjoy. You'll have to help him gather some ingredients so he can cook the best dishes possible.
Franklin, a returning villager, will visit your island. You will have to gather a few ingredients to help him dish up some exquisite meals.
Toy Day and Special Villager Jingle
Toy Day goes live on December 24, which is the Animal Crossing New Horizons Christmas celebration event. Jingle, the black-nosed reindeer, will be making his appearance and need some assistance delivering all the presents to the good villagers of your island.
New Reactions
Lots of new reactions are introduced during this Winter Update as well. Players can stock up on the Hip Reaction Collection by spending some of their Nook Miles. There are nine total reactions available during the event. You can pick up the Hip Reaction Collection for 2,700 Nook Miles. Reactions include:
Sit Down
Wave Goodbye
Take a Picture
Sniff Sniff
Workout
Yoga
Here You Go
Excited
Ta-da
New Hairstyles
There are also some new customization features in the form of Hairstyles. Pick from six new hairstyles, and pick them up by using your Nook Miles.
House Storage Upgrade
Increase the maximum number of items you can store in your house storage with the new House Storage Upgrade. It increases to 2,400 with the new Winter Update. You can head over to Resident Services and talk to Tom Nook to get this sorted out.
Save Data Transfer
A Save Data Transfer feature is available in the new Winter Update. Players can now transfer their entire island to another device. You also have the option to select just one player and transfer their data somewhere else.
January update information
The next free update is scheduled to launch in Late January, according to the official ACNH Winter Update video by Nintendo.