Animal Crossing New Horizons Pumpkin Guide: Fall Update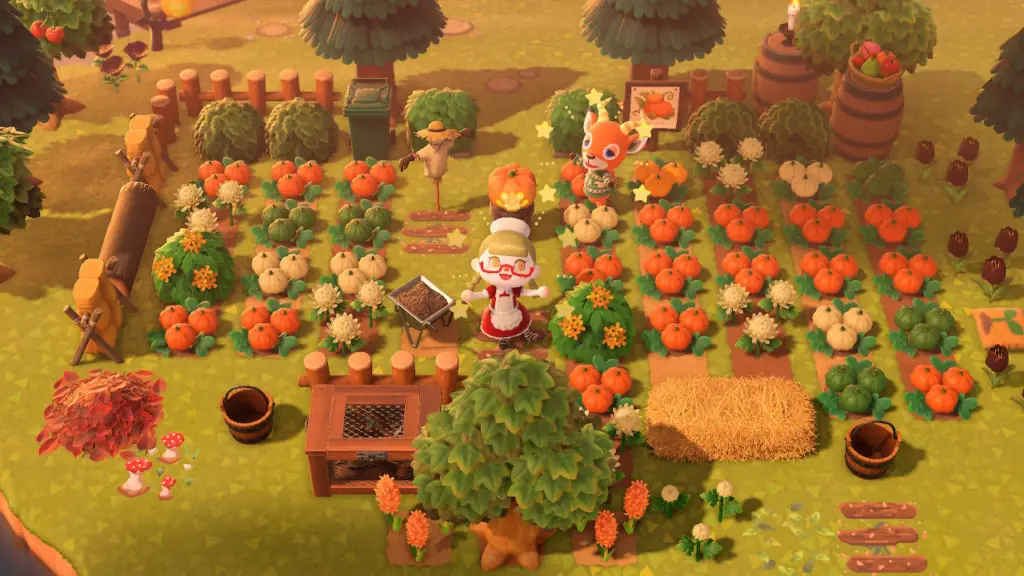 Pumpkins are now live in Animal Crossing New Horizons as of the Fall Update. Are you looking to grow a great pumpkin patch? Look no further, because we're going to cover everything you need to know about the new update. Not only can you grow your own pumpkins, but you can also discover various pumpkin DIY items. Here's our Animal Crossing New Horizons pumpkin guide, including how to start growing pumpkins, the different types of pumpkins, and the DIY pumpkin recipes.
How to grow pumpkins in Animal Crossing New Horizons
To grow pumpkins in Animal Crossing New Horizons, you will need to get some pumpkin seeds. You can purchase Pumpkin Start from Timmy and Tommy over at Nook's Cranny. You can also get some seeds from Leif for half price, or pick them from someone else's island. The Pumpkin Starts costs about 280 Bells, and there is no limit to how many you can buy.
There are four types of pumpkins available in the game right now. You can grow orange, yellow, white, and green pumpkins, and each color unlocks different DIY recipes. Plant your pumpkins in the ground by pressing on the item and hitting the Plant 1 option. The color of the pumpkin is random but weighted more towards being orange. If you want to grow a specific pumpkin color, bury a pumpkin of the color you want to grow. The resulting pumpkin will be the same color as the one you buried.
Pumpkins grow in a four-day cycle. Day one consists of creating a small pumpkin sprout. On day two, the pumpkin grows into a medium pumpkin sprout. It grows into a large pumpkin sprout on day three. Finally, a full ripe pumpkin comes out on the fourth day. The amount of pumpkins you can harvest depends on your watering habits.
Make sure to water your pumpkins three times a day. Watering them allows you to harvest more pumpkins, so don't forget this step. Not watering the pumpkin sprouts will result in a single pumpkin harvest. Watering one time in the life cycle results in a double pumpkin, and watering them all three days produces three pumpkins.
One thing to note is that placing your pumpkins on the ground makes them last forever. Don't worry about your pumpkins rotting or spawning ants and other nasty bugs like in real life.
Animal Crossing New Horizons Pumpkin DIY Recipes
There are fourteen new pumpkin DIY recipes in ACNH in the latest update. You can acquire them in-game by giving your villagers some candy in the spirit of Halloween. If you want to craft them all, you need 88 orange pumpkins. Here are all of the pumpkin DIY recipes we know so far:
Spooky Wand: spooky lantern x1, star fragment x3
Spooky Table Setting: orange pumpkin x1, iron nugget x1, clay x1
Spooky Carriage: orange pumpkin x30, hardwood x20, wood x20, softwood x20, iron nugget x10
Spooky Garland: orange pumpkin x1, iron nugget x1, clay x1
Spooky Standing Lamp: orange pumpkin x3, hardwood x5, clay x1
Spooky Fence: orange pumpkin x3, iron nugget x5
Spooky Scarecrow: orange pumpkin x3, wood x4
Spooky Lantern: orange pumpkin x4
Spooky Lantern Set: orange pumpkin x4, a clump of weeds x4
Spooky Candy Set: orange pumpkin x1, candy x3
Spooky Tower: orange pumpkin x7
Spooky Arch: orange pumpkin x10, hardwood x10, clay x3
Spooky Chair: orange pumpkin x3, softwood x3
Spooky Table: orange pumpkin x14, softwood x10
Note that you can color every DIY Pumpkin recipe with various customization items. For example, you can color the Spooky Carriage yellow, white, or green for seven relevant color pumpkins.