All Whistleblowers Locations in Goat Simulator 3
Justice is served.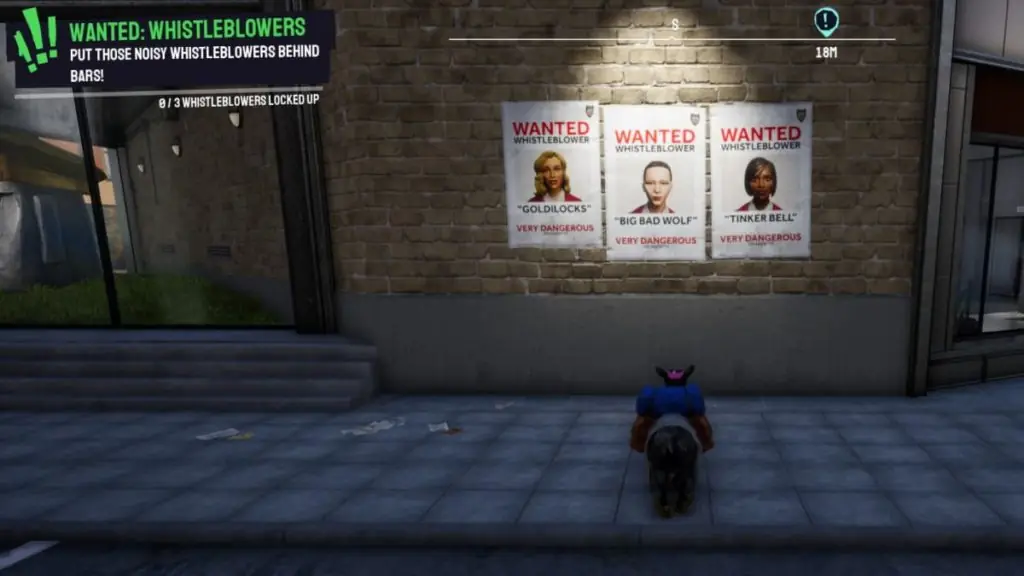 The Whistleblowers event is one of the trickiest one to complete while exploring the city of Downtown in Goat Simulator 3. You will have to locate three criminals and carry them to the jail nearby. The location of these criminals is completely unknown, making the event challenging to complete.
In this guide, we will show you all the locations of the whistleblowers with image map indicators to help you complete the event.
All Whistleblowers locations in Goat Simulator 3
The whistleblowers are in the Downtown area, but are difficult to identify with so many distractions in the game. However, all of them seem to wear a red suit. Here are the exact map locations for them.
Goldilocks
We will first go after Goldilocks. She is right across the street near the two ATMs. The black exclamation mark on the map is the position of the wanted posters for the Whistleblowers event in Goat Simulator 3. The goat icon is where you will find Goldilocks.
Big Bad Wolf
The Big Bad Wolf is a little farther from the wanted posters. You can see the goat icon on the above map. Reach on top of the building to catch him. Try to use a blue-colored container tarp for jumping on the top of the building in Goat Simulator 3.
Tinker Bell
Tinker Bell is straight down the street with reference to the wanted posters. She is standing on the raised platform near a building. Please refer to the map above for locating the criminal.
Related: How to Reach the Stratosphere in Goat Simulator 3?
You will notice all the whistleblowers will literally whistle the whole time you are around them. This makes it even easier to spot them. Once you catch all the criminals, you will complete the event and get a Police cap with sunglasses. When equipped, you will get the ability to handcuff people.
If you want location for the Curator event, check out our All Street Art Locations to Complete Curator Quest in Goat Simulator 3 guide.