All Customization Options in Bear and Breakfast
There are a lot of ways to customize your B&B.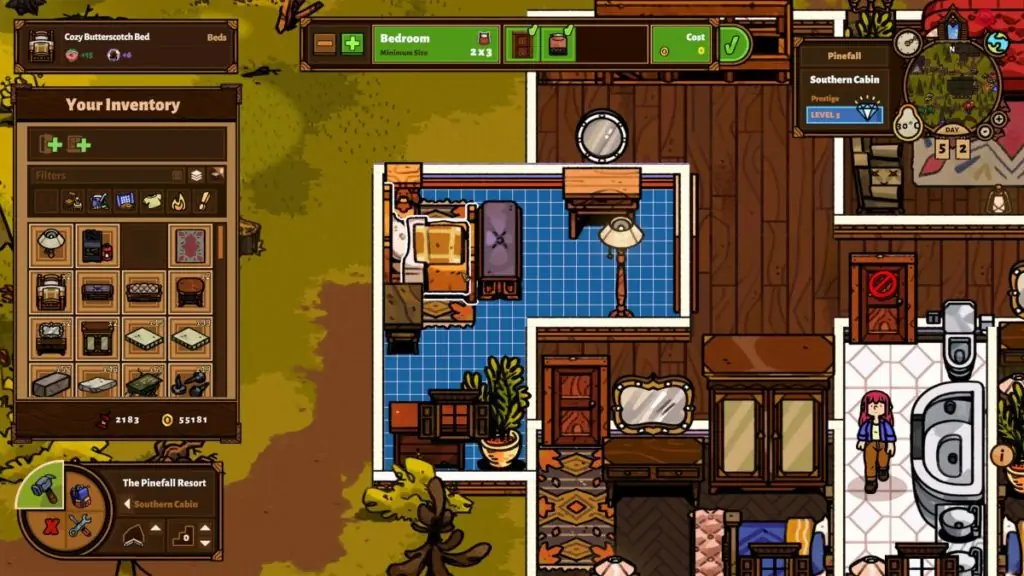 If there's one thing that Bear and Breakfast does well, it's the fact that it includes tons of different customization options for players to use in order to bring the B&B of their dreams to life. Through the game's various Crafting Blueprints that can be earned or purchased and the Decorative Items that can be purchased by Took the Raccoon, there is no shortage of items for players to use in their B&B. We've managed to figure out every single customization option for your B&B in Bed and Breakfast so that you know exactly what to expect in-game.
All Customization Options in Bear and Breakfast
There are two types of customization options to look out for in-game, Blueprints which are used for crafting certain pieces of furniture that are imperative for your B&B as a whole, as well as Decorative Items which can be purchased and have a bigger role to play in the decor aspect of gameplay. Both types of customization options are unlocked over time as you progress through the game's story and quests. Let's take a look at them all!
Level One Crafting Blueprints
Front Desk
Simple Wooden Wardrobe
Shabby Wooden Bed
Shabby Pallet Bed
Wooden Footrest
Crappy Toilet
Wooden Shower
Rusted Bathroom Sink
Tiny Buffet
Small Plywood Table
Little Dinner Stool
Puny Cutting Board
Cast Iron Stove
Small Refrigerator
Ol' Grandma Boiler
Tiny Fuel Chest
Scratchy Armchair
Compact Sofa
Sensible Book Case
Sturdy Wooden Bar
Wood Barstool
Basic Beer Tap
Small Campfire
Sitting Log
S'more Station
Level Two Crafting Blueprints
Modest Toilet
Simple Bathtub
Basic Bathroom Sink
Rustic Delight Bed
Small Vanity Table
Cushioned Footrest
Small Buffet
Sturdy Oak Table
Rounded Chair
Level Three Crafting Blueprints
Luxurious Throne
Lavish Standing Tub
Ornate Bathroom Sink
Cozy Butterscotch Bed
Lovely Lavender Bed
Cute Comfy Footrest
Hot and Cold Buffet
Long Walnut Table
Solid Walnut Chair
Elegant Wardrobe
Level Four Crafting Blueprints
Cute Vanity Table
Divin Dijon Bed
Level One Tooks Dumpster Decor
Cardboard Box
Old Drawers
Janky Floor Mirror
Small Nightstand
Scuffed Cupboard Cabinet
Small Oil light
Small Bear Painting
Small Geometric Rug
Oil Wall Lamp
Flower Vase
Small Potted Prayer Plant
Welcome Mat
ScentedSticks
Rounded Landscape Painting
Small Blue Rug
Reclaimed Bathroom Cabinet
Level Two Tooks Dumpster Decor
Janky Bathroom Mirror
Modest Towel Rack
Hand Painted Drawers
Simple Floor Mirror
Oak Wood Nightstand
Retro Jukebox
Very Rustic Coffee Table
Sensible Floor Lamp
Medium Knitted Rug
Round Rustic Coffee Table
Small Abstract Painting
Decorative Barrel
Sturdy Wood Shelf
Book Cabinet
Large Snake Plant
Possum Clock
Small Potted Plant
Small Snake Plant
Small Table Light
Intricate Medium Rug
Small Aloe Plant
Bear Shelf
Level Three Tooks Dumpster Decor
Clean Bathroom Mirror
Sensible Towel Rack
Ornate Cabinet
Country Wood Shelf
Double Rustic Shelves
Narrow Kitchen Shelves
Orderly Wood Pile
Small Cloudy Painting
Sensible Coffee Table
Cuckoo Clock
Large Forest Painting
Medium Stitched Rug
Adirondack End Shelves
Critter Totem
Happy Fish Plaque
Painted Decorative Pot
Leafy Contrast plant
Rocking Sheep
Round End Table
Rustic End Table
Smol Bear Carving
Terrarium
Tool box
Wall Tapestry
Autumnal Medium Rug
Small Succulent Plant
Chunky Rustic Lamp
Art Deco Tiny Lamp
Sculpted Nightstand
Medium Geometric Rug
Level Four Tooks Dumpster Decor
Brass Framed Mirror
Minimalist Towel Rack
Dependable Cabinet
Elegant Floor Mirror
Elegant Nightstand
Charming Cupboard
Dark Wood Shelves
Kitchen Spice Rack
No Fuss Cooker Hood
Egg Carton Padding
Cheap Anti-Noise Padding
Stone Fireplace
Popcorn Machine
Candelabra
Cherry Blossom
Guitar Stand
Large Bonzai Plant
Blue Decorative Pot
Brass Table Light
Moose Carving Plaque
Stack of Books
Large Colorful Rug
Ver Large Starry Rug
Trendy Kitchen Shelves
Level Five Tooks Dumpster Decor
Walnut Cupboard
Rococo Lamp
Large Well-Lit Mirror
Beech Wood Towel Rack
Sharp Glassy Cabinet
Luxurious Floor Mirror
Elegant Baroque Shelves
Large Cooker Head
Acoustic Foam Panel
Vintage Gramophone
Large Cozy Fireplace
Wooden Beer Barrel
Wine Bottle Rack
Large Wine Barrel
Flower Cart
Figurine Shelf
YaY Arcade Neon Sign
Back to the Arcade Neon Sign
GaudyGachapon
Snax Vending Machine
Crooked Claw Machine
Cute Plushie Stand
Nacho Machine
Nacho Cheese Lamp
"Hungry Hungry Bear" Poster
"Everyone Loves Hank" Poster
Pretty Postcard Display
Large Postcard Display
Museum Gift Shop
T-Shirt Stand
Mahogany Side Table
Large Geometric Rug
Large Leafy Plant
Pinecone Low Table
Brushed Gold Cupboard
Those are absolutely all of the customization options in Bear and Breakfast! Hopefully, this list allowed you to create some ideas for when you finally have your favorites unlocked so that you can build the B&B of your dreams!
Related: Where to Find Ipswitch the Turkey in Bear and Breakfast