Aincrad Adventures Codes (January 2022)
Earn free in-game stat resets and spins by using the latest Aincrad Adventures codes.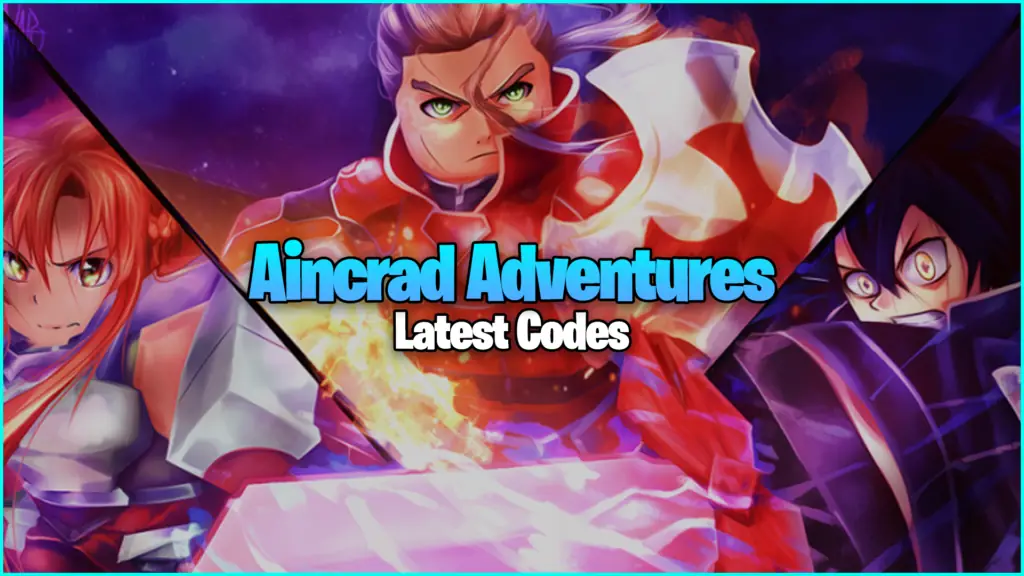 Aincrad Adventures is an experience developed by Imagination Studios for the Roblox platform. Aincrad is an RPG adventure game based on the Sword Art Online series. In this game, you level your character, fight different bosses and enemies, and get cool drops. To help you get started we have collected all of the latest Aincrad Adventures codes below.
Aincrad Adventures codes are an easy way to earn free character spins and stat resets. Stat resets are pretty self-explanatory, they will allow you to reset the character stats. Spins will allow you to spin for different character attributes at the character edit screen. Codes may not last and can expire at any moment, make sure to use them while they are available. Bookmark this page so you can check back for updates easily.
If you find this post helpful, you can check out these posts on Zo codes, Pet Simulator X codes, and Project Hero codes.
Aincrad Adventures codes
Here are the latest Aincrad Adventures codes:
!3K – 4 Spins
!FREERESET – Skill Point Reset
!SORRY – 4 Spins
Get more codes for your favorite games through our Roblox game codes list.
How to redeem codes for Aincrad Adventures
To redeem codes for Aincrad Adventures, follow these steps:
You must first joind the Imagination Studio's group to redeem codes.
Launch Aincrad Advenutres in Roblox.
From the main menu or character edit screen hit / or tap the chat icon in the top left.
Enter a working code into the chat box.
Hit enter to send your message and redeem the code.
Enjoy your free in-game rewards.
How to get more codes for Aincrad Adventures
We will update this page with new codes as soon as they are released but you can also follow the developer's Twitter and Discord communities. Please make sure to follow all of their guidelines. Don't forget that you can hit CTRL+D to bookmark this page so you can stay updated with all the latest codes.
Aincrad Adventures Game Description
Welcome to Aincrad adventures an SAO themed RPG heavily inspired by SAO defeat enemies and collect rare drops. Make sure to follow the developers twitters for sneaks, easter eggs, and codes! Codes are randomly added to the game and typically don't work after 2 hours so if you aren't followed you will miss out. In order to use codes you must also be in the group. @Huey_Shinzo
!Starter to see the starter guide

This game is based off of Sword Art Online with original writings by
"Reki Kawahara"
Illustrations by
"abec"
Publications by
"ASCII Media Works"
And inspiration from
"Sword Art Online Alicization Lycoris"
All sound tracks in the game are exclusive to this game.

Current Level Cap: 100
Controls:
Z – Equip/Unequip weapon
Q – Roll
M – Menu
Explore other experiences on our Roblox game codes page to find your favorites. Check out our Roblox promo codes page for new outfits and other freebies for your in-game avatar.