5 Letter Words with RO in the Middle – Wordle Hint
We have a list of 5 letter words with RO in the middle to help you figure out today's mystery Wordle of the day.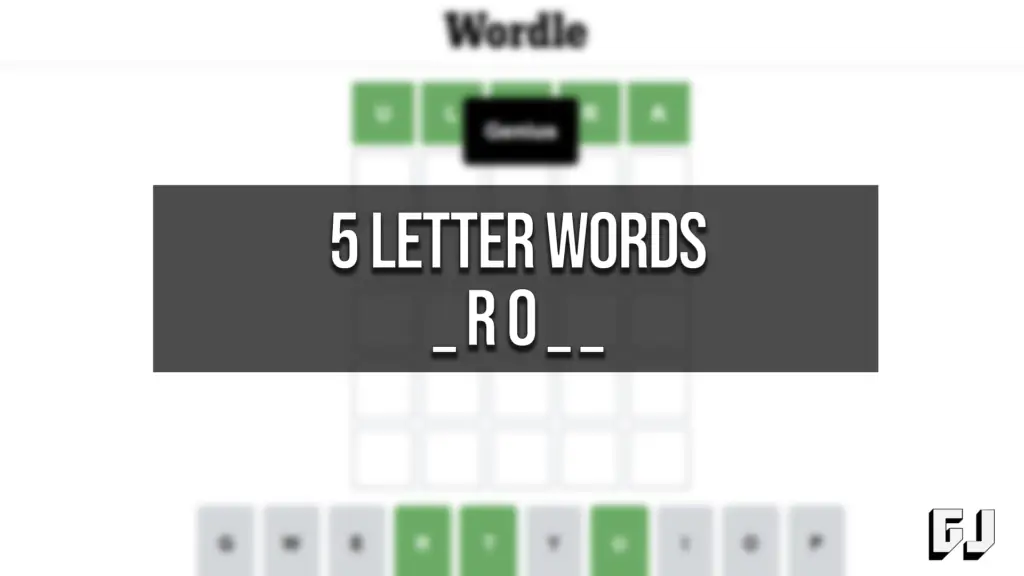 There are nearly thirteen thousand possible five-letter word guesses in Wordle. That's a nice pool of words to choose from when you start, but your choices narrow, and things get more difficult as the game progresses. If you managed to lock in the second and third letters but are struggling to think of any words, fear not, we are here to help. Check out some helpful Wordle hints where the second and third letters are RO below.
Our word list pulls from the Wordle dictionary, so all of the hints here will be valid guesses in Wordle. If you want more specific help, you can use our Wordle helper tool. Using our tool, you can get word suggestions by entering your game's current state, including the letters you guessed in the correct and wrong positions.
5 Letter Words with RO in the Middle
Here is our list of all the potential five-letter words you can use in Wordle, with RO in the second and third positions.
trope
frowy
aroid
brood
croci
dross
broke
croak
cronk
crost
groin
wrote
crows
crony
grout
brond
troys
croze
groma
irone
brose
grots
group
crore
drony
prods
crook
dropt
droog
growl
grody
droke
croup
grogs
frons
grovy
grone
irony
proud
croft
prore
wroot
tromp
proof
pross
bromo
proms
frorn
prowl
prose
groof
grosz
groan
proin
drows
frore
crogs
froes
grows
grown
prove
broad
profs
broil
proas
drops
crons
grove
aroha
wroth
frock
proem
brome
iroko
drouk
froze
aroma
proke
trois
progs
wroke
irons
drome
wrong
brods
aroba
krone
frows
proto
crops
trout
proxy
frown
probs
brogh
broos
troop
crout
frond
droob
crocs
prong
tronc
drone
frory
grope
probe
frosh
prole
kroon
vrouw
drole
troat
grouf
troke
drook
trots
droid
proll
brook
trode
droop
frogs
droit
crone
trove
pronk
prost
groom
proso
frost
trooz
broch
prows
droll
trogs
cromb
trone
trows
broom
troth
proyn
trona
vrous
props
crown
trons
prosy
brogs
droil
brown
erode
drool
cross
trods
drove
gross
vroom
prone
proul
crome
troad
trock
tronk
vrows
erose
front
crock
troll
arose
froth
brock
broth
troak
promo
crool
drown
croon
krona
bronc
groat
brool
brosy
groks
brows
crowd
agros
carom
arrow
arroz
moron
error
biros
duroy
heron
gyros
acros
ceroc
berob
tarot
ceros
gyron
boron
faros
giron
duroc
afros
duros
enrol
heros
furol
giros
deros
aeros
carob
euros
furor
baron
throb
haros
apron
throw
carol
buroo
juror
caron
maror
karoo
seron
pirog
perog
tyros
karos
saros
keros
taroc
taros
koros
strop
nerol
serow
tiros
xerox
miros
siroc
pyros
lirot
tarok
strow
parol
torot
toros
scrob
weros
maron
stroy
sprog
scrog
throe
shrow
zeros
scrow
scrod
sprod
sarod
Not all words are created equal when it comes to Wordle. There are methods you can use for picking the best word from the hints above. The general rule is to pick words that have the most popular vowels and consonants in them. Also, it's good to avoid words that have duplicate letters. You can use our Wordle starter word guide to help you out.
We hope our list of five-letter words with RO in the middle helped out your Wordle game, and you figured out the daily word. Check out other helpful Wordle hints for future daily puzzles.