5 Letter Words with KE in the Middle – Wordle Guides
Here is the complete list of 5 letter words with KE in the middle that you can use to figure out today's daily Wordle puzzle.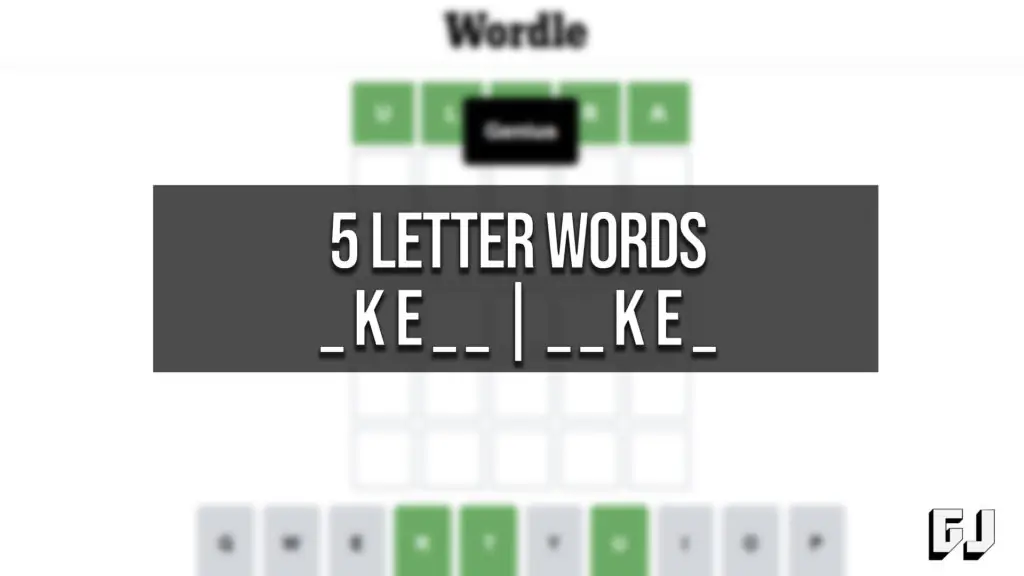 Wordle is the popular new word game taking the world by storm. Players have six attempts to try and figure out a daily mystery 5 letter word. It's tougher than it sounds, but it's a fun and relaxing way to spend a few minutes of your time every day. If you find yourself stuck and not sure what word to guess next, we're here to help. We have a list of Wordle clues with the letters KE in the middle to help you with some ideas.
Words with KE in the Middle
Below you can find our full list of 5 letter words with KE in the middle. The list contains 182 Wordle compatible words, and you can narrow it down further by eliminating words with incorrect letters or letters in the wrong spots. If you need more help, you can use our Wordle helper to get some ideas using other letters or letter positions.
5-letter words with KE in the middle list
okehs
skear
skeed
skegg
akees
skeen
skees
skein
skelf
skers
skene
skeer
skets
skeds
skeet
akela
skelp
skelm
skeef
skeos
skews
skean
skens
skeps
skell
akene
skegs
fykes
raked
takes
wakes
tykes
waker
roker
liked
oaken
joked
rekey
deked
ackee
laked
syker
duked
inker
rekes
biker
hiked
toked
oaked
asker
joker
sykes
sakes
boked
rokes
laker
maker
makes
hikes
cokes
saker
sikes
token
caked
roked
taken
yukes
baken
dykes
bikes
koker
esker
jakey
toker
yuked
ryked
hiker
diker
biked
rakes
byked
cakes
jukes
fikes
jokey
eiked
daker
liker
dikes
tokes
yikes
faker
tsked
ocker
baked
pukey
coked
jakes
dykey
naker
raker
hokes
hakes
nukes
juked
lakes
cukes
inked
sokes
kikes
mokes
dikey
poked
bukes
lokes
puker
unked
yiked
ewked
icker
cakey
puked
anker
faked
unket
waked
bykes
likes
woken
rakee
liken
fyked
baker
dyked
yokel
piked
tikes
rykes
pikes
poker
diked
mikes
waken
pikey
jokes
yoker
yoked
euked
pukes
fakes
siker
askew
pekes
woker
acker
taker
soken
nuked
reked
yokes
bokes
piker
pokey
dekes
oaker
pokes
hykes
naked
miked
ylkes
bokeh
asked
bakes
hokey
hakea
hoked
fakey
dukes
jaker
fiked
irked
arked
More Word Lists
Those are all of the 5-letter words with KE in the middle that you can use to figure out today's mystery word. You can even use this list for other word games outside of Wordle. We hope that it comes in handy and helps you think of some new words that you can use for your daily guesses. Remember to check out our Wordle section for more word lists, guides, best starter words, and more.