5 Letter Words with K in the Middle – Wordle Guides
Here is the complete list of 5 letter words with K in the middle that you can use to figure out today's daily Wordle puzzle.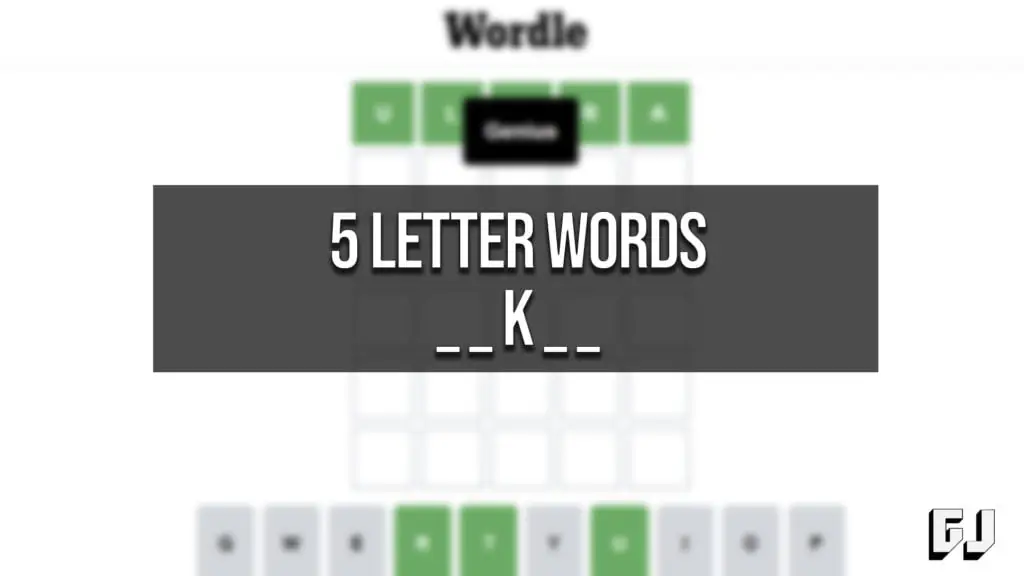 Wordle is the popular new word game taking the world by storm. Players have six attempts to try and figure out a daily mystery 5 letter word. It's tougher than it sounds, but it's a fun and relaxing way to spend a few minutes of your time every day. If you find yourself stuck and not sure what word to guess next, we're here to help. We have a list of Wordle clues with the letters K in the middle to help you with some ideas.
Words with K in the Middle
Below you can find our full list of 5 letter words with K in the middle. The list is very lengthy, consisting of 272 words, but you can narrow it down further by eliminating words with incorrect letters or letters in the wrong spots. If you need more help, you can use our Wordle helper to get some ideas using other letters or letter positions.
5-letter words with K in the middle list
yoked
tikka
saker
roked
taken
rakis
inked
ryked
cokes
sikes
woken
sukuk
inker
kokam
cakes
sakes
dukas
kikoi
nakfa
baken
onkus
jokes
lokes
yukky
kokum
mekka
kukri
yakka
yukes
nikab
ekkas
irked
nikau
fakes
pukka
wokka
dukka
rukhs
makos
pikul
piked
lakin
rakes
toked
pukas
deked
oaked
juked
byked
waked
cakey
sekts
makar
liker
rekes
ankhs
rykes
askew
tokay
sukhs
alkyl
yokel
sokol
takky
mokis
hokku
unkid
hikoi
takhi
pikes
puker
ankus
nikah
duked
yiked
pakka
pukus
bikie
bakes
mokes
anker
hiker
bokeh
poker
hokum
sakai
poked
askoi
sykes
inkle
dekes
pokes
hakes
yikes
unket
yukos
vakas
caked
maker
coked
yakow
koker
biker
fakey
syker
ickle
wikis
jaker
takin
siker
rakee
jakey
jakes
kokas
hokey
joked
asked
rakus
puked
biked
fiked
unked
raked
yokul
roker
eskar
likin
taker
rekey
yoker
hakas
diker
cukes
reked
laksa
diked
dykey
lakhs
kakas
acker
ackee
jokol
dikey
fikes
kikes
bukes
waken
liked
laker
likes
laked
bykes
hykes
dukes
bakra
yuked
jokey
dikes
sakti
hakam
bikes
pekoe
kakis
lakes
joker
tokes
eiked
hoked
yokes
jukus
tykes
kukus
kokra
sakia
makes
jukes
nuked
pukes
baked
naker
asker
faker
hakus
nukes
token
naked
dekko
makis
pokie
sikas
esker
tikes
bokes
pekan
bekah
baker
takis
dyked
hokas
dykon
pikau
pikey
icker
mikva
faked
hakea
daker
ylkes
boked
euked
miked
bokos
akkas
pokal
tikis
piker
dikas
sokes
liken
dykes
toker
fykes
zakat
ewked
arked
mokos
wakes
mikes
hokes
fakir
alkyd
rakia
pukey
woker
wakfs
wekas
hokis
oaken
waker
alkie
hikes
raker
fakie
tikas
alkos
sekos
ocker
ankle
askos
takes
hakim
tuktu
fyked
hiked
tsked
pikas
takas
pekes
oakum
pokey
rokes
tokos
pekin
vakil
pikis
mikra
sakis
sokah
soken
wakas
oaker
eikon
Those are all of the 5-letter words with K in the middle that you can use to figure out today's mystery word. You can even use this list for other word games outside of Wordle. We hope that it comes in handy and helps you think of some new words that you can use for your daily guesses. Remember to check out our Wordle section for more word lists, guides, best starter words, and more.