5 Letter Words with HO in the Middle – Wordle Guides
Need a Wordle hint? Here are all the 5 letter words with HO in the middle.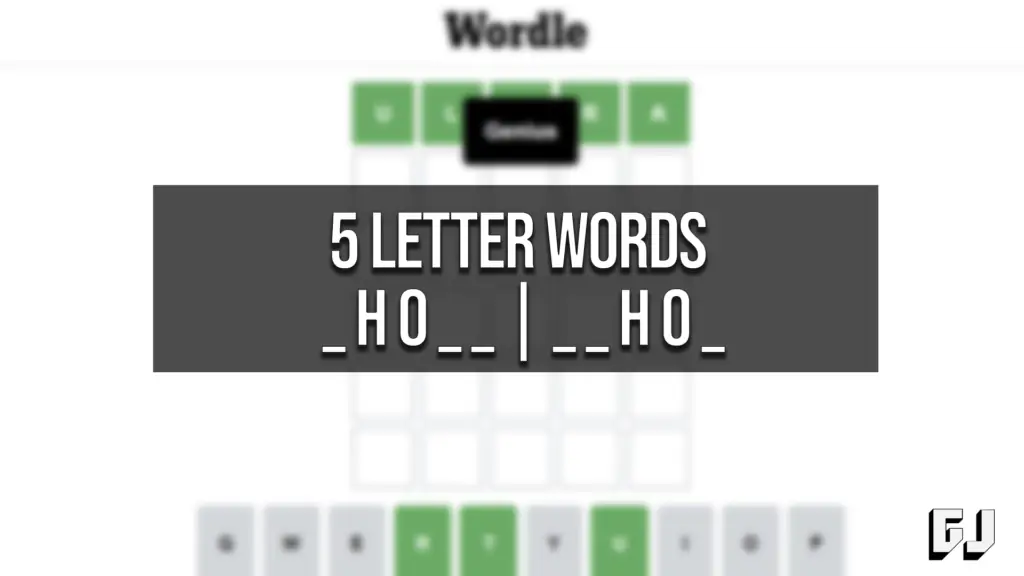 There are nearly thirteen thousand possible five-letter word guesses in Wordle. That's a nice pool of words to choose from when you start, but your choices narrow, and things get more difficult as the game progresses. If you managed to lock in either the second and third or third and fourth letters but are struggling to think of any words, fear not, we are here to help. Check out some helpful Wordle hints where HO are the middle letter, below.
Our word list pulls from the Wordle dictionary, so all of the hints here will be valid guesses in Wordle. If you want more specific help, you can use our Wordle helper tool. Using our tool, you can get word suggestions by entering your game's current state, including the letters you guessed in the correct and wrong positions.
5 Letter Words with HO in the Middle
Here is our list of all the potential five-letter words you can use in Wordle, with HO in either middle position.
HO Middle Second and Third Position
dhols
chout
those
choux
shoyu
whows
dhole
ghoul
ohone
chock
chola
shock
rhomb
tholi
khoum
thole
whoso
shoat
dholl
shote
zhomo
cholo
chocs
shoed
whore
shook
shows
phots
chode
dhoti
thorn
phons
thous
photo
mhorr
chore
phony
shoer
shott
choil
shojo
whose
choco
thorp
shoal
shope
shown
shone
chops
shorn
khors
shogs
chons
dhows
showy
showd
whops
shola
whoop
shoes
shove
shore
thoft
ahold
bhoot
dhobi
chomp
chowk
short
shoos
chott
phono
whort
shogi
choom
choof
thong
phone
shoot
chook
shorl
chota
ghost
shool
choko
chows
chose
shoon
whomp
thoro
chogs
whoot
shout
choli
phoca
choke
shoji
whole
choir
chord
choon
thowl
khoja
shots
rhone
rhody
whorl
shops
whoof
choky
HO Middle Third and Fourth Position
ethos
ewhow
mohos
abhor
mahoe
evhoe
cohoe
ephor
yahoo
cohog
nohow
cohos
achoo
dzhos
ichor
echos
tohos
bohos
cahow
ephod
wahoo
Not all words are created equal when it comes to Wordle. There are methods you can use for picking the best word from the hints above. The general rule is to pick words that have the most popular vowels and consonants in them. Also, it's good to avoid words that have duplicate letters. You can use our Wordle starter word guide to help you out.
We hope our list of five-letter words with HO in the middle helped out your Wordle game, and you figured out the daily word. Check out other helpful Wordle hints for future daily puzzles.