5 Letter Words Ending with IE — Wordle Hint
Here is the full list of 5-letter words ending in IE to help you with today's Wordle puzzle.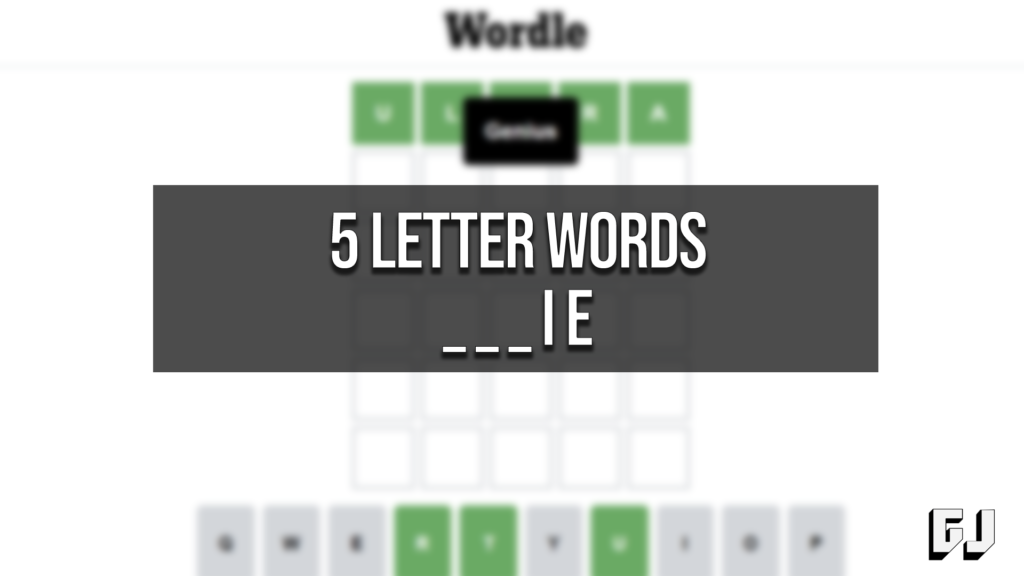 Wordle is a word game that's taken the world by storm. It's a simplistic, web-based word game that tasks players with guessing a daily word in less than six attempts. Based on that, you might think it sounds easy, but it's really anything but. In many cases, the word of the day can be incredibly tricky, so it's in that sentiment that we've crafted this list of 5 letter words ending in IE to help you figure it out.
5-Letter Words Ending in IE
Below is a list of Wordle-compatible 5-letter words that end with the letters IE. Try and pick some winners from the list by eliminating the ones containing invalid letters. Use your previous in-game guesses and feedback to make an educated guess from the list by eliminating words with incorrect letters.
99 Results
cutie
didie
homie
pumie
bosie
fugie
bowie
cadie
bikie
dobie
jewie
pixie
gynie
rudie
aspie
mamie
moxie
folie
kylie
zowie
dixie
genie
aerie
looie
dowie
tawie
jaxie
belie
regie
cavie
nudie
curie
eerie
indie
yowie
ayrie
cogie
kyrie
movie
dovie
ollie
aggie
fogie
ulzie
untie
cozie
pokie
penie
offie
dexie
dogie
eyrie
tatie
yitie
bonie
firie
fakie
alkie
walie
bagie
umpie
cosie
locie
monie
wifie
doxie
kubie
foxie
tozie
vegie
bogie
semie
ulyie
vogie
civie
juvie
lovie
ozzie
owrie
visie
retie
rowie
relie
oorie
revie
newie
rorie
uptie
louie
towie
mulie
ourie
ramie
oldie
nixie
pyxie
logie
mobie
mavie
Related: Answers for Wordle Today (January 2023)
That is our full list of Wordle-compatible 5-letter words ending in IE. Feel free to use any of these suggestions if you need some help with today's Wordle. Remember, narrow it down by eliminating words with invalid letters, and use some of your in-game guesses to help your odds! Visit our Wordle section for more word lists, clues, and guides.