Who is the Madden 22 Cover Athlete?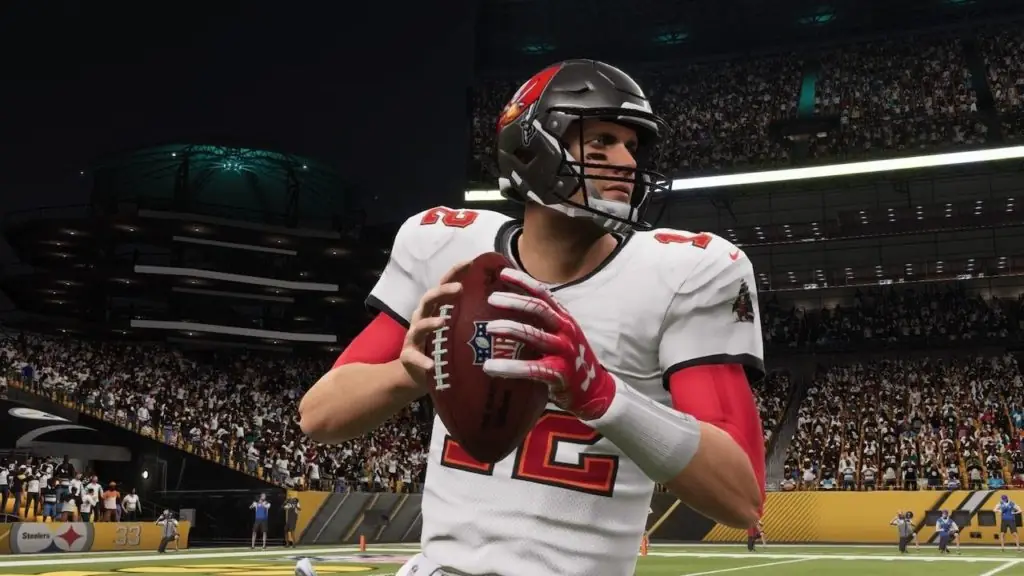 The cover athlete is usually the first thing we learn about regarding the newest version of Madden. Although, EA has yet to drop any official hints as to who the cover athlete on Madden 22 will be. Many football fanatics are left curious about who will grace the cover of the much-anticipated game set to release in August 2021.
We have narrowed down who has the greatest chances of being the cover athlete based on who we think will get in, who we want to get in, and who deserves to get in.
Who's the Madden 22 Cover Athlete?
There's no official cover athlete for Madden 22 yet, but here is who we think it could be, who we all want, and who we think deserves it most of all.
Who we think the Madden 22 cover athlete will be: Derrick Henry
Before we get into Derrick's dominant display on the field, there have been leaked reports that King Henry has already been chosen as the cover athlete for Madden 22. According to a leaked photo from a Pennsylvania Gamestop, a customer got hold of a pre-order infographic intended for GameStop employees. The picture suggests that this year's cover star would be the Titans' running back. The image was shared by TikTok user @jordanr03, and you'll find that the cover art greatly resembles last year's next-gen version.
Whether or not this picture is real remains to be seen, but it would make sense if EA decided to go in this direction. EA loves to go with fan favorites and players that carry immense brand value. And the 2000-yard man is slowly building a Hall-of-Fame-type career as the back-to-back NFL rushing leader that is just beginning to enter his prime. He also (conveniently) already wears the number 22…
Who we want the cover athlete to be for Madden 22: Josh Allen
This one might seem like a bit of a stretch as Allen is not coming off of a Super Bowl win or an MVP season. But in just three years, Josh Allen has emerged as one of the most exciting quarterbacks in the entire league.
While he may make some questionable decisions, his explosiveness and risk-taking ability are the reasons why he's so beloved in Buffalo. He's the sort of QB that can win you big-time games, hence why the Bills have experienced immense success since drafting Allen 7th overall in the 2018 NFL Draft.
Just a season ago, Allen led Buffalo to their 1st playoff win since 1995 after a memorable 13-3 season which landed them atop the AFC East, effectively ending the Patriots' 11-year reign over the division. And even with an AFC Championship loss to the Chiefs, Allen has more than shown his value in the NFL. Growing better each season, Josh Allen is undoubtedly the future of the NFL.
Though it still feels like outside of Bills Mafia, Allen still isn't getting the respect he deserves, and therefore might not make the cut as Madden 22's cover athlete.
Who deserves to be on the cover of Madden 22: Tom Brady
Now, this isn't to say that both Henry and Allen don't deserve it, but after winning his record 7th Super Bowl at the age of 43 with 10 Super Bowl appearances (7 wins/5 SB MVP's), as well as an impressive performance in the 2020 regular season (4,633 YDS/40 TDs/12 INTS), there may be no player more deserving to be on the cover of Madden 22 than Tom Brady.
By now, he has undoubtedly silenced all of the critics by leading a dying Bucs franchise back to the Super Bowl for the first time since 2003. Players from across the league literally flock to him just to win a ring. Plus, it would be the first Madden cover with Brady in a Bucs uniform.
The GOAT is certainly worthy of the title, but EA typically tends to go with younger players to help highlight the future of these sports. So, even though TB12 is likely the most deserving player to become Madden 22's cover star, it's probably not going to happen.