Where to Find Second Puzzling Park Wonder Token in Super Mario Bros. Wonder
These pesky tokens are hidden in the most visible places.
With Super Mario Bros. Wonder, Nintendo has done a fantastic job at creating an entirely new Mario game that feels familiar, yet presents many new and interesting ideas. And one of these new ideas comes in the form of extra levels throughout each world.
Throughout the vast worlds you explore to save the Flower Kingdom in Super Mario Bros. Wonder, there are extra 'Search Party' levels. These levels give you a break from the normal Mario levels and have you find Wonder Tokens hidden around small rooms instead.
While all tokens are meant to be hard to find, there's one in particular that has caused confusion: the very first one you find, located in World 2, titled Puzzling Park. So, let's break it down and figure out where to find the second Puzzling Park Wonder Token in Super Mario Bros. Wonder.
Second Puzzling Park Wonder Token Location in Super Mario Bros. Wonder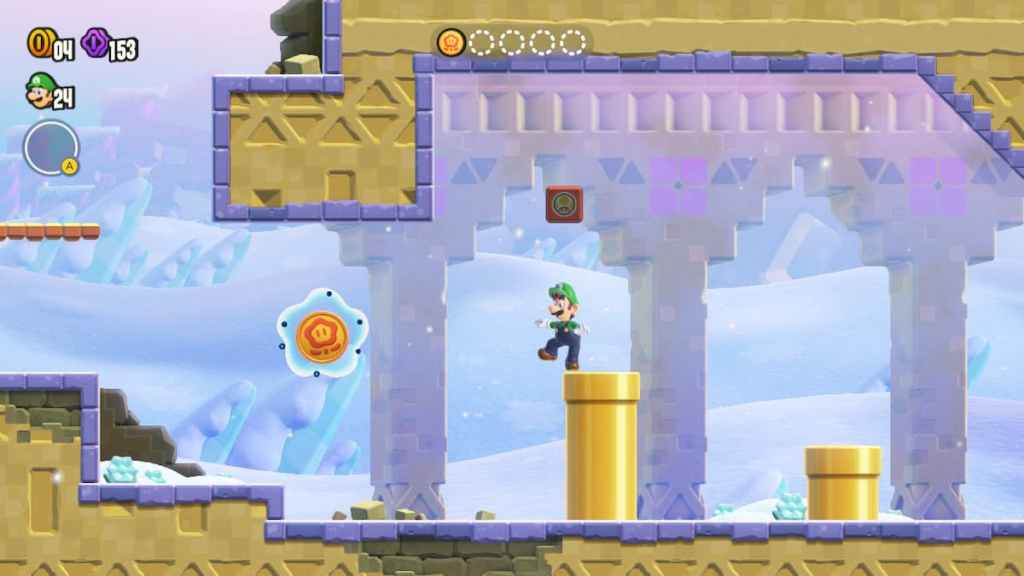 Thankfully, each Wonder Token has a specific number, meaning each token is tied to a specific location, making it a bit easier to know which one you're missing. To find the second Wonder Token, go all the way to the right side of the room and drop down. Then, after dropping down to the second area, continue to the left, where you should see a ton of gold pipes. One of these pipes is a fake and an imposter, which means you can push it around. Go towards the gold pipe furthest to the left of this room and push it to the right.
Related: Changes and Differences in Super Mario RPG Remake
Finally, you should push it about halfway in between the left curb and the small gold pipe to the right. Jump on top of it and start jumping. If you've placed it in the right position, you should knock on a yellow Toad block, revealing the coveted second Wonder Token. And if you're like me, you more than likely have all the other tokens, making this the last one you need in order to complete the level!
Hopefully this guide helps you, as it would've helped me for the 30 minutes it took to find this silly little token.
---
Follow our Facebook page for more gaming news and updates. Make sure to check out our other guides like 'How to Play Super Mario Bros. In Release Order' and 'All Paper Mario Games Ranked'. For all other articles, lists, and news on all things gaming, keep an eye here at Gamer Journalist.
About the author