Where to find Interdimensional Frostfire Dragon in Tower of Fantasy
Steps to locate the raging dragon.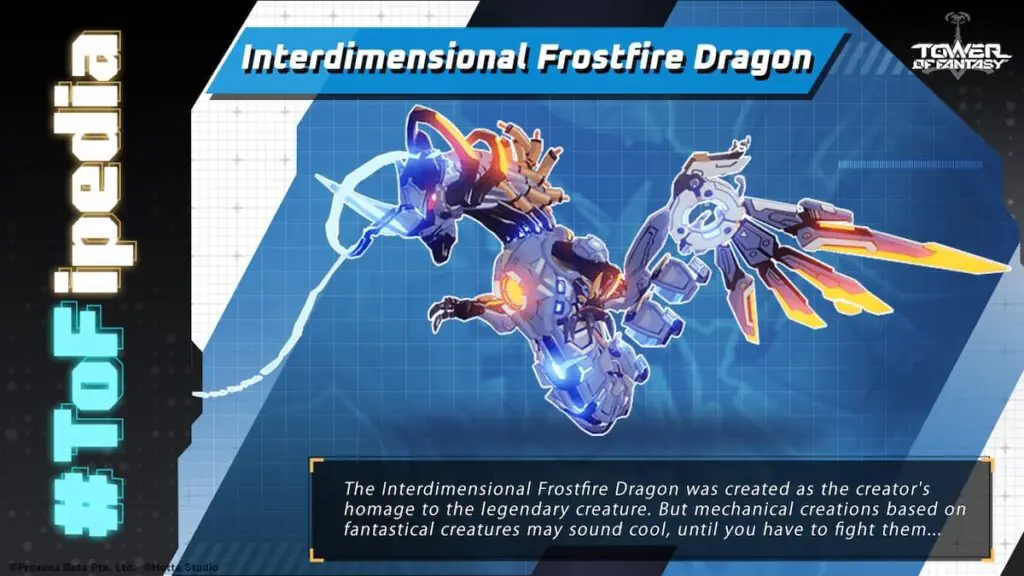 Tower of Fantasy features some unique enemies to fight as you explore its map. One of the interesting enemies in the game is the Interdimensional Frostfire Dragon. Players will have to find the Dragon and try to slay it to conquer the challenge.
Finding the Interdimensional Frostfire Dragon can pose a challenge for many in the game. Let's look at how we can easily locate this cool yet terrifying creature.
Related: How To Get Matrices Without Summons In Tower of Fantasy
Where to find Interdimensional Frostfire Dragon in Tower of Fantasy
Judging by the World Boss title, it is safe to say that the Interdimensional Frostfire Dragon is a formidable beast. It is best to go prepared to beat the creature for some amazing rewards. However, you will need to locate the dragon first. Here are a few simple steps to get to him in Tower of Fantasy.
You need to be somewhere in between the northeast direction of the Mine Base and northwest of Mount Sandy.
Once you are in the right area, you'll see curved rock pillars in the shape of a rib cage poking out from the floor.
Now, head to the red portal that's in the center of the sky.
The red portal will take you to Base Zero, where you can find the World Boss.
Defeating Interdimensional Frostfire Dragon in Tower of Fantasy
Finding Interdimensional Frostfire Dragon is only the first step. The most important part is defeating the raging boss. You should come prepared with a lot in your arsenal. Use ranged weapons to keep a safe distance and get enough time to dodge the dragon's attacks. You will need some of the best relics to defend against the dragon's attacks. Remember, you need to keep dodging, healing and attacking at the right moments.