Where to Buy New Clothes in Pokémon Scarlet and Violet
Make that Trainer uniquely YOU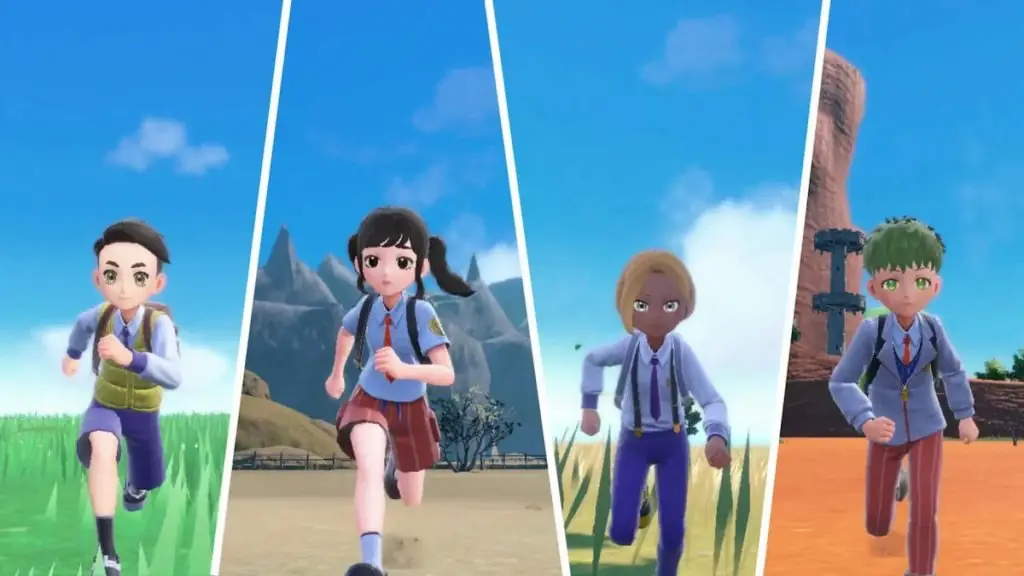 The new Pokémon game is here. Released, November 18th, 2022, Pokémon Scarlet and Violet combines the gameplay of the classics with Gym Battles with the new gameplay seen only in Arceus. Whilst trainer customization appears to be at its absolute best, there is still more room for improvement. Scarlet and Violet offer players the ability to switch between outfits and accessorize through accessories they have purchased in the stores around Paldea. But where can players buy new clothes in Pokémon Scarlet and Violet? Find out below.
Pokémon Scarlet and Violet Outfits
For this Pokémon instalment players do not have the ability to change their outfit completely. The game offers you 4 outfits to choose from. These are seasonal school outfits: Spring, Summer, Autumn and Winter. Similar to the uniform given to players in Arceus, Scarlet and Violet want players to stay within the aesthetic that can typically be seen in Japanese culture of wearing school uniform. This choice makes sense as developers, Game Freak are Japanese. Whilst it is nice to not really worry about what our character looks like as this does not play a crucial role in the world of Pokémon; players likely wanted further customization choices.
Customization Options
Players can head to the Outfit menu via pressing left on the D-Pad. This will bring up a screen showing your character in typical character customization fashion. The bar at the top of the screen shows various tabs for you to scroll through using the left and right buttons on the D-Pad. Here you see the options such as tops, eyewear, headwear, footwear and bag. The shirt tab shows the 4 uniform options which you can switch between throughout the game to change it up during your journey. The main focus of Pokémon Scarlet and Violet's customization is in the little details. Through accessorizing players can make their character appear more like themselves. The customization of accessories is at its highest.
Upon first inspection of the customization menu, players will notice how the only available option to cycle through is the seasonal uniforms. So where do we get new clothes in Pokémon Scarlet and Violet?
Where to Buy New Clothes in Pokémon Scarlet and Violet
New Clothes can be purchased in the stores inside the Paldea Cities:
Levincia
Cascarrafa
Mesagoza (East)
Mesagoza (West)
Players can find fashion stores on the map, made clear with a shopping bag icon. In these stores, players have the chance to purchase accessories to freshen up the school uniform and make your character uniquely you. Each clothing store offers a different variety of options to choose from. Because of this, players can regularly change their appearance as they progress through the game. Alter your appearance, swap out that uniform and accessorize to your heart's content. Put yourself in Pokémon Scarlet and Violet. Become the trainer you have always wished to be.
Related: Does Pokémon Scarlet and Violet Have a Memory Leak Issue? Let's Investigate.