What is Quordle?
Learn more about the wonderful world of Quordle!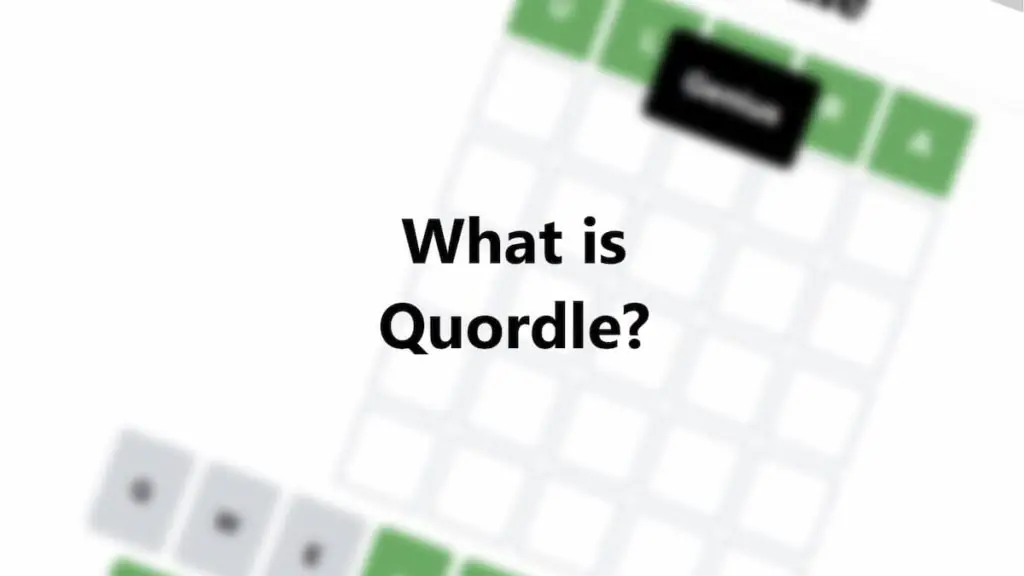 If you're a fan of brain-stimulating word games, then you've probably heard of Wordle. The viral puzzle game that's filling up Twitter feeds around the globe. Although, with the emergence of this incredibly popular word game another similar game has officially entered the fold named Quordle.
So, here is everything you need to know about Quordle.
What is Quordle?
Every time a basic mobile game grows increasingly in popularity, a number of clones tend to follow suit. And Quordle has done just that with the emergence of Wordle. In fact, the creation of Wordle has even led to the birth of yet another word game called Dordle, which tasks users with having to guess two Wordles at once. It apparently also inspired the creation of Quordle.
Quordle is a brand new word game that's essentially based on the same concept as Wordle. Players will need to guess five-letter words every day and follow the highlighted colors accordingly until they've guessed the correct word. However, there is a slight twist with Quordle.
In Quordle, you are instead tasked with guessing four words simultaneously as opposed to the Wordle method of having to guess a single five-letter word. The good news is that Quordle also provides players with up to nine tries to solve the four five-letter words
The newly founded word game also differs from Wordle in that users can choose between two different gameplay options; "Daily" and "Practice". It is an astounding development in and of itself given that Wordle allows players to play just one game every day.
The "Daily" section follows the same traditional format as Wordle, giving players just a single chance to play each and every day. The "Practice" portion allows users to play an unlimited number of practice games before testing out their skills in the Daily Quordle.
There's an obvious advantage with the practice section of Quordle because you won't be limited to the number of tries you get per day. However, since it's just a practice round, your results also won't count towards your streak, and therefore, won't generate a score you can use to share your accomplishments with others.
Frequently Asked Questions
Who made Quordle?
Quordle was developed by a group of Wordle fanatics who were in search of a game similar to Wordle, but with a few minor improvements. The list includes the creator of the Quordle website, Freddie Meyer, and the engineer behind the madness, David Mah. Though, Meyer has also credited Guilherme S. Tows with the creation of popular word game as well.
Is Quordle Free?
Being that Quordle offers additional opportunities with more guesses and an unlimited number of games compared to Wordle. This may lead you to believe that it also comes at a higher price tag than Wordle, which is completely free to play. However, just like its predecessor, Quordle is also entirely free to play at Quordle.com. And according to the creator of the Quordle website, Freddie Meyer, the team has "no plans to monetize Quordle". Stating how he "just enjoys watching everyone enjoy this insane game."
Obviously, Quordle has yet to surpass Wordle in terms of popularity. Although, it still has a rather large following, with a reported 500,000 players competing daily and more than a million total since its creation.