Valorant Skins Collection Guide: A Look at Every Weapon Skin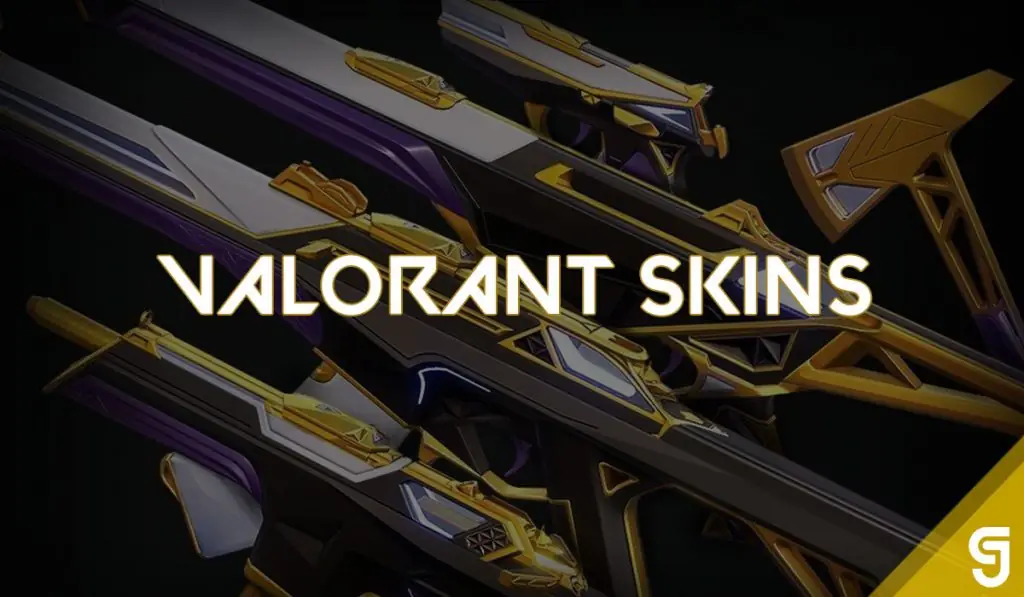 Valorant skins are a great way to customize your in-game weapons. In our Valorant skins collection guide, we provide a breakdown of all the weapon cosmetics in the game, along with their prices. Players can purchase individual skins, or full skin bundles for a discount, from the store.
The in-game store rotates weapon skins in two different sections. Featured skins rotate every two weeks, and the Offers section rotates every 2-3 days.
Skins are bought with VALORANT Points (VP), a premium currency used to unlock in-game content. VP can only be obtained with real currency from within the VALORANT client. Completing agent contracts is how you can obtain Agent-specific skins.
VALORANT Weapon and Melee Skins
Players can earn cosmetics through Contracts, Battle Pass progress, or by purchasing them directly from the store. Skins do not interfere with gameplay, so they are not pay-to-win.
Models, animations, audio, and visual effects may all be different, but they should not have any impact on gameplay. Other players only see your custom weapon skin, and will not see custom reload animations, visual effects, sounds, and other features exclusive to that skin.
Radianite Points
Valorant introduced Radianite Points that allow players to evolve their weapons. After unlocking specific skins, you can use Radianite Points to evolve it and obtain new variants. Each new level of the skin adds new customizations such as effects, animations, audio, and other color variants.
Radianite Points can be earned through completing Battle Pass challenges. You can also purchase Radianite Points through the VALORANT Store.
Valorant Weapon Skins Collection Guide
Here's a list of the different sets of Valorant skins currently in the game:
Infantry Collection
Prime 2.0 Collection
Valorant GO! Vol 1 Collection
Celestial Collection
Glitchpop EP 2. Collection
Horizon Collection
Prism II Collection
Winterwunderland Collection
BlastX Collection
Sensation Collection
Wasteland Collection
Ion Collection
Smite Collection
Gravitational Uranium Neuroblaster Collection
Singularity Collection
Ego Collection
Nebula Collection
Valorant Skins by Weapon
Spline Collection
The Spline collection made its debut in Valorant on September 2, 2020. It features skins for the Phantom, Operator, Spectre, Classic, and Melee in four variants. Overall, the Spline Collection costs 7,100 Valorant Points from the store or 1,775 for each weapon and 3,550 for the Melee. Players who purchase the bundle also receive a spray, buddy, and player card.
Green Variant – 15 RP
Red Variant – 15 RP
Blue – 15 RP
Glitchpop Collection
The Glitchpop Collection features four neon colorways, and skins for the Bulldog, Judge, Odin, Frenzy, and melee weapons. It's a total of 8,700 VP for the full collection. Each individual weapon costs 2,175 VP, except for the melee dagger which is 4,350 VP.
VFX Shooting Effect – 10 RP
Animation – 10 RP
Finisher – 10 RP
Blue Variant – 15 RP
Red Variant – 15 RP
Gold Variant – 15 RP
Oni Collection
The Oni Collection are Japanese-inspired weapon skins available for 7,100 VP. There is a Guardian, Phantom, Bucky, Shorty, and melee skin in the set. Each skin, aside from melee, has three additional variants to it in black, green, and white.
VFX Shooting Effect – 10 RP
Animation – 10 RP
Finisher – 10 RP
Black Variant – 15 RP
Green Variant – 15 RP
White Variant – 15 RP
Elderflame Collection
The Elderflame Collection is the first Ultra Edition Valorant skin, added on July 10, 2020. There is currently an Elderflame Operator, Vandal, Judge, and Frenzy. You can evolve the weapon with Radianite Points for the following variants:
Level 2: VFX Shooting Effect – 10 RP
Level 3: Animation – 10 RP
Level 4: Finisher – 10 RP
Level 5: Red Variant – 15 RP
Level 6: Blue Variant – 15 RP
Level 7: Dark Variant – 15 RP
Convex Collection
The Convex Collection are a set of Valorant skins introduced to the game on June 24.
Sovereign Collection
The Sovereign Collection is a skin collection available during June, with a full bundle price of 7,100 VP. Each individual Valorant skin includes four variants, except for melee, and can be purchased for 1,775 VP. The melee skin is 3,550 VP on its own.
Avalanche Collection
Individual Avalanche skins have been present in the VALORANT store since the third week of closed beta. This collection features icy blue skins for five different weapons.
Imperium Collection
The Imperium skin set contains two skins for Classic and Melee weapons. For the Classic skin, you'll need to drop 1,275 Valorant Points, or you can drop 2,550 for the melee skin. Imperium set features dragon designs and shiny gold textures.
Ronin Collection
The Ronin set are Japanese inspired skins, featuring dragon designs with red, black, and gold trim. There are currently three different skins in the Ronin set, which are 875 Valorant Points each.
Reaver Collection – 5,325 VP
The Reaver Bundle can be obtained for 5,325 Valorant Points. There are currently four skins in the Reaver collection, and three of them can be evolved with Radianite Points. The three different levels can be unlocked for 10 Radianite Points. Each individual Reaver skin costs 1,775 Valorant Points, except for the Tactical Knife, which is 3,550.
Luxe Collection
The Luxe weapon set contains six different weapon skins, and each weapon has different color options. Each level of Luxe skin costs an extra 15 Radianite Points to unlock. Additional variants include Blue, Camo, Gold, and default Red.
Prism Collection
The Prism bundle will run you 6,375 Valorant Points, and includes the Ghost, Spectre, Phantom, Operator, Ares, and Melee skins. Each individual skin costs 1,250 VP. This set features blue iridescent designs.
Agent Contracts Skins
Completing contracts for specific Agents will unlock skins exclusive to them. Here are all of the different Agent exclusive skins we have in the game so far:
Breach's Frenzy aka Ragnarocker
Jett's Sheriff – Game Over
Omen's Ghost aka Soul Silencer
Phoenix's Frenzy aka Spitfire
Raze's Classic aka Pistolinha Classic
Sage's Classic aka Final Chamber
Sova's Sheriff – Protektor
Viper's Shorty – Snakebite
Prime Collection
Aristocrat Collection
Dot Exe Collection
Kingdom Collection
Couture Collection
Rush Collection
Galleria Collection
Valorant Skins by Weapon
Classic
Shorty
Frenzy
Ghost
Sheriff
Stinger
Spectre
Bucky
Judge
Bulldog
Guardian
Phantom
Vandal
Marshal
Operator
Ares
Odin
Melee
Valorant Skins FAQ
How do you get Valorant skins?
Players can obtain Valorant skins through completing Agent Contracts, progressing through the Battle Pass, and buying them in the store fro Valorant Points.
How much do skins cost in Valorant?
Valorant skins cost different prices depending on the tier of the skin. Weapon skins range from 875 VP for Select Edition to 2475 VP for Ultra Edition.
How do you get free Valorant skins?
Free Valorant skins are earned through leveling the Battle Pass and completing Agent Contracts.
How do you get Radianite Points?
Valorant Radianite Points can be earned through completing Battle Pass challenges and purchasing them in the in-game store.
Is it worth buying Valorant skins?
Valorant is a free-to-play game, so in-game purchases are an excellent way to support the developers financially. If you play the game frequently, new skins are a fun way to customize your game's look and prevent it from getting stale.