Valorant Oni Collection now available for purchase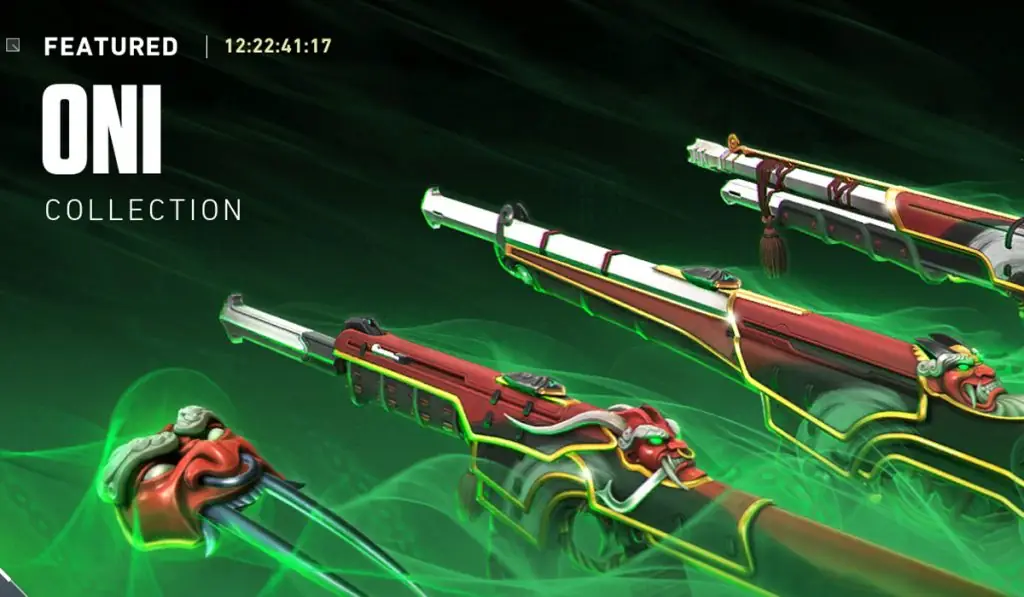 Yesterday, we got a glimpse of a new set of Valorant skins called the Oni Collection. The Japanese-inspired skin set features five weapon skins, a gun buddy, a player card, and an in-game spray. Here's a closer look at the Valorant Oni Collection.
Valorant Oni Collection
The Oni Collection includes weapon skins for the Shorty, Bucky, Phantom, and Guardian, along with a melee skin. The feature set is available in the in-game store for the next twelve days for an overall bundle price of 7,100 VP.
Shorty: 1,775 VP
Bucky: 1,775 VP
Phantom: 1,775 VP
Guardian: 1,775 VP
Melee: 3,550 VP
Buddy: 475 VP
Spray: 325 VP
Card: 375 VP
Total Value: 11,825 VP
Each of the four weapons has seven variants, which you can upgrade for Radianite Points. Additional colorways include black, green, and white, with red being the default. Here are the weapon upgrades:
Base: Default skin – 10 RP
VFX 1: Green muzzle flash – 10 RP
VFX 2: Green weapon glow – 10 RP
Finisher – 10 RP
Black skin – 15 RP
Green skin – 15 RP
White skin – 15 RP
The melee skin only has one evolution, which adds a green glow to the weapon and a green trail to your attacks. Here's a look at the Oni spray, player card, and gun buddy.