Valorant Reaver Collection: Skin Overview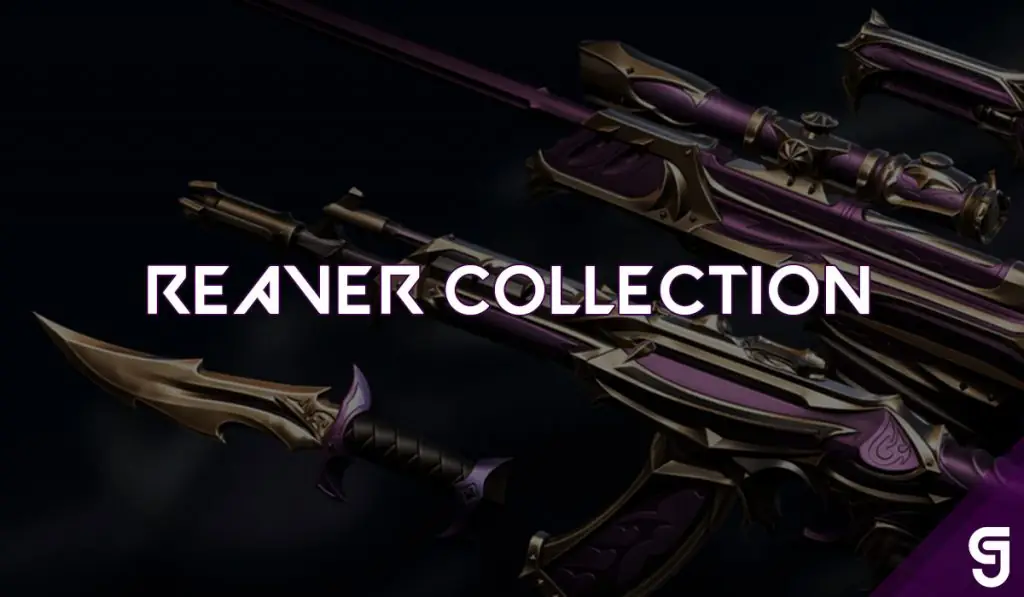 The Reaver Collection is a set of skins in VALORANT that was first featured on the second week of Closed Beta. There are four different skins currently in the game for this collection. In this guide, we'll take an in-depth look at the VALORANT Reaver Collection.
VALORANT Reaver Collection
The VALORANT Reaver Collection can be bought as a bundle in the Store for 5,325 VP whenever it's featured. There are currently four weapons for the collection:
Sheriff
Vandal
Operator
Melee
Reaver Sheriff – 1,775 VP
First up is the popular Sheriff, which is the most powerful pistol in the game. The Reaver Sheriff has four different levels to it. Here's what the Reaver Sheriff looks like.
The Level 2 Reaver Sheriff adds a purple color to the flash whenever you fire the weapon.
Level 3 Sheriff adds purple smoke to the reload animation. Whenever you reload the gun, you'll notice this new animation.
The Level 4 Sheriff adds an effect on kill. Killing enemies with this Sheriff will cause a purple death effect.
Reaver Operator – 1,775 VP
The Operator is the main sniper rifle in VALORANT. This weapon is a one-shot kill and is clearly inspired by the AWP from Counter-Strike. There are 5 levels of the Operator in the Reaver Collection.
Here's the level 1 Reaver Operator, which is the basic skin for this set featuring no additional animations.
The Level 2 Reaver Operator adds purple flash to the weapon. You'll notice this whenever you take a shot.
Level 3 Reaver Operator features an added reload animation. Reloading this weapon will now show a purple glow on the cartridge.
The level 4 Reaver Operator adds a killing effect, which is a huge purple animation similar to Omen's Dark Cover.
The final level of the Reaver Operator adds a brand new skin which makes it glow red instead of purple. Effects for firing, killing, and reloading are also changed to red on this level.
Reaver Vandal – 1,550 VP
The Vandal has 4 different levels for the Reaver Collection. Like the other skins in this collection, each level adds another new animation or effect. This skin also features a custom purple reticle when scoping.
The second level of the Reaver Vandal adds a purple flash to your gun whenever it's fired.
For the Level 3 Reaver Vandal, a purple glow is added to the magazine whenever it's reloaded.
At level 4, the Reaver Vandal adds a kill effect that causes a purple animation to take over the enemies body.
Reaver Melee – 3,550 VP
A custom knife skin is also available in the VALORANT Reaver Collection, which features a gold blade, purple guard and butt, and black leather handle.
To see what other collections and skins the game has to offer, check out the full list of VALORANT Skins.