Underlords Best Builds For Winning Matches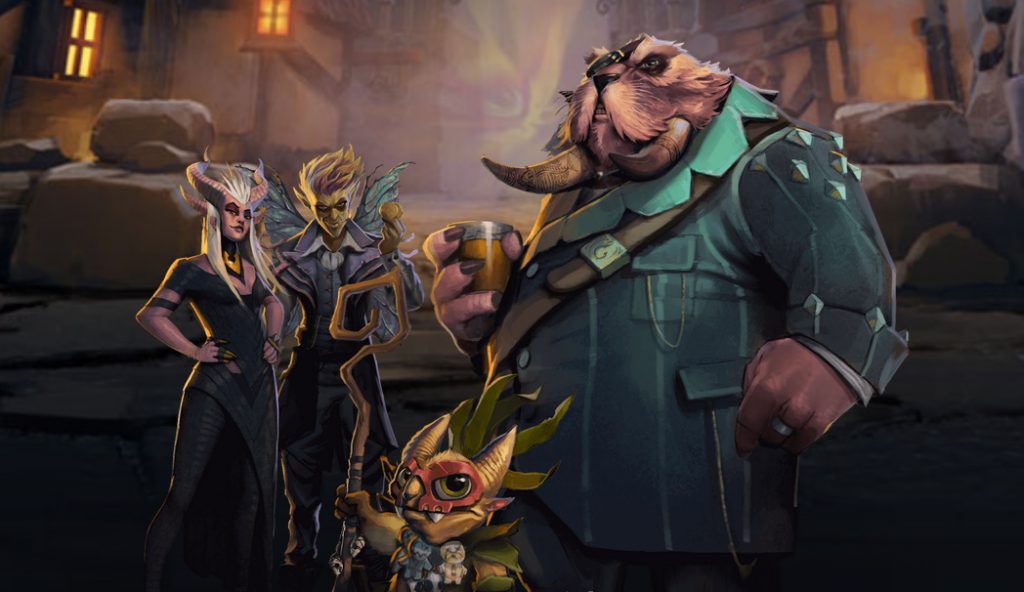 So you have familiarized yourself with Underlords, and now you are trying to figure out how to consistently win matches. The point of this article is to help provides you with Underlords best builds for winning matches or at least placing in the top 3.
Before diving into the builds, it's important to keep a few things in mind. When you progress to the higher ranks in Underlords it is very important to be adaptable and not just tunnel vision on a specific build. You may find items early on that can make specific builds over the top powerful.
It's also important to note that this game changes rapidly, and what is good in one meta might not be good in the next. This guide was written on July 29th, 2019, and we'll do our best to keep it updated for future patches.
Build 1 – Savage Hunter Build
Heroes
Enchantress
Lycan
Lone Druid
Sand King
Tusk
Venomancer
Drow Ranger
Medusa
Tiderhunter
Tiny
Alliances
Savage (6)
Hunter (3)
Warrior (3)
Scaled (2)
Druid (2)
Items
Summoning Stone
Tooth and Claw
Hunter's Focus
The recent patch has a big effect on this build, and that is because Lycan has been switched from Warrior to Hunter. People are now realizing what a massive buff this presents to the Savage Hunter build. This build makes use of massive dps, powerful and annoying summons, and some decent tankiness and crowd-control to balance everything out.
If you manage to snag a Hunter's Focus early on, it's probably worth it to try and complete this build and dominate the match. Lycan wolves will likely carry you to an easy victory.
Build 2 – Knight Dragon Mage Build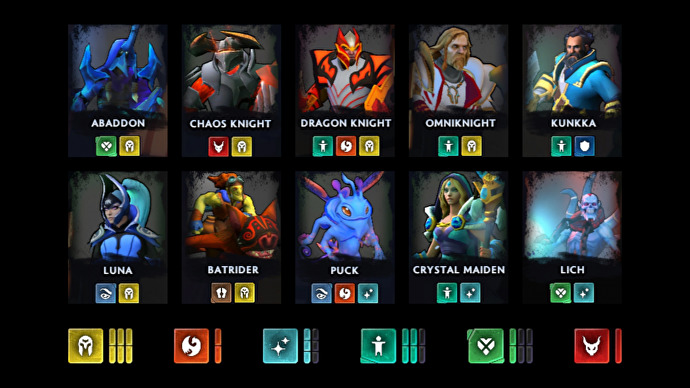 Heroes
Abaddon
Chaos Knight
Dragon Knight
Omniknight
Kunkka
Luna
Batrider
Puck
Crystal Maiden
Lich
Alliances
Knights (6)
Dragon (2)
Mage (3)
Humans (4)
Heartless (2)
Demon (1)
Items
Age of Chivalry
Fall From Grace
Wicked Intent
Knights Dragons Mages build is definitely one of the most powerful in the current meta. It makes use of a variety of alliances that pump out massive magic damage and provide good sustainability against enemy damage thanks to the tier 3 knights.
Build 3 – Knight Troll Build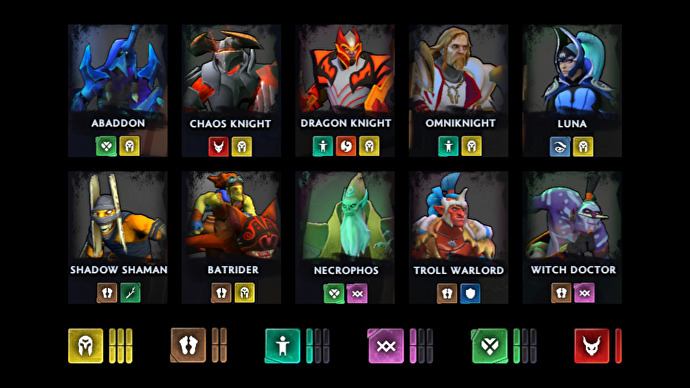 Heroes
Abaddon
Chaos Knight
Dragon Knight
Omniknight
Luna
Shadow Shaman
Batrider
Necrophos
Troll Warlord
Witch Doctor
Alliances
Knights (6)
Trolls (4)
Humans (2)
Warlocks (2)
Heartless (2)
Demons (1)
Items
Age of Chivalry
Coordinated Assault
This is another build that makes excellent use of the Tier 3 Knights, making for an impossible to kill team composition. Increased attack speed from the Troll alliance makes your units deal adequate damage to drop your enemies, while providing good sustainability from the Warlock alliance, Necrophos unit, and Omniknight heal.
If you manage to get your hands on a Troll Warlord early on, you will have an easy time making it to the final 3 and a good chance at winning it all if you are able to pull together the full team composition by round 20. This build consistently lands itself in our list of Underlords best builds for winning matches.
Build 4 – Mage Warrior Build
Heroes
Pudge
Tiny
Dragon Knight
Doom
Razor
Puck
Luna
Crystal Maiden
Lich
Keeper of the Light
Alliances
Mages (6)
Warriors (3)
Primordial (2)
Humans (4)
Heartless (2)
Dragons (2)
Demons (1)
Items
Final FLash
Fall From Grace
Wicked Intent
The Underlord Mage build might take a while to string together, but boy is it worth it in the end. Six mages will grant you massive magic damage output capable of melting pretty much any team composition out there. Mages are a bit weak on their own in terms of tankiness, so we need to balance that out with some warriors, humans, primordials, and dragons.
Do not sleep on this build if you are given the right units in the early game. Pulling this build off is an almost guaranteed build if you get the right rolls. Granted, that can be said about most of our builds here, but this is the one team comp where mages really shine.
Build 5 – Scrappy Build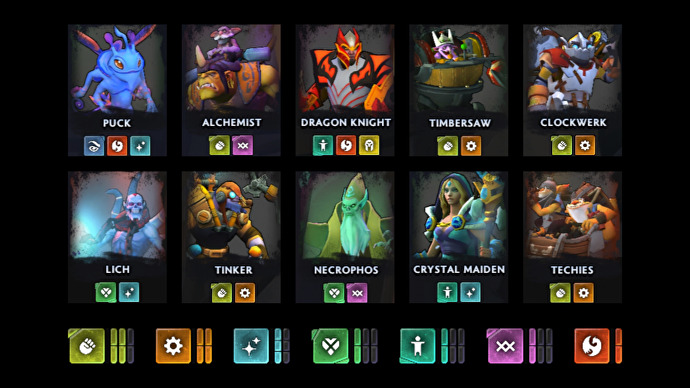 Heroes
Puck
Alchemist
Dragon Knight
Timbersaw
Clockwerk
Lich
Tinker
Necrophos
Crystal Maiden
Techies
Alliances
Scrappy (4)
Inventor (4)
Mages (3)
Heartless (2)
Humans (2)
Warlocks (2)
Dragons (2)
Items
Check the Bodies
Unstable Reactor
The Underlords Scrappy build is a tough one to pull off, we must admit. With the recent changes, we find this build speaks for itself and makes its way into our Underlords best builds for winning matches. The Scrappy alliance is reworked and split into three tiers as opposed to two. Before, it was impossible to get the scrappy top tier because it relied on finding a techies. Sure, this build uses a techies as well but it does not completely rely on it.
Scrappy and Inventor are very tanky and defensive units in general. This makes them great teammates for Mages, because the mages can pick up the slack in terms of damage. Throw in a Dragon Knight for the Dragons alliance and you have yourself a very strong build capable of carrying you to victory.
Build 6 – Assassin Build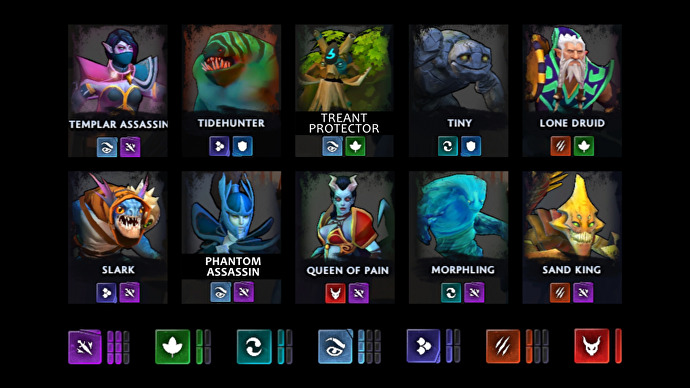 Heroes
Templar Assassin
Tiderhunter
Treant Protector
Tiny
Lone Druid
Slark
Phantom Assassin
Queen of Pain
Morphling
Sand King
Alliances
Assassins (6)
Druids (2)
Primordial (2)
Elusive (3)
Scaled (2)
Savage (2)
Demon (1)
Items
Pocket Sand
Completing the Cycle
Assassins is one of the most fun builds to pull off, but committing to a full 9 assassins will nearly always result in defeat. This build balances 6 assassins with several other alliances for a well rounded build. We include the best assassins, mainly the Phantom Assassin and Templar Assassin, and couple them with a Treant for the elusive alliance.
Primordial and Elusive alliances will help your units survive longer than 3 seconds, while Tiderhunter, Treant, and Tiny will hold down the front line and provide some much needed crowd control to keep the enemies at bay.
Build 7 – Hunter Build
Heroes
Kunkka
Tiderhunter
Doom
Beastmaster
Medusa
Sniper
Necrophos
Mirana
Drow Ranger
Windranger
Alliances
Hunters (6)
Warriors (3)
Scaled (2)
Heartless (2)
Demons (1)
Items
Hunter's Focus
Unstoppable
People may find Hunters took a hit because Tiderhunter is no longer a hunter, which was desperately needed for his tankiness and crowd control, but we disagree. Now we can combine hunters and warriors for a tanky and high damage build. Now that Tidehunter is a warrior, we know exactly which hunters we will be going for in this build.
Doom, Kunkka, and Tiderhunter will easily hold down the front line while making sure to keep the entire enemy line controlled. This leaves room for the hunters to pump out massive DPS and melt the enemies one unit at a time.
Build 8 – Demon Hunter Build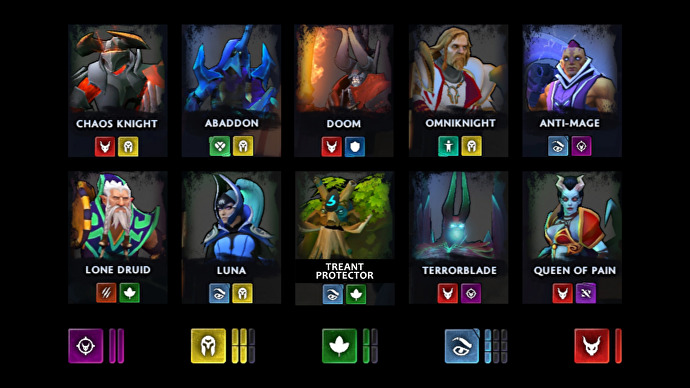 Heroes
Chaos Knight
Abaddon
Doom
Omniknight
Anti-mage
Lone Druid
Luna
Treant Protector
Terrorblade
Queen of Pain
Alliances
Demon Hunters (2)
Knight (2)
Druid (1)
Elusive (1)
Demon (1)
Items
Strange Bedfellows
Age of Chivalry
Completing the Cycle
Lastly, we have the good old Strange Bedfellows demon hunter build. We don't see this being the ultimate build at the moment, but it is definitely one of the most satisfying builds especially when you get Strange Bedfellows within the first few rounds. When that happens, the game is pretty much telling you to go for this build.
We won't go overboard with the demons, because doing so will make the team composition a bit too unbalanced. Regardless, we will be doing massive damage here and if you can get Terrorblade to level 3 it's pretty much game over for everyone else.
Here we have our complete list of Underlords best builds for winning matches. Hopefully this helps you out a bit in game until the next patch, where the meta might change completely!
About the author