Tears of the Kingdom Players are Building Optimus Prime and Tanks – Top 10 Zelda Inventions
Should we be worried?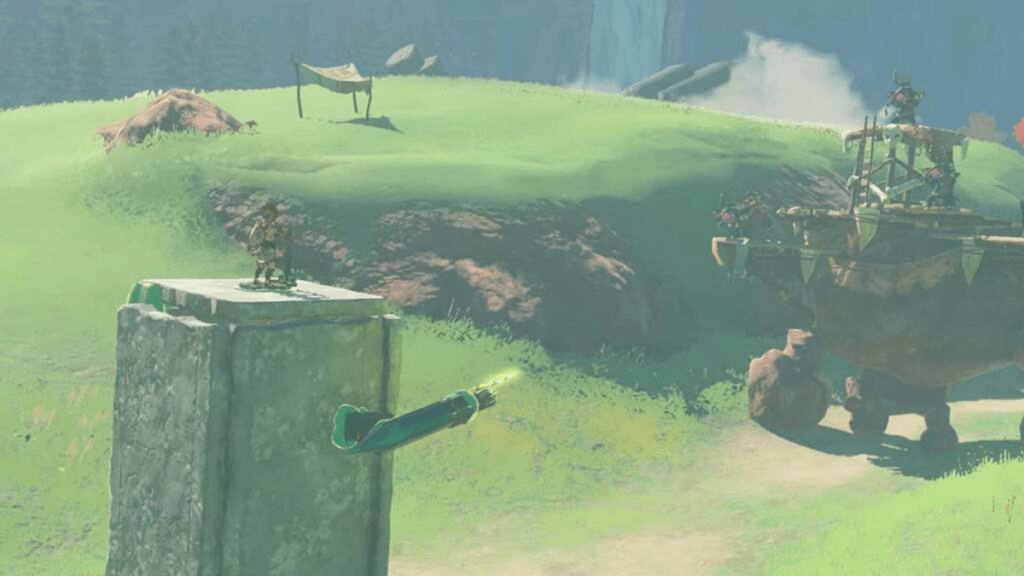 We are clearly playing Tears of the Kingdom the wrong way. We either lack imagination or we're just not used to building. In Tears of the Kingdom, you have the opportunity to craft items using various abilities. Players are coming up with ideas to build literal tanks to take down enemies and find ways to torment the poor Koroks. As we were scrolling through our feed we found some of the best builds players have created and we wanted to share them with you. Here are the top 10 Zelda inventions in Tears of the Kingdom.
How to Build in Tears of the Kingdom
If you're just starting the game you're probably wondering how can you build an Optimus Prime or a tank in the game. Building is actually pretty simple and Link uses his abilities quite a lot when doing quests and defeating enemies.
With the Ultra hand ability you will be able to attach buildings and use materials to form objects. You'll learn how to use this ability early on in the game and it's similar to Breath of the Wild Magnesis ability. Now that you're prepared, here are our favorite inventions, in no particular order, in Tears of the Kingdom.
1. OPTIMUS PRIME
You can stop scrolling because this is the design that won us over. No, we're joking, because there are others on this list who need praise as well. We found this invention as we were on TikTok and we were blown away by how incredible it was. If you're a fan of Gundam you'll be impressed by this creator and their Gundam-inspired invention. It's actually functional and you can use it as a weapon with laser eyes included.
2. Strongest Weapon in Tears of the Kingdom
If you were wondering what the strongest weapon is in Tears of the Kingdom, look no further. It's just a swinging penis. Balls and all. You thought players who played Zelda games were mature individuals? We just like to have a little fun every now and then. Imagine if Link really did intentionally craft this weapon to take down enemies. We could see the look of pure horror on Zelda's face when she sees Link whip this one out.
3. Prism Tank
You're going to want to watch the entire TikTok video for this one. It's worth it. You can see how advanced each tank becomes as it progresses through time. The Prism Tank is an absolute beast with lasers hitting every enemy. We know it's not like the level 999 bombing plane, but this tank just looks like an absolute beast. This should help you get some inspiration if you're wanting to build cool-looking vehicles to drive through Hyrule in.
4. Gumbi is that you?
What is with creators wanting to make a gigantic weapon of mass destruction with balls and a penis attached to it? This one looks surprisingly like Gumbi and now my childhood is ruined. Is the penis erupting? Is there actual fire coming out of giant Gumbi's penis? My God, and the end where his face is just flying off-screen after it's been blown up by its exploding balls. Thank you, Next.
5. Korok, anyone?
This is just cruel and satisfying at the same time. Korok's are evil annoying little creatures and this creator decided to finally do something about it. Their invention which involves roasting multiple Korok's formed a cult that decided to create various torture devices on Korok's. This was the beginning of a dark path for Zelda players. Now, it seems everyone is trying to create new torture methods ever since this post came.
6. Korok Abuse Simulator
See what we mean when we said the first video started chaos? People are finding creative ways to kill off these creatures. They've tried burning them on stakes, shooting them with rockets, and good ol' fashioned blowing them up with lasers. This video really captures the length people are willing to go to in order to kill off a Korok. The worst part is that you can't even kill them. They just come back to life every. single. time.
7. All Aboard!
This invention is just too cruel. They literally built a train track over a cliff in order to get to the opposite end just so they could squish the Korok's little head. Forget what we said about Zelda players being immature. Maybe we need to worry about their mental state to see if it falls along the lines of sadism. Joking, but seriously, are you guys okay? Why so much violence?
8. Zonaite
If you wanted a build that will surprise you with its creativity here's an invention that is soaring through the skies. This dangerous machine has lasers shooting at targets from above. It's pretty impressive how they have used the batteries so efficiently for this machine. We can't imagine how long it took to farm all that zonaite but from the looks of how massive it is, it took some time. Imagine committing war crimes with this bad boy.
9. Trojan Horse
Someone re-created an iconic moment in history. The Trojan Horse is a statue that was used in battle by the Greeks during the Trojan War. It was supposed to be a peace offering, but inside the statue, were numerous soldiers ready to kill. Just the fact that someone re-created an entire full-scale model of the horse is quite impressive. We doubt Ganondorf will realize that Link has created it and is ready for battle. He probably will just think it's a peace offering and will show him mercy.
10. Metal Gear
The bigger the better. You saw our Optimus Prime pick and now we're looking at our Metal Gear build. This creator made a gigantic weapon of mass destruction with lasers and easy mobility. The Zelda community is creative and apparently, we need to watch out. A lot of these builds are deadly and show just how far they are willing to protect the lands of Hyrule. Hopefully, we won't see these same inventions in the real world and they stay in the Zelda universe.
---
If you're looking for more updates on Tears of the Kingdom please check out Gamer Journalist on Facebook to join the discussion and keep up to date with our content. You may also want to check out Is Legend of Zelda Tears of the Kingdom A Prequel? or Can the Hylian Shield Break in Zelda Tears of the Kingdom?
About the author