Roblox BedWars Duels and Lucky Air Drops Update
The new BedWars update brings Duels LTM and Lucky Air Drops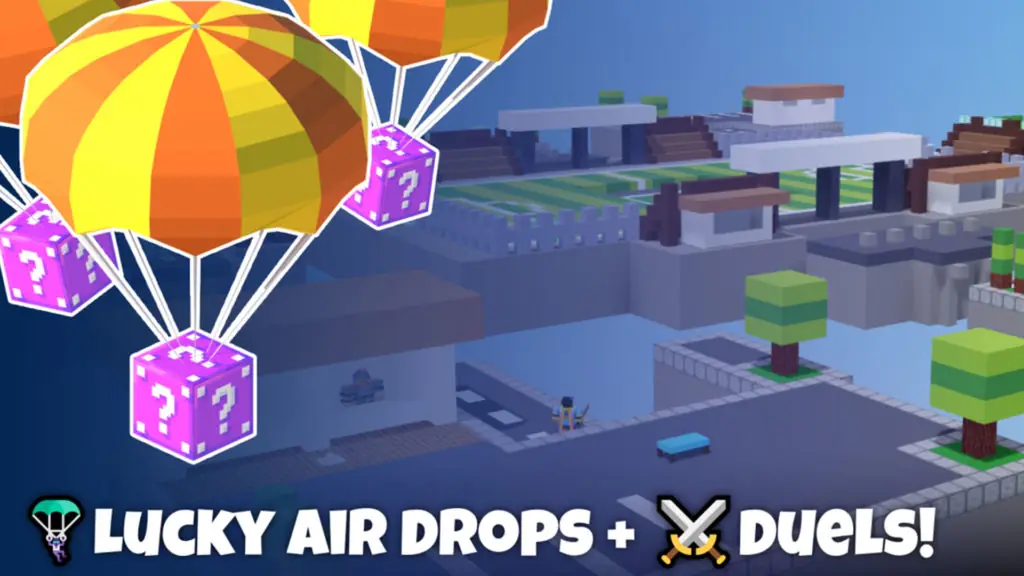 The weekend update is here for Roblox BedWars, the popular base survival game from EasyGG. This week's update brings a new type of Lucky Block that airdrops from the skies above, and you can obtain some ultra-rare items from these. Additionally, we have a new limited-time mode called Duels available, which is replacing last week's Infected LTM. Here's a look at the Roblox BedWar Duels and Lucky Air Drops update log and patch notes.
In addition to the new Duels LTM and Airdrop items, you can test out three free kits this week, including Pirate Davey, the Builder, and the Barbarian. As always, check out the complete list of BedWars kits to see what they do. Four new maps also make their way into the rotation, and there are some minor miscellaneous changes to note.
BedWars Update Duels and Lucky Air Drops Update Log
Airdrop Lucky Blocks: A new type of Lucky Block has started airdropping from above. Securing Airdrop Lucky Blocks can yield ultra-rare items.
Duels LTM: Duels has replaced Infected as the active limited-time mode for this week.
Double XP Weekend: Enjoy double battle pass experience this Friday through Sunday, November 28, 2021.
New Maps
Badlands
Football Field
City Park
Heaven
Free Kits
Barbarian
Pirate Davey
Builder
Other Changes
Tesla Traps now take six seconds to charge up before doing damage
Active potion effects are now shown above your head
Added first-person crosshair
First-person walking animation
Map devs can now use colored glass
Bug fixes
Patch notes via Discord