Retro Bowl Tips – Strategies & Secrets Guide
Here are some helpful tips and tricks to mastering Retro Bowl!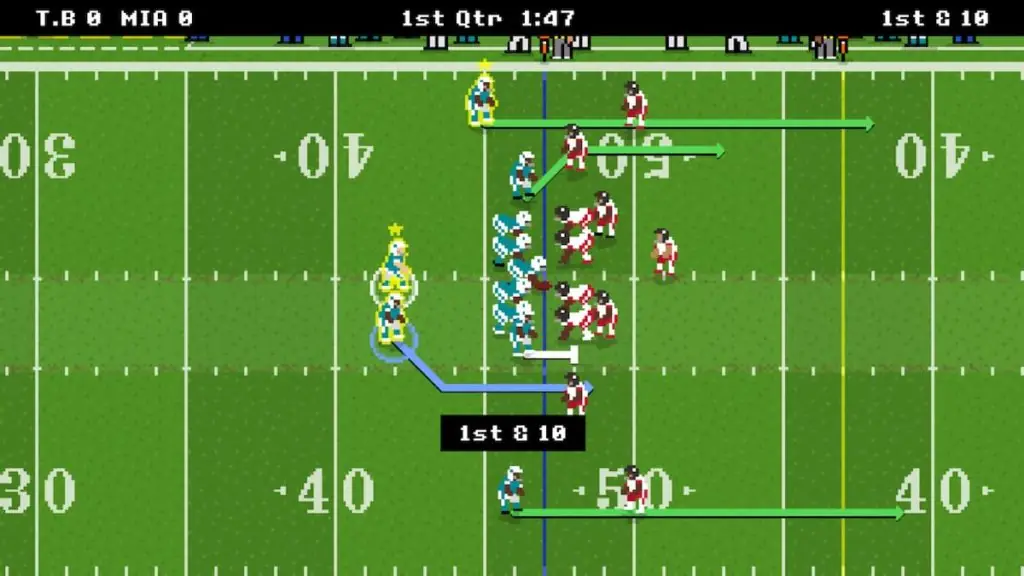 Retro Bowl is a mobile sports game that's been captivating audiences around the globe for the last couple of years. It's a strategy-based retro-style football game that gives you full control over your very own franchise. However, when you first start out, you're given a far below-average football team. Which is why it's important to know some tips and tricks that can help you become a true Retro Bowl legend.
In today's guide, we're going to take a closer look at some secret tips and strategies that can help you take your game to the next level in Retro Bowl.
Retro Bowl Tips – Strategies & Secrets Guide
Manage and Improve your Facilities
As previously noted, the first team you take over will have very little value. Which means that the stadium, training facilities, and rehab facilities will not be up to par. It's important to not only improve these areas of your franchise but also maintain them because each can enhance your team's ability to perform on the field.
For example, improving the training facility will allow your players to gain more experience points (or XP), and better their skills on the gridiron. While building up the rehab facility will improve your players' chances of recovering from injuries quicker. Injuries are a very real part of football, so this area particularly should not be neglected.
To improve your facilities, you will need Coaching Credits. The cost to improve your facilities will run you anywhere from 3 to 4 credits, and the cost to improve your stadium will be around 7 or 8 credits. You will start out with very few credits but can earn more from fans after each game. This is why it's essential to improve your stadium because the more fans you have attending games, the more Coaching Credits you are likely to receive.
Understand the Salary Cap
When you first start out and are in the rebuilding phase with your franchise, the salary cap isn't overly important. But as you progress through the game and become more competitive, it's extremely vital to learn how to manage the salary cap.
This is because, much like in real-life football, when your team starts to perform better and you become a winning franchise with great players. Expenses are likely to go up and you will be left with some tough decisions to make as a manager. So, here are a few tips and strategies to managing the salary cap in Retro Bowl.
The salary cap in Retro Bowl starts at $200 million. To give you an idea, a QB with a 5.0 potential will cost you $50 million per year.
All rookie contracts are cheap and two years in length.
Trade away all of your players at first to acquire more draft picks.
Re-sign every player with a potential rating of 4.5 or greater.
QB, RB, and WR are the most important positions. So, you should prioritize these positions in the draft and free agency.
After you've finished re-signing players, you should have around $20-30 million left over in cap space to cover your draft picks for that year.
Focus on Offense
In real-life football, it's widely believed that defense wins championships. However, when it comes to Retro Bowl, offense is the most important part of the game. This is because you can only play when your team is on offense, not on defense. So, even if you have a defense loaded with 5.0 talent, you can still struggle to stop opposing offenses.
Your offense will consist of five positions; quarterback (QB), running back (RB), wide receiver (WR), tight end (TE), and offensive line (OL). Of all the available positions on offense, QB and WR are the two most important.
To evaluate a great quarterback, you should look for one that has a maximum potential in "Throw Accuracy" as well as "Arm Strength". You might also find "Stamina" to be beneficial since this will allow your QB to make more pass attempts without getting tired. However, "Speed" is not an important attribute for this skill group
When it comes down to wide receivers, you will want to ensure that they have a high "Catching" attribute as well as "Speed". Having a good catching rating will ensure that more balls are caught, regardless of how accurate the pass is. While speed will allow you to take the top off defenses and outrun anyone on the field.
So, there you have it! Those are some of the best tips and strategies to becoming a Retro Bowl legend. If you're looking for more helpful information such as this, check out some of our other guides here at Gamer Journalist.