The Best Games to Grab in the Nintendo Switch New Year Sale
Seven games worth picking up for the New Year Sale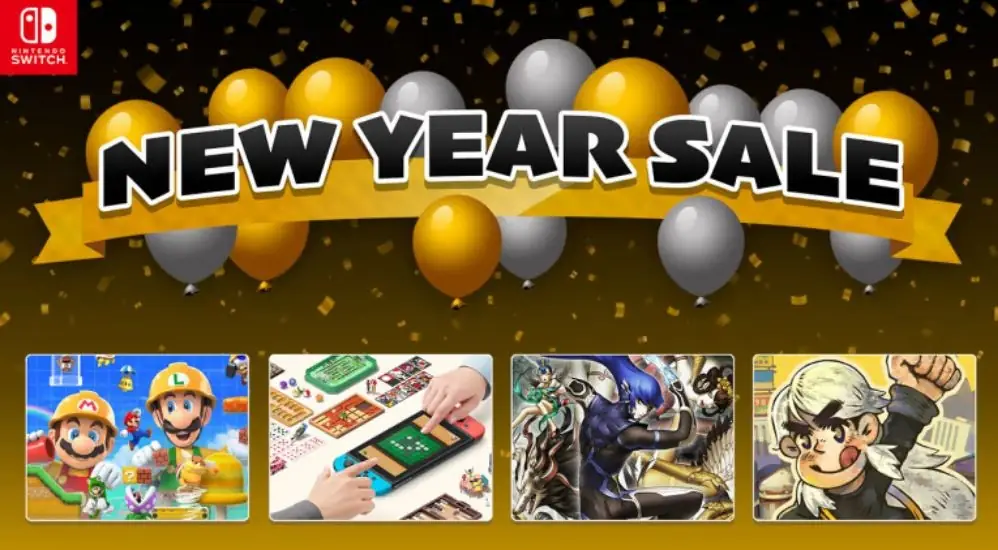 Perhaps out of all of the major first party publishers, Nintendo is the most notoriously cagey when it comes to sales. I guess it makes sense; unlike multiplatform games, you can only get Nintendo's games on Nintendo consoles, so they're not really obligated to entice you with sales. Even so, once in a blue moon the planets align and Nintendo decides to hold a proper sales event. It's anyone's guess when we're going to get another one of these, so if there's a Switch game you've had your eye on, this may be your best shot to get it discounted. Here are some of the best games to grab in the Nintendo Switch New Year Sale, which lasts until January 16.
In addition to some sales on their own first-party software, Nintendo has also cajoled several other major publishers into making some offerings, including Chucklefish, Bethesda, Devolver Digital, 2K, Ubisoft, and Bandai Namco. The following list is by no means exhaustive, merely a few select choices from here and there, so if any of those publishers make a game you want, make sure to check out the full list on the sale page.
Best Games in the Nintendo Switch New Year Sale
Clubhouse Games: 51 Worldwide Classics
Super Monkey Ball: Banana Mania
Super Mario Maker 2
Digimon Story Cyber Sleuth: Complete Edition
Bug Fables: The Everlasting Sapling
BioShock: The Collection
Eastward
Since we've all been stuck at home on and off for… good gravy, two years now? Ugh. Well, anyway, it's a good atmosphere to play games. Not just video games, but analog stuff like board games and card games. Of course, I don't know how many people actually keep a cabinet of board games at home anymore, so to keep things condensed, just combine your board games with your video games!
Clubhouse Games: 51 Worldwide Classics is pretty much exactly what it says on the tin: a collection of 51 board games, card games, and table toys that have been enjoyed for decades the world over. I guarantee at least a few of your childhood favorites are packed into this game, albeit under copyright-safe names like "Four-in-a-Row" and "Last Card." If you've got some friends to play with, either locally or online, Clubhouse Games is an excellent way to pass a rainy afternoon.
Back in the GameCube days, you weren't anyone if you didn't have at least one Super Monkey Ball game on your shelf. It's a simple concept: place the monkey-in-a-ball on a tilting table, guide it to the goal, but a variety of puzzle configurations and mechanical gimmicks turn that simple concept into a sprawling, occasionally hair-pulling, challenge.
In addition to all of the stages from Super Monkey Ball, Super Monkey Ball 2 and Super Monkey Ball Deluxe, Banana Mania also includes all of the mini-games, including beloved classics like Monkey Fight and Monkey Target. If you're a Sega fan, you can also get special cameo characters like Kazuma Kiryu from Yakuza and Morgana from Persona 5!
I think I'm officially getting old, because I still remember the days when people made Super Mario World romhacks using a hex editor and a pinch of sadism. Nowadays, you don't need to know how emulators work to make a Mario level that will make your friends want to murder you, you just need Super Mario Maker 2.
Frankly, I don't think you need me to explain what this is. Super Mario Maker 2 is literally one of the most ubiquitous games on the internet thanks to its community-curated library of homemade levels, ranging from clever challenges to wacky memes. If you've ever wanted to create your very own Mario content, Super Mario Maker 2 provides a hyper-accessible suite of tools to put together just about anything you can think of and share it with the entire world online, as well as try out everyone else's levels. It's theoretically infinite Mario!
As much as I love Pokémon, Digimon will always hold a place in my heart. Where Pokémon are more like pets, Digimon are partners that double as Power Rangers-esque transforming superheroes. If you're not in the mood for Pokémon right now, and it happens on occasion, Digimon Story Cyber Sleuth may be the palette cleanser you're looking for.
The Complete Edition of Cyber Sleuth includes both the base Cyber Sleuth game and its spin-off/sequel Hacker's Memory. Both games use the same system wherein you can develop a stable of Digimon and gradually digivolve them into bigger and better forms, all while you solve a mystery spanning both the real world and the digital world. There are over 300 Digimon to collect, including all of your favorites from the anime. WarGreymon for life.
The Paper Mario games were some of the best Mario-adjacent games ever made, and debatably some of the best RPGs ever made. Unfortunately, Paper Mario games are all weird hybrids of puzzle games and like… a third of an RPG these days, so if you want your old school paper RPG fix, you gotta look elsewhere. Perhaps in the grass of your backyard?
Bug Fables is a pretty clear send-up to the original Paper Mario games, providing turn-based combat utilizing timed button presses and little minigames. All of this is set against a backdrop of a loveable (and occasionally dark) story in a tiny world of insects, full of quirky characters and massive monsters, relative to the size of the aforementioned characters.
BioShock is literally one of my most beloved games of all time. It's the first game I say when people ask me what my favorite game is. While the first game in the series is undoubtedly the best, the whole series really deserves to be experienced, and what better way than in a discount bundle?
BioShock: The Collection includes the remastered versions of Bioshock and BioShock 2, as well as BioShock Infinite. All of the DLC from every game, including Minerva's Den for BioShock 2 and Burial at Sea for Infinite, are baked into the package. If you somehow haven't experienced this mind-bending (and body-bending) series of shooters yet, then you've been missing out for far too long.
There are so many games on the market that make an effort at channeling the distinctly quirky spirit of games like Earthbound, but only a handful like Undertale or OMORI really pull it off. If you're in the market for another game in that vein, you may find yourself pleasantly surprised by Eastward.
Eastward features the tag-team duo of gruff and silent John and mysterious and energetic Sam and they ride a cross-country railway to discover a lush world full of distinctive characters and uncover the dark truth quietly dwelling beneath it all. In addition to some classic top-down action gameplay, you can also collect local ingredients and cook them together to create stat-boosting food in a system not dissimilar from The Legend of Zelda: Breath of the Wild.