Nintendo Details Chocobo GP for the Switch
A new kart racing game is on the horizon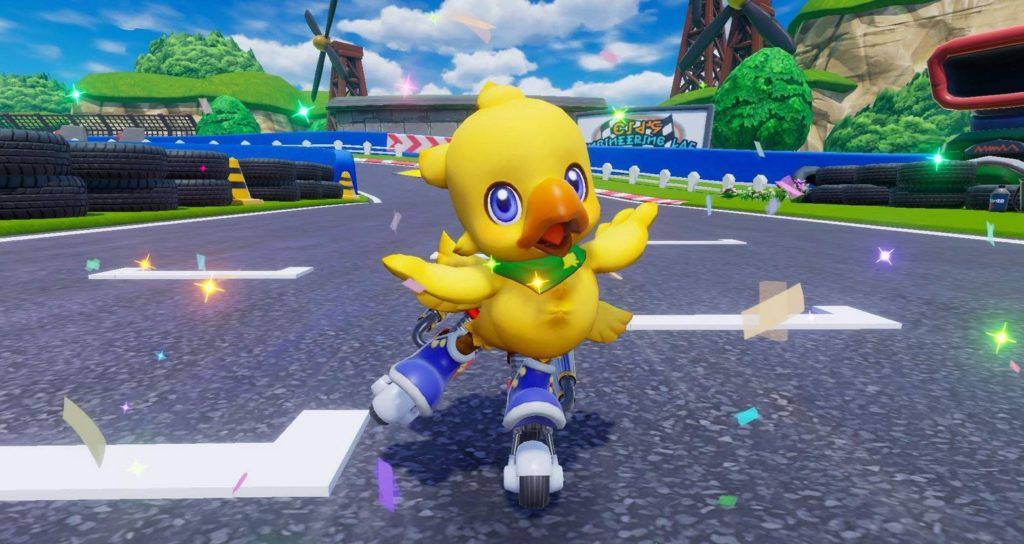 Currently, the unquestioned king of kart racing games is Mario Kart 8 Deluxe, the souped up version of the Wii U's Mario Kart 8 that launched alongside the Switch. It's a fantastic game, for sure, but if you're like me, playing the same kart racing game for a good seven years can lead to some major burnout. We need a new kart racer on the scene, something with enough brand recognition to go head-to-head with the plumber. We need… Chocobos!
Originally revealed back in September, Chocobo GP is a brand new Final Fantasy-themed kart racer releasing exclusively for the Switch. The game stars everyone's favorite horse-sized bird, along with a sampling of super-deformed standouts from the Final Fantasy franchise. Today, Nintendo offered some details on Chocobo GP in a new trailer.
Nintendo Details Chocobo GP for the Switch
Chocobo GP is your standard kart racing fare on the surface. A bunch of racers storm the track for three laps, get first place to win, get last place to lose. The game offers a handful of tweaks to the experience, however. First, every playable character's vehicle comes in three varieties:
Standard: Balanced performance
Speed: Prioritizes top speed
Grip: Prioritizes turning and acceleration
Secondly, the track is littered with Magic Eggs, within which are Magicites containing the essence of Final Fantasy's signature spells. Every Magicite type has three levels of spell, and obtaining more than one of the same powers it up! The confirmed Magicites are:
Fire
Water
Aero
Thunder
Blizzard
Doom
MBarrier
Haste
Swap
Off the track, there's a handful of different modes to appeal to both single player fans, couch multiplayer friends, and online multiplayer competitors!
Story Mode: Join Chocobo and company in a series of races for an ultimate prize, interspersed with cute and funny cutscenes!
Series Race: Take on a Grand Prix of four races to get the highest score! Play alone or with a friend!
Time Attack: Race against time ghosts either set from your best times or from players around the world!
Online: Up to eight players can participate in online matches in both public and private rooms!
Custom Race: Tweak the parameters of a race to your preference, including engine class, difficulty, items, and more, and play alone or with a friend!
Chocobo GP: Up to 64 players compete concurrently in a multi-round online tournament to determine the best of the best!
Chocobo GP will launch exclusively for the Nintendo Switch on March 11, 2022. If you're on the fence, you're in luck, as Square Enix will be releasing a "lite" version of the game along with the full game. The lite version is kind of like a souped up demo, allowing you to try out local multiplayer, the Chocobo GP races, and the first chapter of the story for free. If you like what you see, you can upgrade to the full game, and all of your progress will carry over!
About the author