Ni No Kuni Cross Worlds: How to Beat the Cockatracko Field Boss
Taming the king of the forest!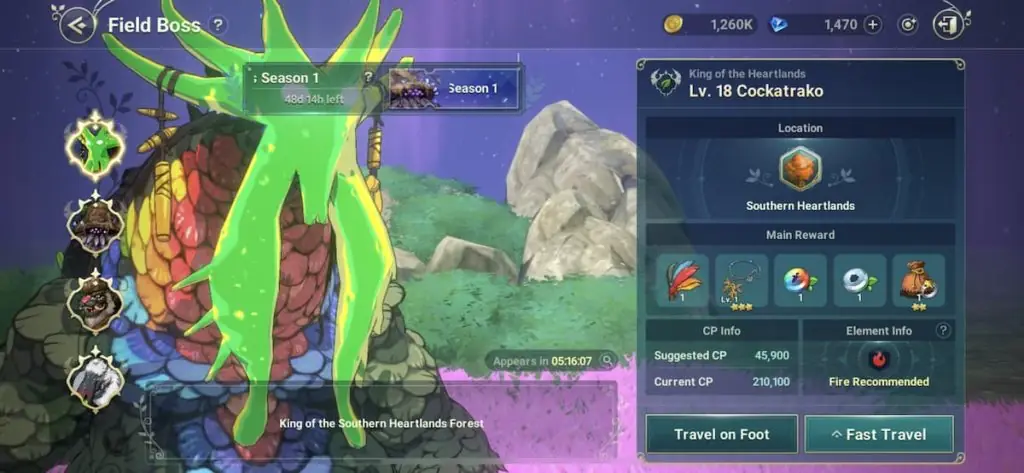 Those field bosses, man. They can be HARD to beat. Last time we tried going up against them we were completely overpowered. Every step we took to go up against them we ended up dead in a few seconds. We thought it would be best to create a guide to help beginners try to beat Cockatracko, the field boss from Ni No Kuni Cross Worlds. Cockatracko is a boss you will have to complete for bounties that you unlock as you progress. This is how you can beat Cockatracko with no problem.
How to Beat Cockatracko Field Boss
Every field boss has a time when it will respawn. One of the main problems with beating a bounty is realizing that you need to be on around the time it will respawn. In order to find that out, you need to click on the challenge, field boss, and check the time to see when it will spawn. Once you know that, it's time to battle! Be sure to carry a fire weapon and have a fire familiar with you since the boss is weak to fire.
Cockatracko is level 18 and is the first field boss you will come across once you unlock the ability to fight field bosses. This creature can drop items such as:
Multicolor Feathers
Mighty Necklace (3 star)
Common General Weeapon Enhancement Stone
Common Armor Enhancement Stone
Accessory Varnish (2 star)
In order to beat the King of the Southern Heartlands Forest, you need a suggested CP of 45,900. This boss is pretty simple to beat and with a team, you can easily take it down. We suggest teaming up with players who are waiting for the creature to spawn so you can gain party bonuses. Once you complete the battle, a results page will pop up and will show you the rewards you have obtained.
Related: How to Turn Off Auto-Battle & Auto-Play in Ni No Kuni: Cross Worlds