New World Harvesting Leveling Guide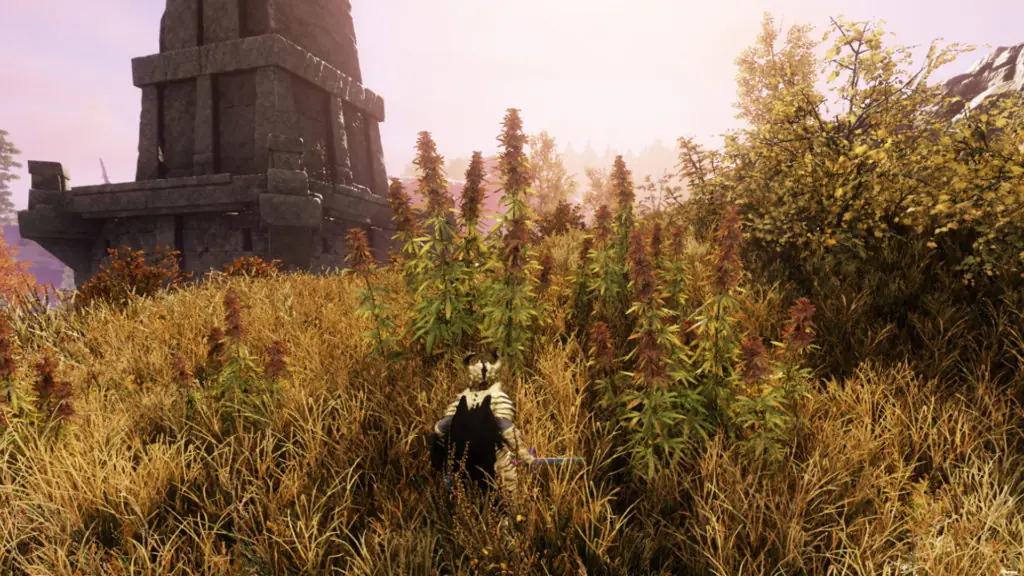 Harvesting is one of five gathering skills in New World, alongside Fishing, Logging, Mining, and Skinning. It is also one of the more difficult skills to level. You may often find yourself venturing into new territories, unable to harvest certain plants because of your skill level. Not to worry, though, because we're here with some tips and tricks to level your plant picking skills. In this New World Harvesting leveling guide, we'll provide some routes and tips you can use to level harvesting quickly.
We will cover a couple of example harvesting routes in New World below. Additionally, we will take a look at how to get harvesting bonuses for your character to harvest more efficiently and level the skill as quickly as possible.
Check out our New World Crafting and Gathering wiki for more leveling guides and resource locations.
New World Harvesting Leveling Route
Windsward
The best spot for leveling harvesting in New World is in western Windsward. We'll be harvesting Hemp, Herbs, Rivercress, Fronded Petalcap, and anything else we come across.
Set your recall point to Windsward and unlock the Spirit Shrine near The Hermit for fast traveling. When your bags are full, you can recall back to Windsward, store or sell your yield, and get back to harvesting by either running back or fast traveling to the Spirit Shrine. Consider picking up the Azoth Extraction perk for your sickle to make up for the fast travel costs.
When you work out the timing for the Windsward route, most of the plants you harvested will respawn by the time you make another loop. That means you can continuously run this route until you reach your desired harvesting level. Put your own spin on this route to make it even more efficient for what you're trying to accomplish.
How to get harvesting bonuses in New World
There are four ways to get passive harvesting bonuses and perks in New World:
Attributes
For those caster weapon users out there, Intelligence is a great stat for focus-leveling the harvesting skill. Here are the relevant harvesting bonuses you can receive for putting points into the Intelligence attribute in New World:
50 Intelligence – +10% Harvest Speed
100 Intelligence – +5% Chance for 1 Azoth when Harvesting
150 Intelligence – -10% Weight of Harvested Items
200 Intelligence – +10% Harvest Speed
250 Intelligence – +10% Yield from Harvesting
Gear
Gear is another excellent way to get some bonus stats for harvesting. Mainly, you will want a good sickle, which is the tool you need to harvest any plants in Aeternum. You can head over to the Trading Post and filter by sickles. Look for the following perks on your sickle:
Horticulture Discipline – Gain 3 to 9.4% more Harvesting experience
Harvesting Luck – Gain 5 to 9.5% chance at finding rare items while Harvesting
Azoth Extraction – Gain a chance to acquire 1 Azoth when Harvesting
Harvesting Yield – Harvesting yields 10 to 19% more resources
The best two perks for leveling are Horticulture Discipline and Azoth Extraction. Harvesting Yield can be good for farming, but it will fill up your bags quicker, meaning you'll need to head back to town more often.
However, if you're looking to make some quick coin, you can pick up Harvesting Yield and Harvesting Luck. You can sort by perks at the Trading Post by clicking on the Perks button and choosing the corresponding one you want.
Use the highest level sickle you can find, depending on your level. You can usually find a good one for cheap at a Trading Post, and you'll want to upgrade to Steel, Startmetal, and Orichalcum sickles as soon as possible.
You can also craft a good sickle at any Workshop, and use the following special resources to gain the bonus perks:
Steel Botanist's Charm – Horticulture Discipline
Starmetal Botanist's Charm – Harvesting Luck
Orichalcum Botanists Charm – Harvesting Yield
Trophies
If you own a house in New World, you can display a Harvesting Gathering Trophy to gain a small bonus. You can make trophies at the Workshop, and the Minor Harvesting Gathering Trophy requires these items:
Lumber x25
Steel Ingot x20
Maple Stain x1
Water Mote x25
Workshop Tier 3
Furnishing Skill Lv. 75
Territory Standing
Another good way to increase harvesting speed, and gathering speed in general, is by pumping your territory standing points into Gathering Speed. Doing so will increase your gathering speed by a percent, depending on how many points you put into it.
You can check your territory perks by opening your map, zooming out, clicking on a territory, and checking the right side of the screen. Look for the section that says Territory Standing Bonuses. Also, take note of any bonuses your faction receives for controlling the territory.
Food
There are various foods you can make at the Kitchen or Cooking Station to boost your harvesting skill. Some recipes that do this are corn-based recipes such as Cooked Corn and Cornbread.
Cooked Corn – Increases your Luck when harvesting by 1000 for 20 minutes.
Cornbread – Increases your Luck when harvesting by 1400 for 25 minutes.
There are likely many more higher-tier corn items that do the same, but I have yet to unlock them.
That concludes our New World harvesting leveling guide. Feel free to bookmark this page or share it with others if you find it useful. You can also check out our website's New World section for more guides, builds, and content.