NBA 2K23: Top 5 Best Power Forwards in MyTeam
Get the edge on your opponent with an elite PF!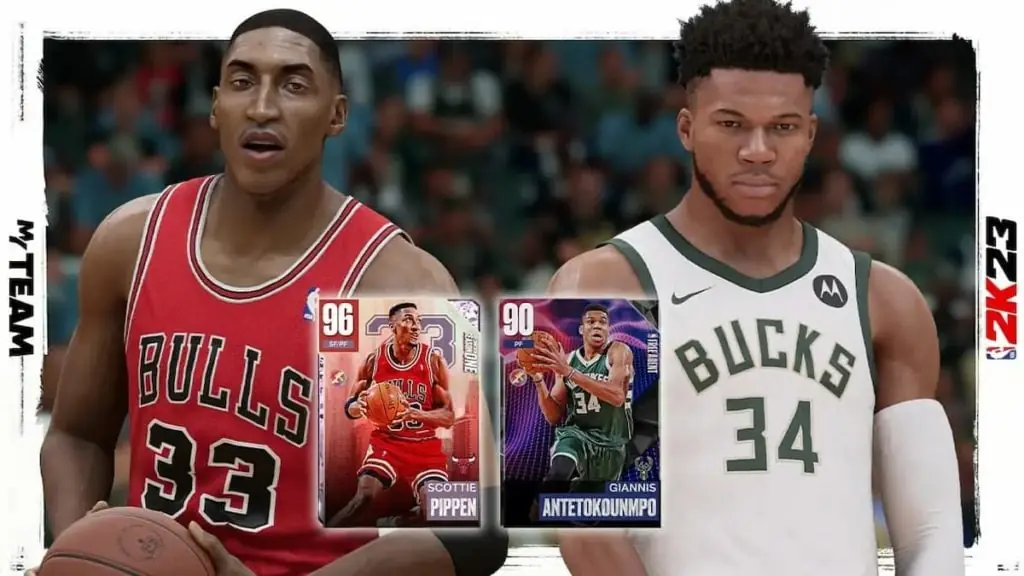 Power forwards are typically the most athletic and versatile players on the court in NBA 2K23. As they need to play both inside and outside of the paint on offense, set screens, run the floor, and help defend the interior on defense. As a result, finding an elite PF to headline your MyTeam could create some brutal mismatches for you to exploit.
In this guide, we will explore the top 5 best power forwards in NBA 2K23 MyTeam.
NBA 2K23: Top 5 Best Power Forwards in MyTeam
With how deep the small forward position is and how crucial centers are, it can be easy to overlook the importance of having a quality power forward in your lineup. That being said, these are often the most sought-after cards in MyTeam thanks to their versatility to play multiple positions on both ends of the floor.
Related: NBA 2K23 – Top 5 Best Small Forwards in MyTeam
To give you an idea of who to target, we've laid out the following list ranking the five best power forwards in NBA 2K23 MyTeam from most difficult to easiest to get. This will help to determine how quickly you can obtain these cards, and implement them into your starting lineup.
Pink Diamond Kevin McHale – Who else if not arguably the greatest power forward of all time, Kevin McHale? With one of the most balanced MyTeam cards in the game, and an absolute force on defense. Carrying a 90 Pass Perception and a 95 Help Defense IQ, along with six different Hall of Fame defense cards, including Anchor, Challenger, and Interceptor. Don't let this fool you though because he's very dangerous on offense as well thanks to his 92 Post Hook, 92 Post Moves, 95 Shot Close, and a surprisingly high three-point rating. Oh, and did I mention he has a whopping 7'11" wingspan? Which should provide a major advantage on both ends of the court.
Pink Diamond Blake Griffin – Blake Griffin is one of the most athletic power forwards in NBA history, so, it's only right that we include his impressive Pink Diamond card. Which features insane stats across the board, including 94 Shot Close, 94 Strength, 97 Vertical, 98 Driving Dunk, and 98 Standing Dunk. Simply put, this man is unstoppable within 5 to 10 feet of the basket and in transition. He's also a solid shooter from mid-range, decent from three-point territory, and offers plenty of support on defense thanks to his host of Hall of Fame defense badges. It is worth mentioning, however, that this is one of the more expensive cards in NBA 2K23 MyTeam.
Diamond Andrei Kirilenko – As one of the best defensive cards in NBA 2K23 MyTeam, we'd be remiss if not to throw in Andrei Kirilenko's Diamond card. With a 90 in Help Defense IQ, Pass Perception, Block, Steal, and Lateral Quickness, this card offers incredible value on the defensive end. However, he also has solid all-around offensive stats as well, particularly with his ability to get into the paint with ease. That being said, this card is undoubtedly one of the best defensive cards at the power forward position in MyTeam.
Limitless Scottie Barnes – Barnes can be used at both the small forward and power forward positions, but his skillset allows for both options to be used reliably. With solid statistics across the board, Barnes' Limitless card could be the most balanced MyTeam card on this list. Highlighted with 85 Hands, 85 Draw Foul, 92 Vertical, 92 Stamina, and 95 Shot IQ. He also has tons of useful badges, including a Gold Slithery badge, the Middy Magician badge, and a Hall of Game Off The Ball Pest badge. Showcasing the perfect combination of offense and defense.
Giannis Antetokounmpo (Base) – With Giannis being one of the most popular players in the NBA, it's no shock to see his 90 OVR base card on this list. While slightly overpriced, it offers some of the most well-rounded stats in NBA 2K23 MyTeam. Including an 89 Driving Layup, 89 Draw Foul, 88 Help Defense IQ, 87 Lateral Quickness, and 87 Perimeter Defense. He's one of the most athletic power forwards in the game and is difficult to match up against on both ends of the court. With his ability to run the floor and attack the basket along with his prowess on defense, this is easily one of the best base cards in the game.
That's everything you need to know about the top 5 best power forwards in NBA 2K23 MyTeam. If you're interested in more NBA 2K23 content, be sure to check out our guides section here at Gamer Journalist. Where you can find loads of helpful information such as how to increase teammate grade in NBA 2K23 MyCareer.