Most Expensive EA FC 24 Players
If you want to be on top, you'll need to splash the cash.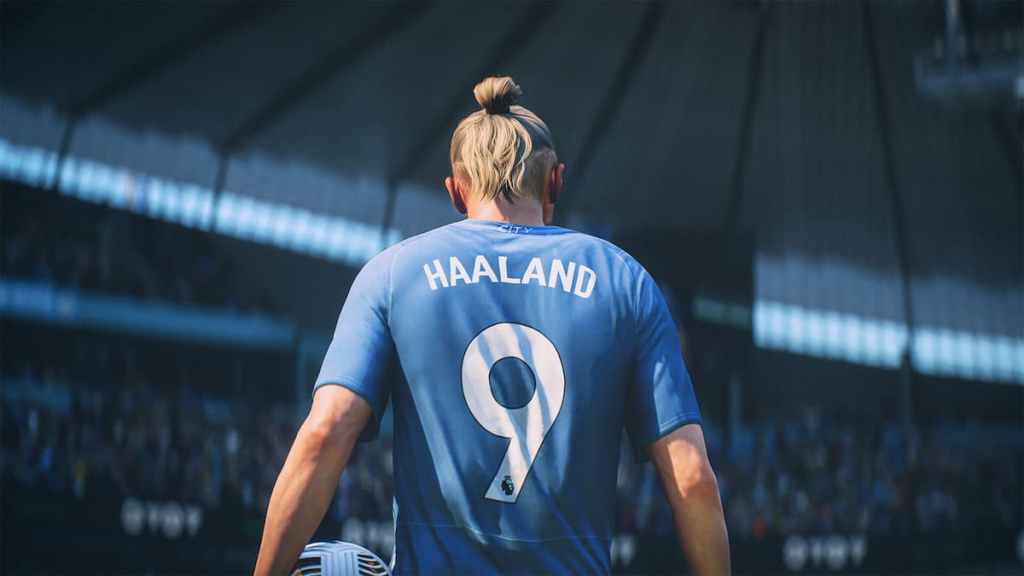 Whether you are playing Ultimate Team or Career Mode in EA FC 24, the goal of every manager is to make the strongest and most expensive team possible, with the best possible players. We present you the most expensive players on the market in EA FC 24.
Related: Best Formations in EA FC 24
Most Valuable Players EA FC 24
While some gamers love to look for "hidden gems" players, those who have chosen to manage the best teams in football want to bring in the most valuable players on offer. Here are the ten best-rated and most expensive players currently in the game.
Pedri
Pedri's price is 105 million euros. This young Barcelona gem has already grown up into one of the best players in his position. Every team needs a master with the ball in the center of midfield, and the 20-year-old Spain international is exactly that.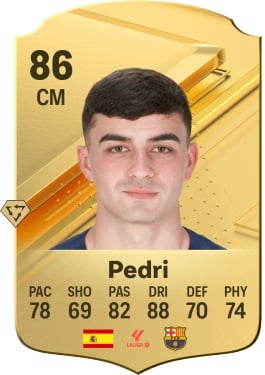 His rating includes an excellent overall Dribbling rating (88), with a Balance of 90, Ball Control of 88, and Agility of 88. Pedri is also a great passer, with a shot-passing rating of 88, a Long Passing of 86, and a Vision of 88. The right choice for a midfield commander for many seasons. Pedri's PlayStyles include Incisive Pass, Long Ball Pass, Technical, First Touch, and Relentless.
Jamal Musiala
Musiala's value is estimated at 134,5 million €. He is a very grateful player who, in addition to his main position as an attacking midfielder, can also play as a left winger or a central midfielder. The only important thing is that he is in charge of offensive tasks. The gem of Bayern Munich is another young player on this list and is the present and the future of football.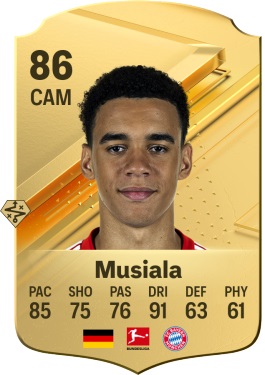 He's a terrific dribbler, with a 94 Dribbling rating, Agility of 93, and Balance of 92. Musiala (20) is also exceptionally fast, with an Acceleration of 84 and a Sprint Speed of 86. His PlayStyles are Flair, First Touch, and Trickster.
Khvicha Kvaratskhelia
The Georgia international will cost you 109 million €. He is one of the best players of Napoli, the current champion of Italy. He is a winger who can cover both the right and left side of the pitch. Although he is not a very physical player, he compensates for that with some great dribbling and quickness skills.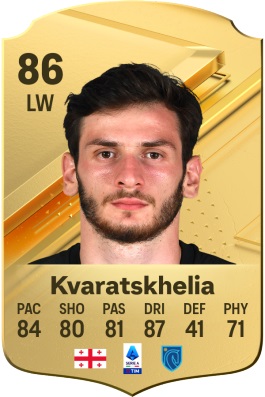 With PlayStyles such as Finesse Shot, Incisive Pass, Whipped Pass, Technical, Flair, Trickster, and Trivela, Kvaratskhelia (22) is a very versatile player and a good addition to any team. His best ratings include Dribbling (89), Ball Control (88), Vision (86), and Agility (85).
Rodrygo
One of the three Real Madrid players on our list. His value is 86,5 million €. Besides his primary position as a right winger, Rodrygo (22) can play on the left wing, too, but also serves as a striker in some situations and is in general one of the most versatile players in EA FC 24.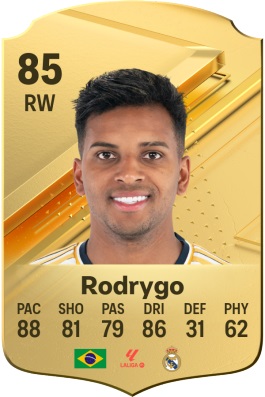 His best-rated skills are Acceleration (89), Sprint Speed (88), Finishing (87), Agility (87), Ball Control (87), and Dribbling (86). The Brazilian's PlayStyles are Dead Ball, Technical, and Flair.
Kevin De Bruyne
One of two Manchester City players on our list is truly a football magician, and if you want to bring him to your team, he will cost you 103 million €. In addition to being in charge of distributing perfect balls to his teammates, he also has an excellent long-range shot, so he is a special kind of danger to opposing goalkeepers.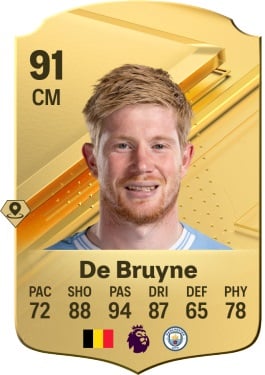 De Bruyne (32) has one of the best passing abilities in the game, with Vision and Crossing of 95, Shot Passing, and Long Passing of 94. He also possesses excellent Ball Control (92), Reactions (92), and Dribbling (86) ratings. Belgium captain has a variety of PlayStyles, such as Incisive Pass, Dead Ball, Pinged Pass, Long Ball Pass, Whipped Pass, and Trivela.
Bukayo Saka
Arsenal's main player and England international is already one of the best right-wingers in the world at the age of just 22. That's why his price is 99 million €. His overall rating is at 86 at the moment but with the potential of rising over 90 in the future.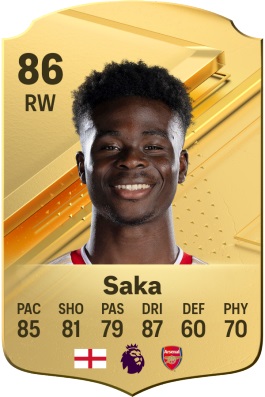 Saka (22) is an excellent dribbler, with a Dribbling rating of 89, Ball Control of 87, Balance of 86, and Agility of 85. He is exceptionally fast, his Acceleration is 88, and his Sprint Speed is 82. The future of England's football PlayStyles are Technical and Flair.
Jude Bellingham
Definitely the biggest rising star of football at the moment. Labeled as the successor of the great Zinedine Zidane, Bellingham (20), valued at 112 million €, started his career at Real Madrid in the best way possible. His versatility is definitely his most valuable asset, as he can play in almost all of the positions on the pitch.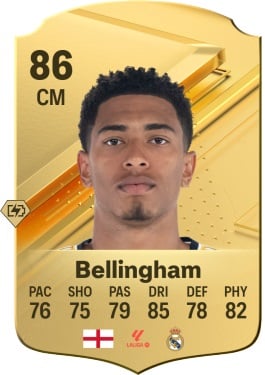 With PlayStyles such as Relentless, Intercept, Slide Tackle, Technical, and Flair, Bellingham's highest ratings are in the dribbling and physicality sections. His Stamina is 93, Dribbling and Reactions are 86, Ball Control is 85, and Shot Passing is 87, with Long Passing at 86.
Kylian Mbappé
A player who needs no special introduction. With a price of 181,5 million €, he is one of the most expensive and valued players in the world. PSG and French national team player Mbappé (24) is an indispensable part of every strong team.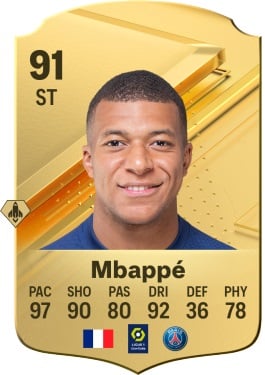 He can play as a left winger and as a striker. He might also be the fastest player on the planet, with Acceleration and Sprint Speed at an astonishing 97 rating. Mbappé is also lethal in front of goal because his Finishing is 94 and Positioning is 93. He also possesses great physical strength – his Jumping and Stamina are 88. PlayStyles of the French superstar are Quick Step, Rapid, Flair, and Trivela.
Vini Jr.
The third Real Madrid player on our list and another Brazilian. Vinicius Junior (23) or Vini Jr. is valued at 158,5 million € and has a starting overall rating of 89, with the potential of reaching even 94. His favorite and natural position is the left winger.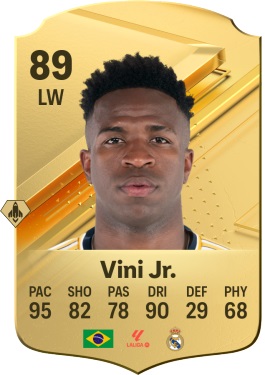 He's just slightly slower than Mbappé, with Acceleration and Sprint Speed at 95. An excellent dribbler with a Dribbling rating of 92 and Agility of an amazing 94. His Ball Control is 90, Reactions is 86, and Positioning is 87. Vini Jr's PlayStyles are Quick Step, Finesse Shot, Chip Shot, Rapid, Flair, First Touch, and Trivela.
Erling Halaand
On the top of our list is arguably the best striker in the world. His price is 185 million €. The Norwegian goal machine is a nightmare for opposing goalkeepers, and when you have him on your team, there will be goals for sure. Pep Guardiola surely knows that…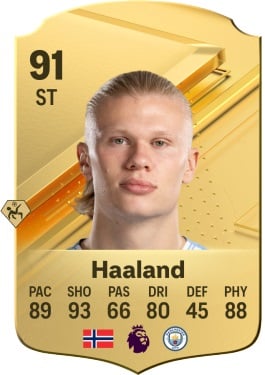 Shooting is Haaland's (23) greatest attribute. His highest ratings in this section are Finishing (96), Positioning (96), Shot Power (94), and Volleys (90). Since he is 195 cm tall, his abilities in the air are also on a very high level – Jumping (93) and Strength (93). He is also really fast for such a big guy since his Sprint Speed is 92, and Acceleration is 82. Halaand's PlayStyles are Acrobatic, Power Header, and Quick Step.
---
We hope you found our article useful. For more similar content on Gamer Journalist, see Best LB Players in EA FC 24 or Best Free Agent Goalkeepers FM24.
About the author