Best Free Agent Goalkeepers FM24
Cheap, but safe!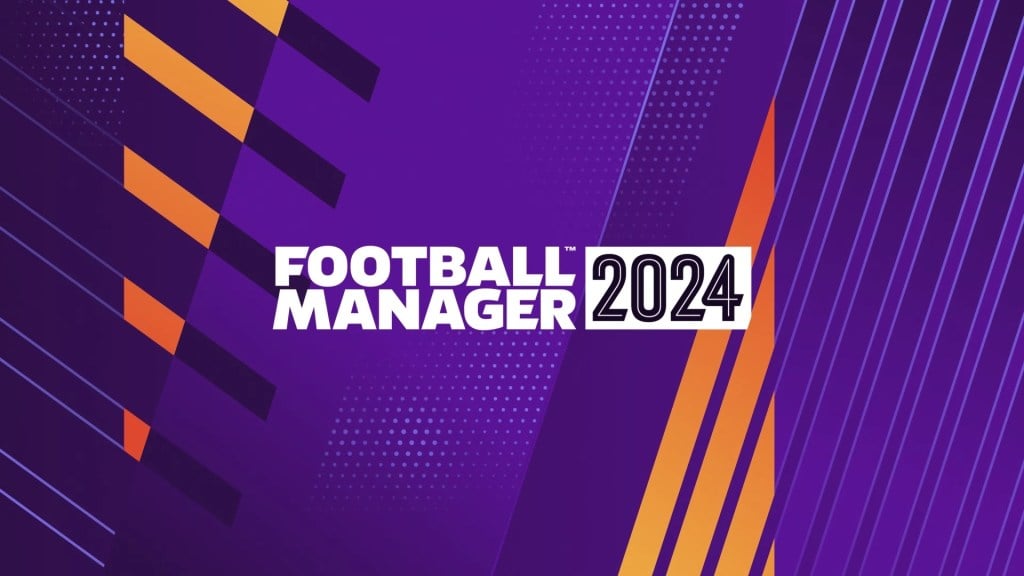 If you have decided to start your first save on FM24 with a club whose finances are not a strong point, then free agents are your only way to strengthen your team. We present to you the best goalkeepers without a contract available for you to bring to the club.
Related: Best LB Players in EA FC 24
The Best Free Goalkeepers FM24
David de Gea
We'll start with arguably the best free-agent goalkeeper on the football market. After 12 seasons at Manchester United, the Spaniard left Old Trafford after the negotiations over a new contract broke down. With his vast experience and great goalkeeping skills, De Gea would be an excellent addition to any team.
However, keep in mind that in order to bring in De Gea, you will, first of all, have to have a good wage budget but also a solid club reputation because a player of his pedigree will not want to sign for just everyone.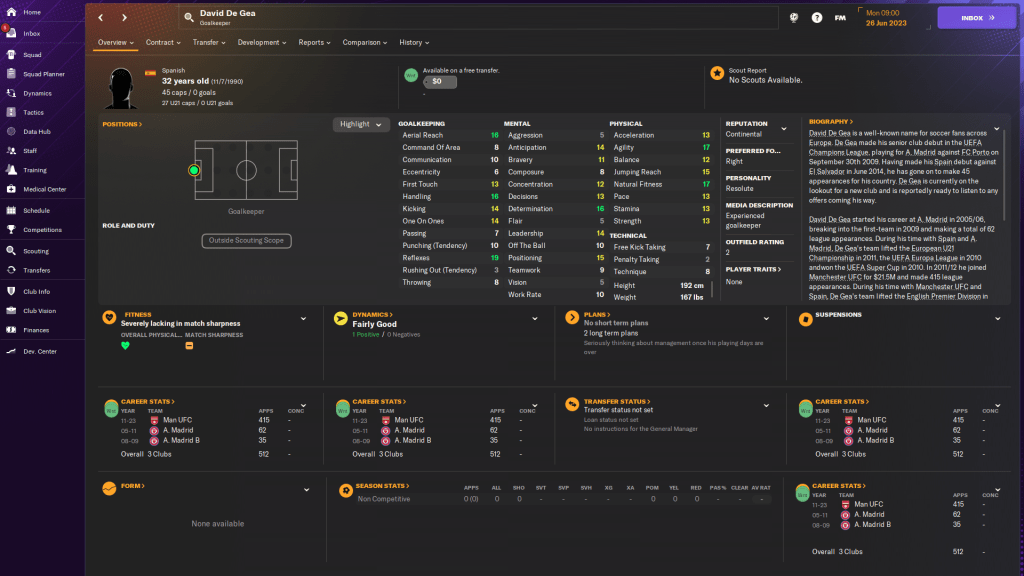 Despite being 32 years old, he still possesses exceptional Reflexes (rated 19), Aerial Reach (16), Handling (16), and Determination (16). He also still has high ratings for Agility (17), Natural Fitness (17), and Jumping Reach (15).
Sergio Asenjo
Another relatively well-known name on the list of free-agent goalkeepers is certainly Sergio Asenjo (33). The former Villareal and Atletico Madrid player is without a club since his contract with Valladolid expired in the summer of 2023.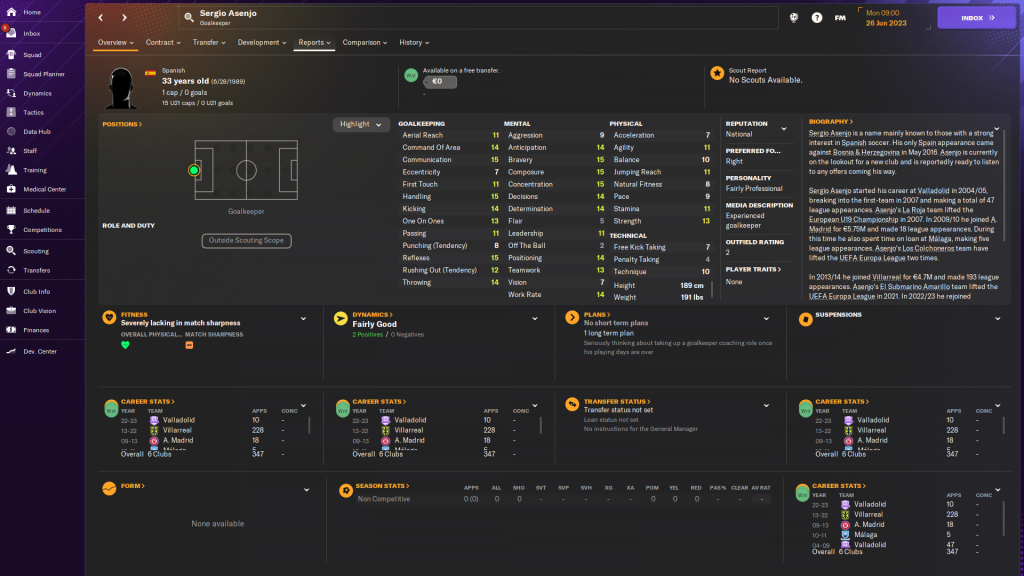 Among his higher goalkeeper ratings are Communication (15), Reflexes (15), Handling (15), and Command Of Area (14). He is also known as a mentally strong player, so his grades for Bravery (15), Composure (15), and Concentration (15) are at a high level.
Timo Horn
The goalkeeper who spent his entire senior career in 1. FC Köln is looking for a new club. Given his experience in the German Bundesliga, Timo Horn (30) would be an ideal choice if you decided to manage a club from that league.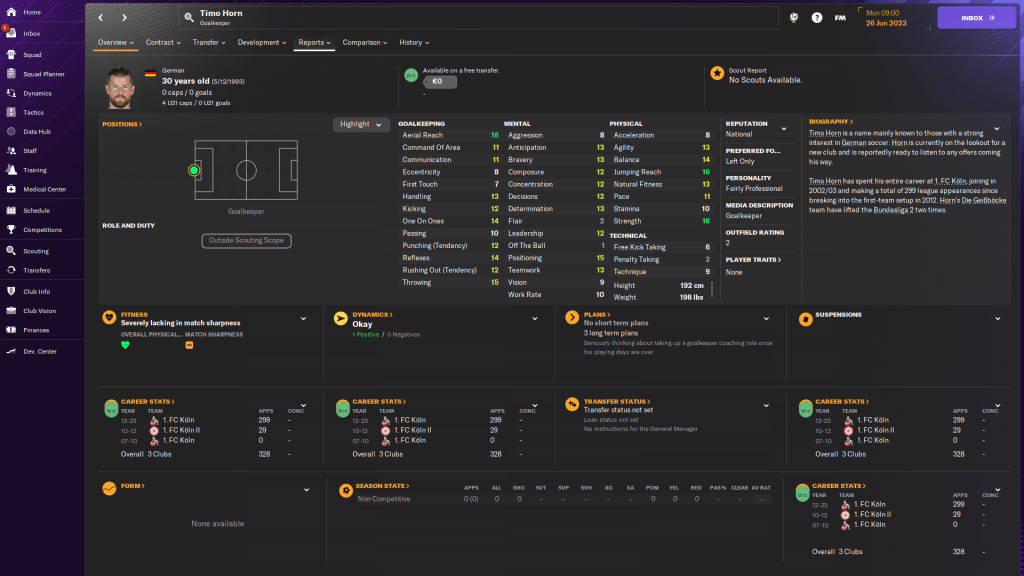 Of the ratings that stand out, there are Aerial Reach (16), Throwing (15), and Positioning (15). Horn is also a very physically strong player – his Jumping Reach rating is 16, Balance 14, and Strength (16).
Oscar Ustari
Veteran Argentinian goalkeeper spent most of his career in South America, but also played in Europe, for Getafe in Spain and Sunderland in England. Experienced Ustari (36) is now without a club and willing to listen to any offers coming his way, according to FM24.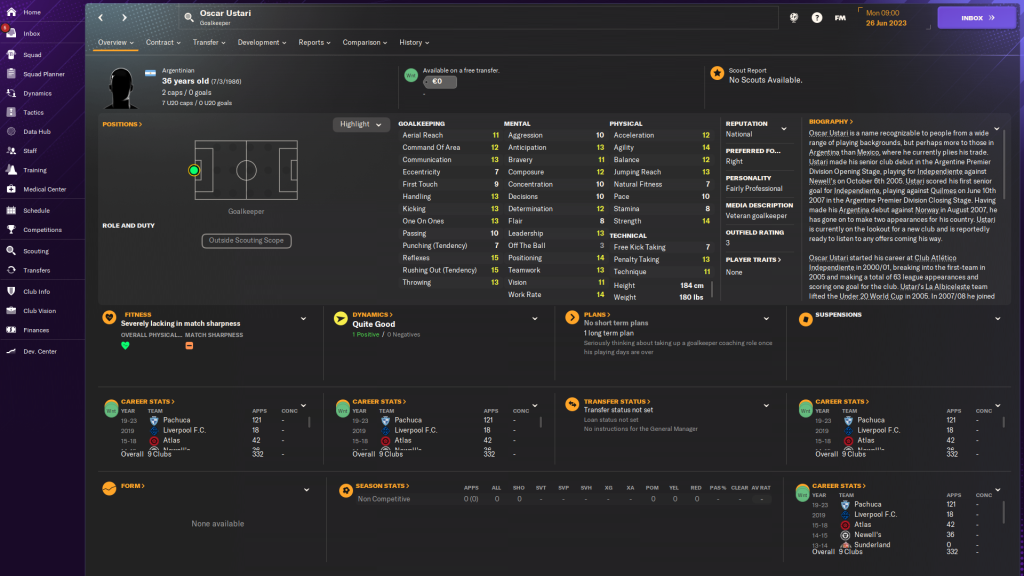 Despite his late football years, Oscar Ustari still has attributes that are worthy of respect. There are, among others, Reflexes (15) and Rushing Out (15), but also Positioning (14), Work Rate (14), and Agility (14). He is an excellent choice if you manage a mid-tier club with modest finances, and he can be your first-choice goalkeeper for the first couple of seasons.
Jed Steer
The Englishman was mostly the second-choice goalkeeper throughout his career. He spent 10 seasons at Aston Villa, mostly on loan at Championship clubs. He is now looking for a new club and may as well be the right choice for you to start your save with an experienced goalkeeper.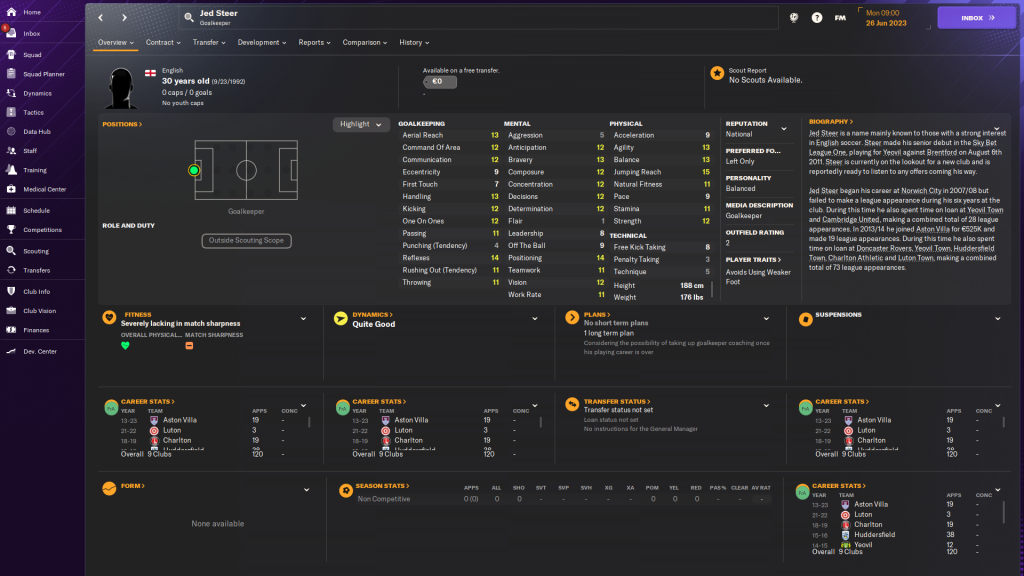 His attributes are mostly average, but enough to be more confident with him in goal. They include Jumping Reach (15), Reflexes (14), Positioning (14), and Aerial Reach (13). What's also good if Steer (30) is your choice is that he shouldn't demand a huge salary.
Kiko Casilla
Former goalkeeper of Espanyol and an offshoot of the Real Madrid school is a very good option for a goalkeeper if you run a club with modest finances. He even has three Champions League titles under his belt, when he was a backup option in Real Madrid for Keylor Navas.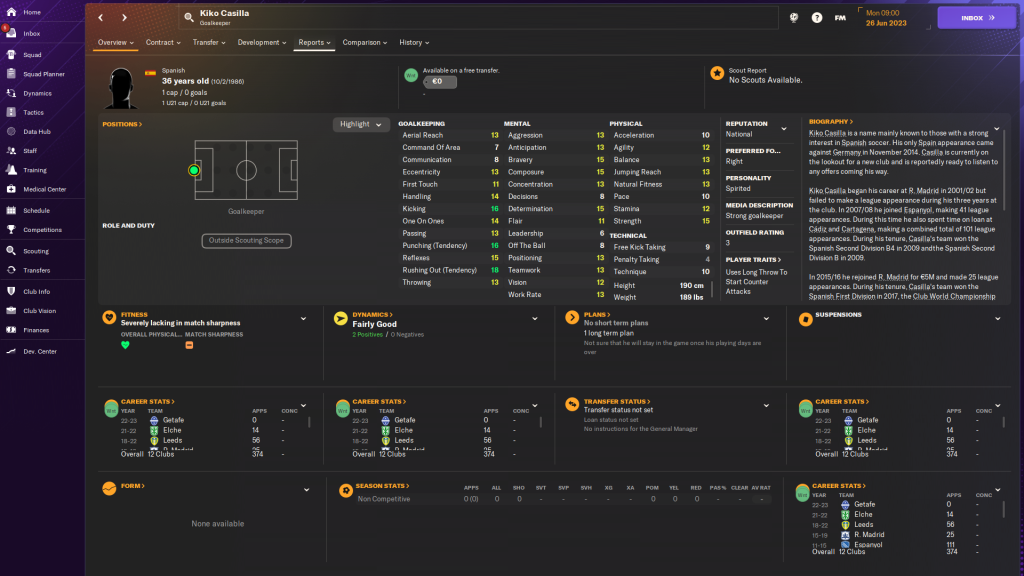 Casilla (36) possesses some remarkable goalkeeping skills, such as Rushing Out (18), Kicking (16), and Punching (16). He is also considered a mentally and physically strong goalkeeper. His Bravery is at 15, the same as Composure and Determination. Mental attributes of the Spaniard include Strength (15), Natural Fitness (13), and Balance (13).
Žiga Frelih
The Slovenian goalkeeper Žiga Frelih (25) is a cheap and reliable option you can bring into the team. His wage demands shouldn't be too high; he is relatively young, and he has international experience behind him since he played in Croatia, Portugal, and Spain.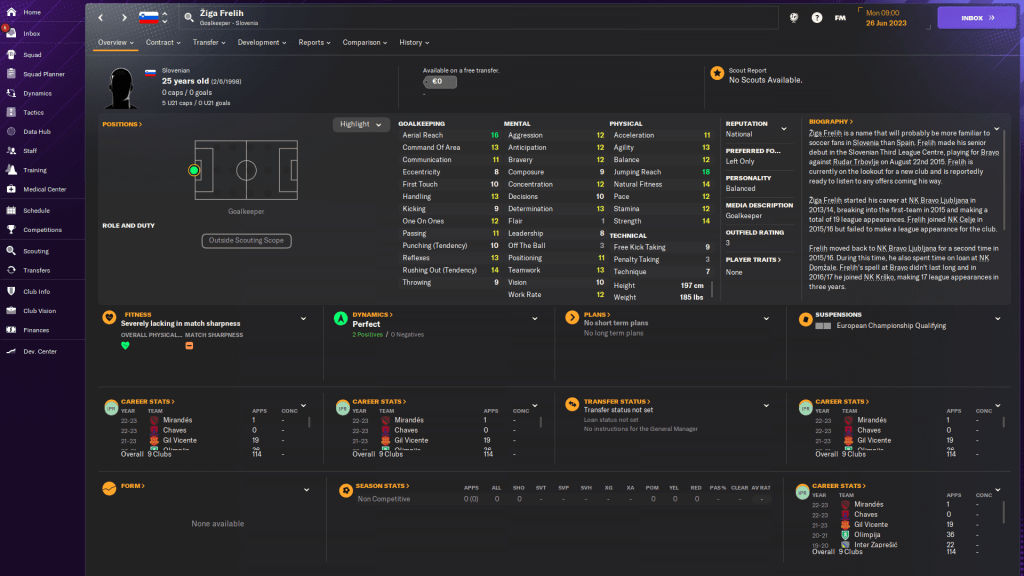 Since he is a very tall goalkeeper, his main strength lies in his Jumping Reach (18) and Aerial Reach (16). Frelih also likes to Rush Out (14), has a good Natural Fitness (14) and Strength (14). A very decent option if you urgently need a new goalkeeper.
Renan Ribeiro
After an episode in Saudi Arabia, Renan Ribeiro (33) is now ready for a comeback to European football. He was, after all, for four seasons in Portuguese giants Sporting CP, so the Brazilian certainly doesn't lack experience.
Ribeiro's strong suits include Jumping Reach (16), excellent Reflexes (16), and Aerial Reach (15). He is also good in One On Ones (15) situations but also has solid Agility (14) and Strength (14).
Matt Macey
If you have decided to try to get into the Premier League with a club from the Championship, and you lack a goalkeeper, we have a solution for you. Matt Macey (28) is without a club after his contract with Luton expired in the summer of 2023. With Macey at your side, you will get a determined and resolute man defending your goal.
Being 2,01 meters tall, the Englishman's highest attributes are his Jumping Reach (19) and Aerial Reach (16). His Determination (16) is also high, as well as One On Ones (15) and Command Of Area (14). Basically, Macey is an excellent choice for all Championship clubs, as well as if you are managing a club from the lower half of the Premier League table.
Ricardo Ferreira
At the end of this list is the experienced Portuguese goalkeeper Ricardo Ferreira (33). A product of SC Braga's school of football, Ferreira spent the majority of his career playing in his home country and, the previous season, played in Slovakia for Dunajská Streda.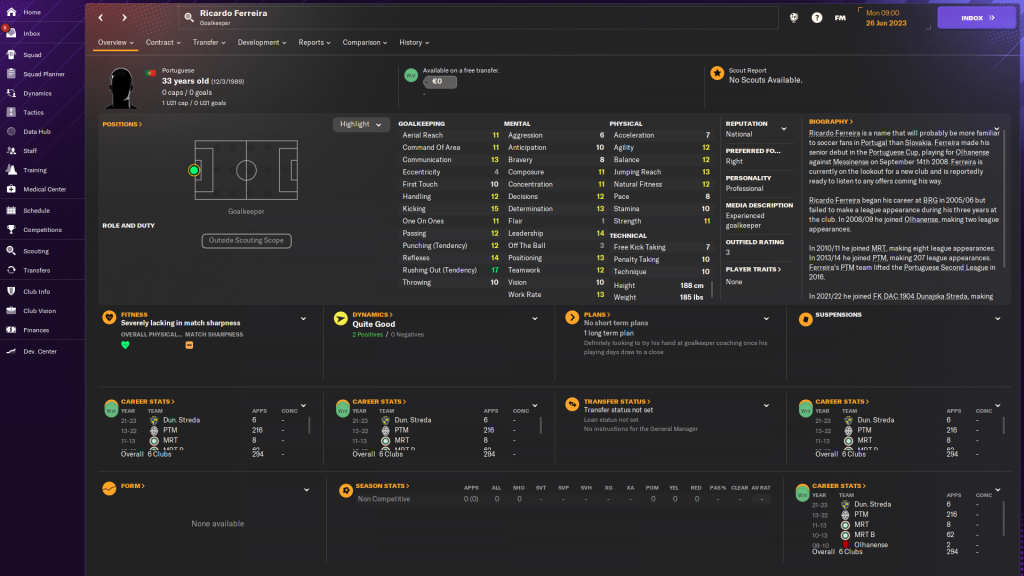 The Portuguese is a good choice for mid-tier clubs and shouldn't cost you much with his wage demands. His highest attribute is Rushing Out (17). Amongst the higher ones are Kicking (15), Reflexes (14), and Leadership (14), meaning he would be a good choice for a captain, and his Jumping Reach is also solid, with a rating of 13.
---
We hope you found our article useful. For more similar content on Gamer Journalist, see Best Formations in EA FC 24 or How to Improve Youth Intake in Football Manager 2023.
About the author