Best LB Players in EA FC 24
Let them cover the whole left side of the pitch!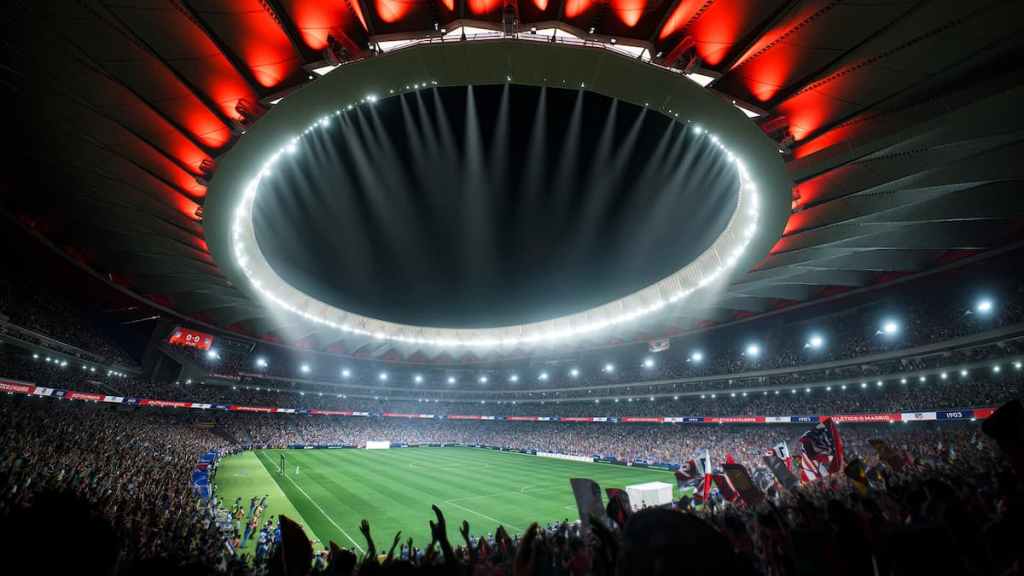 If you are a fan of the formation with four players in defense, then one of your most important tasks is to make sure you have quality fullbacks or wingbacks in your team, depending on do you prefer defensive or attacking football. In this article, we present you the best left-backs there are in EA FC 24.
Related: Best Formations in EA FC 24
Best Left Backs in EA FC 24
Andrew Robertson (Liverpool)
One of the best left-backs in both real life and in EA FC 24 is certainly Liverpool's 29-year-old Scotsman. His highest attributes are Stamina (95), Crossing (87), Reactions (85), and Aggression (85). Robertson is an ideal choice if you prefer having an attacking wingback in your team.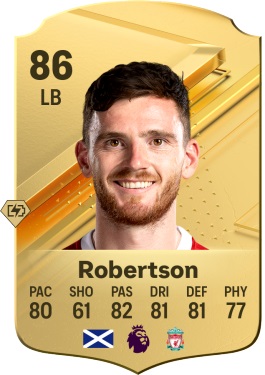 He covers the whole left side of the pitch, performing his defensive and attacking duties equally. His EA FC 24 Play Styles are Relentless, Whipped Pass, and Rapid.
Theo Hernández (AC Milan)
Another smart choice for an attacking wingback is French national team member Theo Hernández (26). His main virtues lie in his speed, jump, and power. He is one of the key members of the AC Milan team, but also an important link for France.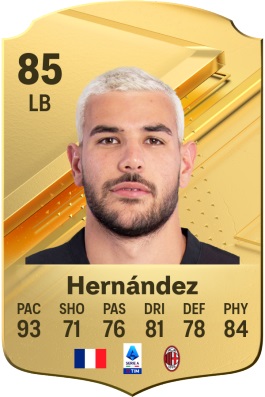 The highest attributes of Theo Hernández include Sprint Speed (94), Acceleration (92), Jumping (90), and Stamina (90). His Play Styles are Rapid, Quick Step, Relentless, and Long Throw.
Alphonso Davies (Bayern Munich)
The young Canadian is undoubtedly one of the best fullbacks in the world. He possesses incredible speed, has a great cross, and a good jump. He is equally effective in defense and attack.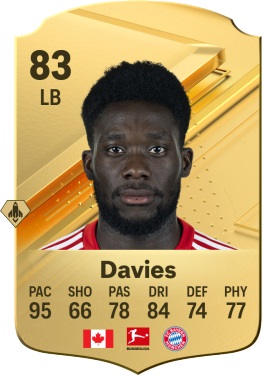 Among his highest ratings are Acceleration (96), Sprint Speed (95), Agility (86), Jumping (86), and Crossing (85). Play Styles of Alphonso Davies (23) include Quick Step and Rapid.
Ferland Mendy (Real Madrid)
Another Frenchman on this list. A former player of Olympique de Lyon, and a member of Real Madrid for four years, Mendy (28) has a high work rate both in defense and in the attack. His Play Styles are Block, Rapid, and Flair.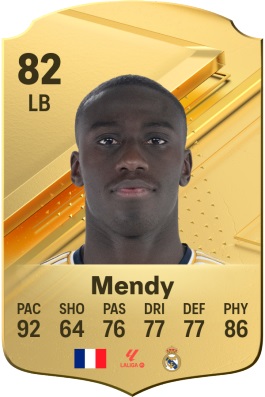 Mendy's best-rated attributes are Sprint Speed (92), Jumping (91), Stamina (91), and Acceleration (91). His high Pace and Physicality make him a good defensive and even better offensive wingback.
Luke Shaw (Manchester United)
The first choice left back on Old Trafford is also a decent choice for your team. Although he lacks the speed attributes in comparison to other players on this list, England international compensates for that with great physical attributes and some respectable crossing skills.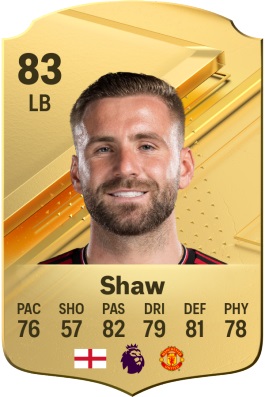 Luke Shaw's (28) EA FC 24 Play Style is Jockey and his highest attributes are Curve (86), Crossing (85), Aggression (85), Composure (84), and Jumping (84).
João Cancelo (Barcelona)
Barça's left-back is one of those players in his position who can make a much bigger contribution in the attack than in defense. Cancelo (29) is very fast, sends excellent crosses into the box, and likes to dribble his opponents.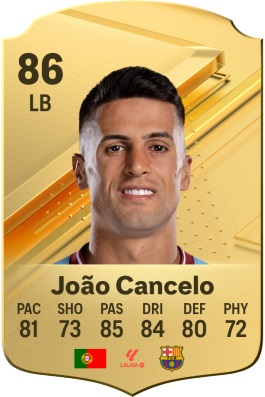 Portuguese international has a handful of Play Styles – Whipped Pass, Block, Technical, Flair, First Touch, and Trivela. As for attributes, his Stamina is 88, Crossing 87, Curve is 87, Acceleration is 86, and Ball Control is 86.
Nuno Mendes (Paris Saint-Germain)
The young hope of Portuguese football Nuno Mendes (21) has already established himself as one of the standard first-team members of Paris Saint-Germain. His main strength lies in the attacking part of the game, but he can also be of help in defensive tasks.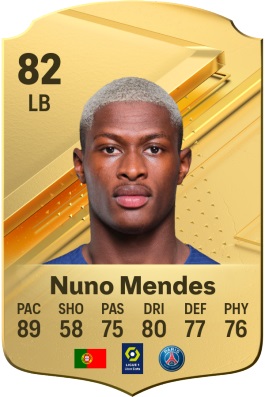 He derives his main strength from Acceleration (90), Sprint Speed (88), Balance (84), and Jumping (84). His Play Styles are Pinged Pass, Whipped Pass, Rapid, and Quick Step.
Balde (Barcelona)
Another young left back in circulation is Alejandro Balde (20), a Barcelona player. His main attribute is his Pace, with Acceleration at 90 and Sprint Speed at 91. Dribbling (77) and Ball Control (80) are also highly valued.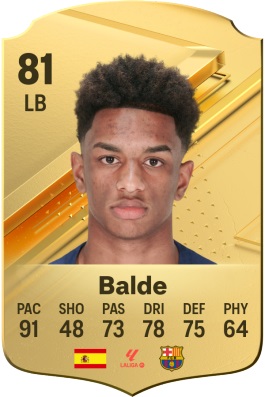 His downsides are certainly Strength, which is 63, and Composure at 64. Pick him for your team if you want your left-back to be another option in the attack, but don't expect much in defense. He does have good Anticipation, though, which could prove to be useful for defensive duties. Balde's Play Styles are Jockey, Anticipate, and Quick-Step.
Marcos Acuña (Sevilla)
If you are looking for an affordable fullback who can play equally in defense and in offense, then maybe Marcos Acuña is the right choice. Thanks to his high Stamina (91) and Balance (90), he is able to run up and down the pitch through the whole 90 minutes. Also, he is an excellent crosser (86) who sends Curve (88) balls into the box. Acuña (32) also possesses great Strength (82) and has an excellent Jumping (80) reach.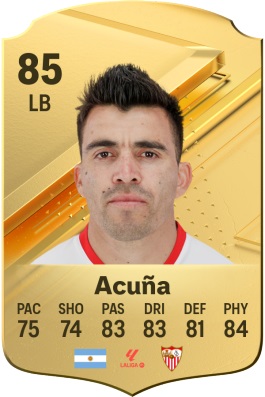 He has a wide spectrum of Play Styles, such as Power Shot, Long Ball Pass, Anticipate, Bruiser, Flair, and Trivela. Note that Acuña is also an excellent choice for a free kick taker because he has some respectable long-shot abilities.
Jordi Alba (Inter Miami)
At the end of this list is the veteran, legendary Spanish national team player Jordi Alba. After 11 seasons spent in Barcelona, Alba moved to the USA in the summer of 2023, more precisely to Inter Miami, a club which is in the ownership of David Beckham.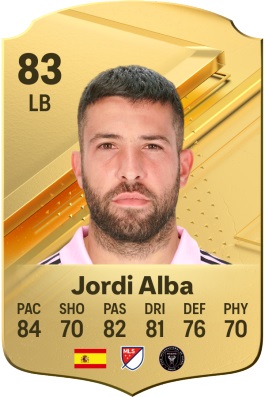 Although he is in his late football years, Alba still has some attributes that would be the envy of many younger players. For example, his Acceleration is at 86 and Sprint Speed at 83. Agility (88) and Crossing (84) are also Alba's strong suites. Passing abilities are almost flawless, with Shot Passing at 85 and Long Passing at 81. Play Styles include Jockey, Block, Anticipate, and Rapid.
Suitable Formations for Playing With Wing Backs
As we mentioned earlier in the article, fullbacks or wingbacks can be used in formations with four but also with five defenders. They can prove useful in, for example, formations of 4-4-2, 4-5-1, 4-2-3-1, etc.
We would like to single out the formation 5-3-2, in which wingbacks are particularly useful. As a slightly more defensive formation, teams that play in this form rely on counterattacks in order to reach the opponent's goal. The wingbacks are crucial here as they can help out both in the defense and attack. Also, with a defensive midfielder in the team, there is additional help for the defenders. Note that if you used more classic formations earlier, it will take some time to get used to the 5-3-2, but when you do, it will most likely give you good results.
---
We hope you enjoyed our article. For more sports content on Gamer Journalist, see A Very British Review of Madden NFL 24 From a Complete Newb's Perspective or All Sports Included in Sports Story.
About the author