Madden NFL 23: All Offensive Guard Ratings and Rankings Revealed
No team would be complete without an offensive guard locking up the interior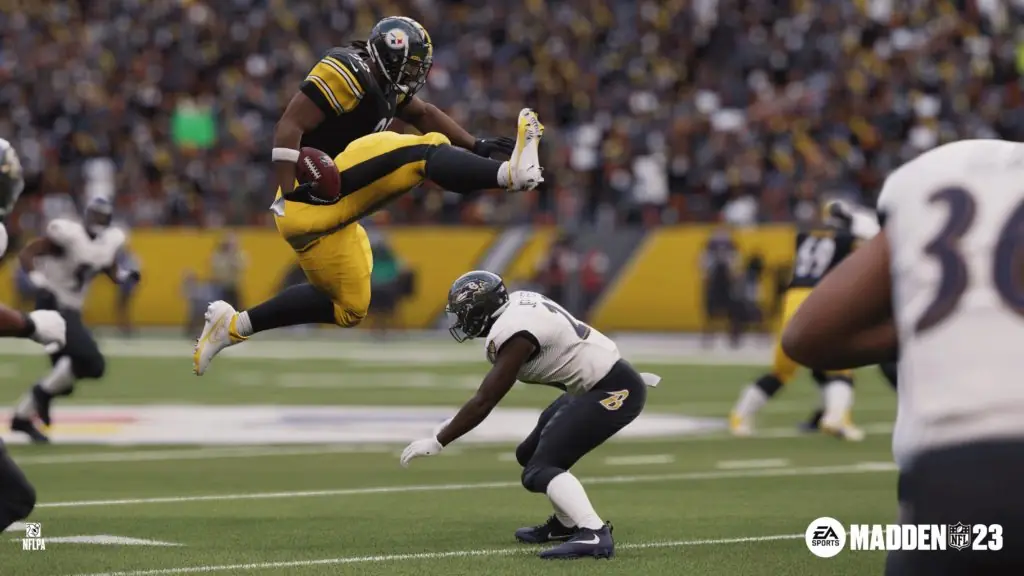 NFL training camps are officially underway and Madden NFL 23 ratings week has begun. Now that football season is among us and player ratings are finally getting revealed, fans are eager to see where their favorite players land in the pecking order. With one of the the final position group highlighted being the offensive guards (LGs and RGs).
Here are the best offensive guard ratings and rankings in Madden NFL 23.
Madden NFL 23: All Offensive Guard Ratings and Rankings Revealed
In the run game, right and left guards must possess the strength and power to move defensive tackles and cut off linebackers with consistency. While in the pass game, they will be needed to utilize slide protection and reliably match up one-on-one with the opposing team's best nose tackle. Despite being heavily undervalued in Madden NFL 23, there's no denying that every team would be incomplete without a quality offensive guard.
Related: Madden NFL 23 – All Offensive Tackle Ratings and Rankings Revealed
Without further ado, these are the top 40 offensive guards in Madden NFL 23.
Top 40 Offensive Guards
Zack Martin, RG (98), Dallas Cowboys
Quenton Nelson, LG (95), Indianapolis Colts
Joel Bitonio, LG (90), Cleveland Browns
Wyatt Teller, RG (89), Cleveland Browns
Joe Thuney, LG (88), Kansas City Chiefs
Brandon Scherff, RG (87), Jacksonville Jaguars
Shaq Mason, RG (87), Tampa Bay Buccaneers
Kevin Zeitler, RG (85), Baltimore Ravens
Chris Lindstrom, RG (84), Atlanta Falcons
Andrew Norwell, LG (82), Washington Commanders
Laken Tomlinson, LG (81), New York Jets
Cody Whitehair, LG (80), Chicago Bears
Rodger Saffold III, LG (80), Buffalo Bills
Justin Push, LG (79), Arizona Cardinals
Mike Onwenu, LG (79), New England Patriots
Dalton Risner, LG (78), Denver Broncos
Gabe Jackson, RG (78), Seattle Seahawks
James Daniels, RG (78), Pittsburgh Steelers
Matt Feiler, LG (78), Los Angeles Chargers
Nate Davis, RG (77), Tennessee Titans
Trai Turner, RG (77), Washington Commanders
Trey Smith, RG (77), Kansas City Chiefs
Austin Corbett, RG (76), Carolina Panthers
Graham Glasgow, RG (76), Denver Broncos
Mark Glowinski, RG (76), New York Giants
Alex Cappa, RG (75), Cincinnati Bengals
David Edwards, LG (75), Los Angeles Rams
Landon Dickerson, LG (75), Philadelphia Eagles
Alijah Vera-Tucker, RG (74), New York Jets
Andrus Peat, LG (74), New Orleans Saints
Jonah Jackson, LG (74), Detroit Lions
Robert Hunt, RG (74), Miami Dolphins
A.J. Cann, RG (73), Houston Texans
Denzelle Good, LG (73), Las Vegas Raiders
Ezra Cleveland, LG (73), Minnesota Vikings
Kendrick Green, LG (73), Pittsburgh Steelers
Kevin Dotson, LG (73), Pittsburgh Steelers
Lucas Patrick, RG (73), Chicago Bears
Quinn Meinerz, RG (73), Denver Broncos
Zion Johnson, RG (73), Los Angeles Chargers
Guards are generally some of the lower-rated offensive linemen in Madden, so, these ratings feel pretty accurate. Personally, I probably would've placed Quenton Nelson above Zack Martin since Nelson has nearly just as many Pro Bowl appearances as Martin in half as many years. Nevertheless, you can't really complain too much when you look at the ratings as a whole.
Just about every player feels to be positioned where most NFL fans would rank them in real life, with just a few exceptions. I will say that it's unfortunate to see Zion Johnson barely crack the top 40 with a 73 overall, despite being a first-round pick and a starting caliber player. Although, guards typically get the shorter end of the stick and these ratings will fluctuate over the course of the regular season anyway.
That's everything you need to know about the latest Madden NFL 23 ratings reveal highlighting the best offensive guards in the game. Before you leave, be sure to check out some of our other Madden content here at Gamer Journalist. Like how to use FieldSENSE in Madden NFL 23 or all players rated 99 or higher in Madden NFL 23.